5 Marketing Tips for a Bar Owner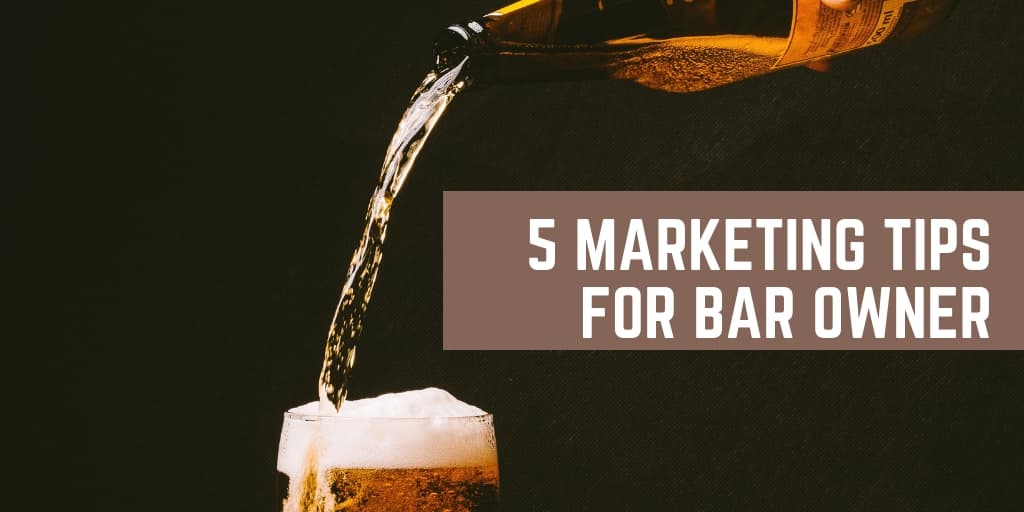 Если вы владеете танцевальным клубом, местным пабом или баром / рестораном, конечной целью всегда является заполнить место и заполнить чашки, не так ли?
Легче сказать, чем сделать. Важно, чтобы владелец бара постоянно перерабатывал ваши стратегии брендинга и маркетинга, чтобы увидеть, что делает успешная конкуренция, а также то, что вы можете сделать, чтобы установить себя отдельно.
Вот пять советов, которые следует учитывать, чтобы помочь увеличить движение ног в вашем баре и повысить популярность вашей толпы:
1. Подавление апелляции
Каждый судит книгу по обложке. Ну, каждый судит ваш бар, как он выглядит снаружи.
Учитывая этот факт, нужно запомнить несколько деталей:
Вывеска . Ваш наружный бар вывесок должен быть видимым и читаемым как днем, так и ночью. Это может означать, что вам нужно добавить освещение к вашему текущему знаку, чтобы оно было видно ночью. Если ваш знак - это световой знак, убедитесь, что он работает правильно и не имеет никаких выжженных лампочек. Меньше - больше! Не добавляйте тонны дорожных знаков, чтобы попытаться привлечь слишком много внимания, потому что это заставляет вас выглядеть дешево и отчаянно. Сделайте немного конкурентного анализа и посмотрите, что делает ваша конкуренция, и вы и убедитесь, что вы выделяетесь из них, а не смешиваете.
Пейзаж. Если у вас есть итальянская кухня, пальмовые деревья впереди могут отложить неправильную идею. Подумайте, что такое ваш бренд и согласуйтесь с вашим ландшафтом. Сочетают ли цвета, текстуры и другие элементы вашего ландшафта с вашими соседями, или вы выделяетесь (со вкусом)? Вы хотите привлечь внимание людей.
Стоянка. Бары открыты с опозданием. Это означает, что ваши покровители направляются к своим автомобилям поздно ночью, в темноте, возможно, подвыпило, и это может быть огромной ответственностью, а также определяющим фактором того, выходят ли они в ваш бар. Удостоверьтесь, что ваша стоянка безопасна, четко обозначена, контролируется (при необходимости), хорошо освещена и прикреплена к вашему бару с точки зрения озеленения, вывесок и т. Д.
2. Следите за дизайном и тенденциями
Just because your bar has been operating since 1945, doesn't mean it has to LOOK that way. Having a bar that is on trend and looks and feels up to date on codes, safety procedures, etc. is a huge factor to getting people to become frequent visitors. Current trends include semi-dark tones, using natural materials-brick, wood or stone, dark wood furniture, and industrial styling.
Try having a unique focal point for example: huge ceiling fans, a marquee light, lights made out of beer kegs, etc. The embodiment of one unique idea in your bar increases the attractiveness for visitors by 35%.
3. Keep them coming back
The atmosphere, the experience and the memories are what keep people returning to a bar as well as telling their friends about it.
Your restaurant might serve really good food, but if the atmosphere sucks, the décor is drab, the staff is rude, the energy is low, you're going to be missing out on a lot of business. A great vibe can outweigh superb food any day. Generally speaking, people go out to eat for the experience, so make sure you give them a good one! Consider these factors:
Cleanliness. If your tables are sticky, the ketchup bottles have ketchup caked in the lids, the silverware is covered in water spots, the floors are covered in crumbs, there are dirty-smelling rags on the bar, you've missed the mark. As an old restaurant owner once said "If you've got time to lean, you've got time to clean." Make sure your employees are constantly cleaning, wiping, and keeping your bar in top-notch condition. Keeping your bathrooms in order is a huge indicator on how clean the rest of your restaurant is as well!
Employees. Your employees are your face of your brand. You want to make sure every single employee is taught and provides top customer service. Your kitchen staff, hostess, bartenders, busboys and managers all contribute to the vibe and energy of your bar. Every single employee should be respectful, friendly and helpful to each other as well as the customers. Make sure their vibe matches your bars vibe. Are you a low-key intimate bar? Then your staff should act mellow, soft voices, and calm. Are you a dance club with pounding music? Then a little swaying to the music, smiling faces, giggling, and professional flirting might be the way to act. Your employees should both look and act the part to give your bar the vibe you are trying to portray.
Звук. Создание настроения для вашего бара сильно зависит от звука. Если ваш бар - довольно романтичный выход, громкая музыка, может убить настроение. Кроме того, вы не хотите слышать стук и кричать на кухне, или сплетничать и болтать с персоналом ожидания. Какой у вас бренд? Соблюдайте свою акустику, чтобы убедиться, что вы создаете атмосферу, в которой вы собираетесь.
4. Скидки и скидки
Не забывайте про простые маркетинговые идеи, такие как скидки и скидки на пиво!
Bouncebacks - это супер простой способ заставить ваших клиентов снова и снова возвращаться к вам. Вы можете оплатить ваучеры (или даже распечатать их прямо на их квитанции) за 5, 10 или 20 долларов за следующий визит. Вы можете установить любые параметры, которые вы хотите, например, действительны только при покупке продуктов питания, или с порядком в 50 долларов США и более и т. Д.
Offering special signature cocktails or discounts on certain pours of beer is usually a great way to show off your bartenders skills and introduce specialty drinks to your brand.
Hosting fun events such as beer tastings or promoting silly specials such as "skunk beer" specials for domestic beers, are a fun way to get groups to join at your bar.
Fishbowl recently reported bars are missing out on not doing BOGO promotions. Offer buy-one-get-one signature drinks, food, or beer.
5. Presentation of the beer
Set yourself apart. Make your beer so pretty that all your people want to take pictures, snap selfies, and share it on social media!
There is something about beer being presented in tiny cups that makes you want to take a picture.
Создание уникального опыта в презентации достаточно, чтобы заставить людей говорить о вашем баре уже после их визита. Преподавая им налить свой собственный проект, обслуживая полеты пива на деревянных дисках или давая покровителям фирменную кружку, чтобы забрать их домой, все это добавляет к опыту их посещения.