Restaurant Interior Design: Colors and Design Play a Role in Your Business's Branding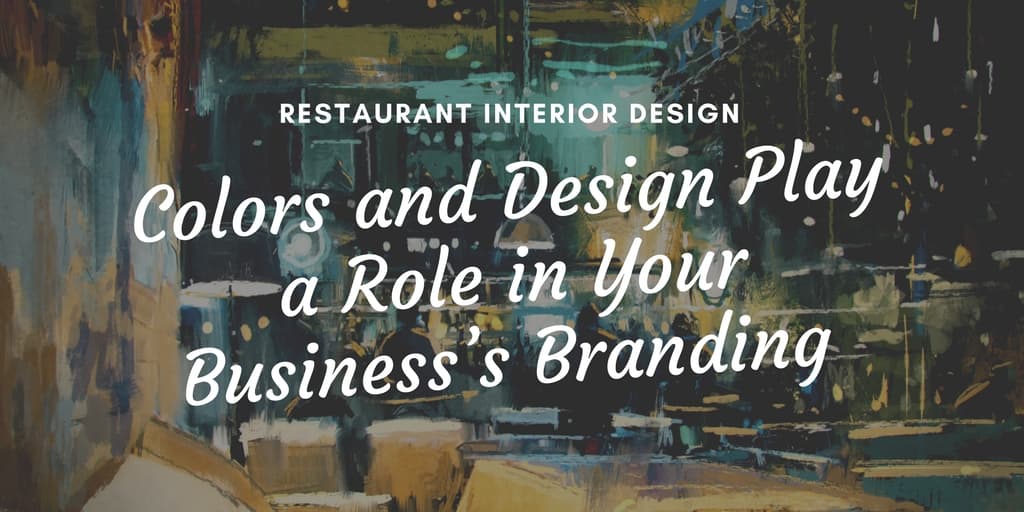 What's the best way to get your business's brand and message across to your customers? Besides focusing your efforts on marketing and advertising, you should also focus on your restaurant interior design.
The design of your restaurant – including restaurant colors – is actually a vital component to the success of your business. Choosing a design and colors that are in harmony with the message you want to convey is the best way to make an unforgettable first impression on your customers.
The design is one of the first things that will draw new customers into your establishment. And it's your food that will keep them coming back for more!
What can you do to improve your restaurant's interior design?
5 Important Components to Restaurant Interior Design
In an effort to build your business's brand, consider the following design strategies.
1. Restaurant Color
Believe it or not, color has a huge bearing on a restaurant's success. Restaurateurs often choose the colors of their restaurant based on human psychology.
Fast food restaurants, for instance, tend to choose colors that increase the brain's hunger signals. You might've noticed how many fast food chains have similar colors: orange, yellow, and red. These colors are
thought to increase appetite
.
The effects of these restaurant colors are so intense that fitness magazines and websites even recommend that people on diets stay away from wearing clothes in these colors.
Another color consideration for restaurants is how it makes the restaurant look in terms of size. Some restaurant owners prefer a smaller, more intimate environment for their place of business. Others want their space to appear open and spacious.
The color choices should be based on the goals of the restaurateur. Lighter colors will make the restaurant look bigger, while darker colors provide more intimacy and dramatic effect.
2. Theme and Décor
Another consideration is the theme of the restaurant. This needs to be very clear for patrons. Are you an Italian restaurant? Customers should know this based on the theme and the décor. You don't have to go overboard and have a life-sized gondola in the main seating area, but some references to the type of cuisine served is important.
3. Cleanliness
Never, ever disregard the importance of
cleanliness
. Even some crumbs on the ground can leave a bad taste in your patrons' mouths. Just a hint of dust, dirt, or grease – or heaven forbid, food remains on a plate or fork – can turn a person's stomach.
Every restaurant owner should invest in cleaners and commit to the regular cleaning and maintenance of their restaurant and appliances. Doing so will keep customers happy. It will also keep you, your employees, and the customers safe from illness, kitchen fires, and injuries.
4. Dinnerware
As important as a theme and the food you serve are to your customers, it's vital to remember to pay attention to the details. Just as a garnish is the finishing touch on your delectable entrée, so too is dinnerware to restaurant interior design.
Choosing the right dinnerware doesn't have to be hard or time consuming, but it does need to be thoughtful.
First, dishes should be durable. Second, they should compliment your design aesthetic. If you're a classic diner serving all American meals, white dishes are fine. If you're an ethnic restaurant, you may choose dishes that represent your country or the bold colors of your city.
5. Menu Design
Designing a menu should be a fun project. And it is one that should, like your dinnerware, compliment your theme and business's brand.

Make sure to include menu design in your budget. Find a great artist to take your menu to the next level of greatness. Choose a font that is easy to read, especially if your restaurant lighting is on the dim side.
To Design the Best Restaurant, First ID Your Business's Brand
One of the most important steps you can take as a business owner is to sit down and figure out your brand. Not only do you want to serve a certain type of food, you want to serve a certain type of customer.
While customers tend to cross over from one type of restaurant to another, your regulars will be those who are attracted to your brand.
Figure out who you want to attract and who you want to market your business to. Once you do that, not only will marketing be easier, so will your restaurant interior design.
A Beautiful Interior Design Will Help You Build Your Business
Building your business and getting your business's brand across to consumers will take some time and effort, but it will be worth it. One of the best way for a restaurateur to start doing this is to focus their efforts and budget on restaurant interior design.
It may not seem like such a big deal, but when you focus on restaurant colors and menu design, you're branding yourself. These are visual examples of who you are, what you stand for, and what type of business you operate.
When people see something with their own eyes, it's indelibly marked on their brain. For better or worse, your restaurant's interior design will be remembered for years to come. Never underestimate the power of color, cleanliness, quality appliances, and design in building your business.