7 Superb Steak Secrets Shared by Celebrity Chefs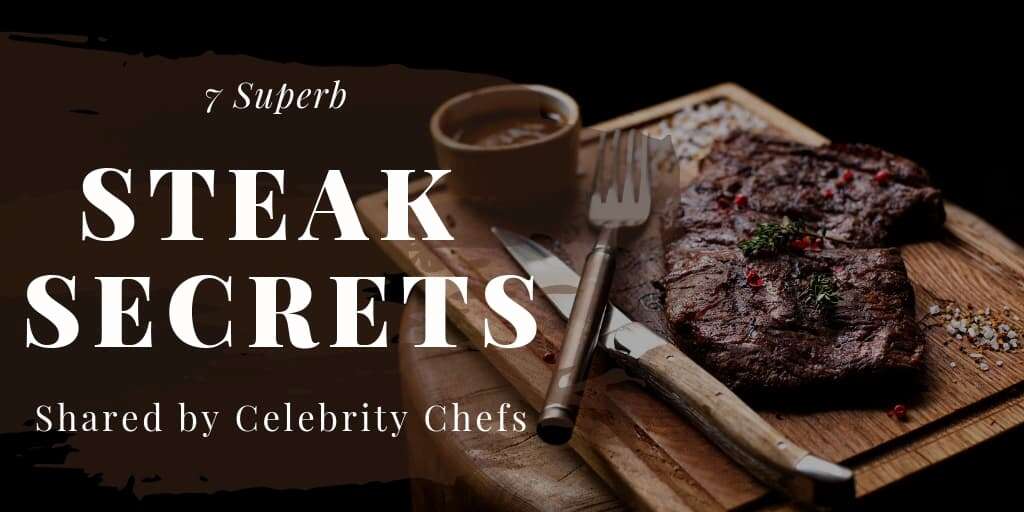 Cooking the perfect steak is probably one of the biggest honors a chef can receive. Achieving that perfect combination of a brown, crisp crust and moist, juicy insides takes only a few, simple steps, yet nothing is as intimidating as preparing a steak that the most exacting meat lovers will want to eat over and over again.
Since the first beef banquets and chophouses opened their doors in New York City in the mid-19th century, the American steakhouse has become a veritable institution frequented by patrons for their perfectly cooked porterhouse and T-bone steaks. By the time the 1990s rolled around, celebrity chefs have cast their attention on this perfectly simple yet perfectly terrifying dish. If you're wondering what today's biggest names in the culinary industry recommend about preparing the perfect steak, here is what they have to say.
Use the perfect cut of meat
Wolfgang Puck, one of the richest chefs in the world and caterer to the glitziest events in Hollywood, recommends to get a piece of meat with the bone in, such as a porterhouse or a tomahawk. "The Kitchen" host and winner of "The Next Iron Chef" Geoffrey Zakarian says that fatty meats with a bit of marbling make the best steaks. A sirloin or a rib-eye are amazing cuts for grilled steaks, he says. For Seamus Mullen, owner of Tertulio and El Colmado in NYC, he prefers steaks made from grass-fed beef. These cuts are high in omega-3 fatty acids, making them fattier and juicier than grain-fed meats. They are more expensive but are completely worth it.
Now, there are fresh cuts and there are also aged cuts. Eataly co-owner Lidia Bastianich prefers prime T-bone or porterhouse that has been aged properly for two to three week. Dry-aged beef allows the meat's natural enzymes to break down the connective tissue in the muscle to make tender, flavorful steaks.
Cook room-temperature steaks
"Food Eats" and "Iron Chef America" host Alton Brown says steaks should be allowed to warm to room temperature before cooking. Fabio Viviani, finalist of "Top Chef" and owner of Café Firenze in California, agrees. Viviani says that cool or frozen steaks do not cook properly and you will end up with a slab of unchewable meat. To bring the steak's temperature up, take it out from the freezer and let it sit covered on the kitchen counter for 30 minutes to 1 hour.
Season it well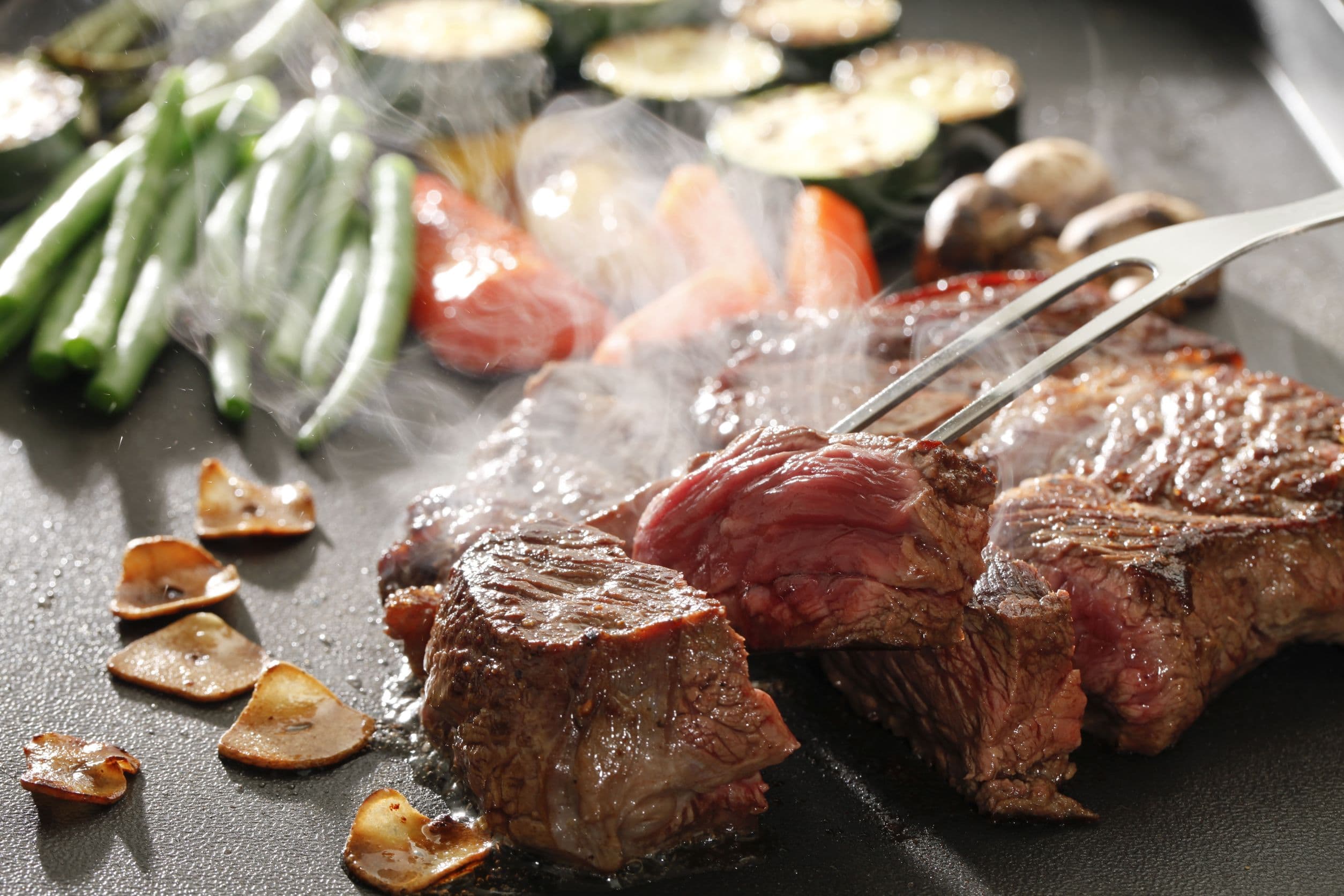 There's no shortage of seasonings and spices for cooking a steak to your liking. However, Geoffrey Zakarian believes that all you really need are good old salt and pepper. He says to rub salt and pepper on the top, bottom, and sides of the steak generously. It should feel like you're overdoing it, adds Michael Chernow, founder of The Meatball Shop and owner of NYC's Seamore's.
Bobby Flay, owner of Bobby Flay Steak in Atlantic City, and Wolfgang Puck do it a little bit differently by brushing the steak on all sides with oil right before adding the spices. Wolfgang Puck also crushes his own black pepper and adds chopped fresh rosemary into the mix.
Butter up
Gordon Ramsay recommends that you baste the steak with butter as it is cooking. According to the "Hell's Kitchen" host, butter gives the steak a nice, nutty, brown finish.
Ree Drummond, owner of The Pioneer Woman blog and host of the same TV show, also uses butter for her perfect steak. She starts with seasoning the meat with salt and lemon pepper and then coating the hot commercial grill with butter before searing.
Cook at blazing hot temperatures
While most people cook steak in the pan with plenty of oil, Wolfgang Puck says the trick is to get the pan or commercial grill really hot. How do you know it's really hot? Michael Chernow says to place the pan on the burner on high heat and leave it there for a minute before adding oil. The oil should have a shimmer, like it is glistening.
Another way to go about it is to use a stove thermometer. Alton Brown recommends that you get the heat up to 500° F and use a cast-iron skillet, which is excellent at retaining high levels of heat.
Don't overcook it
Because you're working at very high temperatures, you don't really need to take long to cook your steak. Robert del Grande, executive chef at RDG + Annie Bar, says a rule of thumb is to cook the steak for 10 minutes for every inch of meat. "Top Chef" head judge Tom Colicchio prefers his steaks a little bit rarer and recommends that you cook the steak three to four minutes on each side. You'll know your steak is perfectly cooked when you see the meat juices bubbling to the top. If you find the fat fizzing at the bottom, you know the meat is overdone.
Let it rest
"Bizarre Foods" host Andy Zimmern says steak is best eaten at room temperature. When steak cools down, all the fat goes back to the muscles, making the steak more tender, and cutting the meat too early will make it dry, says Wolfgang Puck. Lidia Bastianich says not to forget to add back some of the juices after carving to retain the meaty flavor of the steak. According to Geoffrey Zakarian, the best medium-rare steak has a temperature of 130° F. This is the perfect temperature for locking in juices and ensuring the best steak flavors come through.