Braising Pans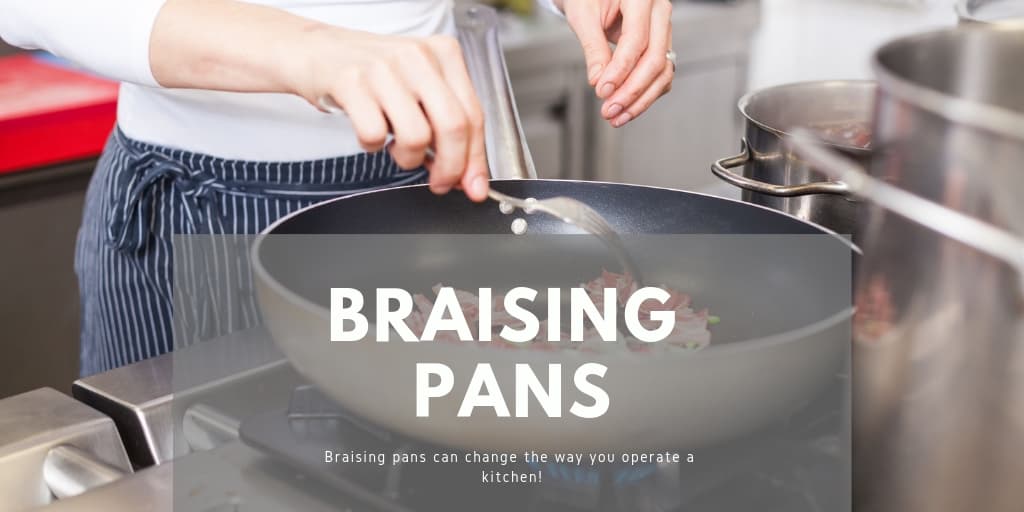 When designing your kitchen, you've probably come across (or will come across) a conundrum wherein your space allotment doesn't seem to fit all of your equipment needs. While a professional kitchen designer can help, it also pays to understand what pieces of equipment can serve multiple purposes, cutting out the need for extra accessories and items. Braising pans are such items, and they're also many times overlooked in restaurants! Braising pans can change the way you operate a kitchen and are worth a closer look when choosing your restaurant's equipment.

Many Uses
While you can simply use a braising pan for braising, you can also saute, stew, boil, simmer, steak, pan-fry, grill, roast, use as a dough proofer and Bain Marie! Rather than investing in specific appliances for each cooking method, you can invest in one braising pan to do all the work. There are additions such as a steaming rack that allows for you to boil water in the pan and steam your selections! Restaurant Hospitality even reports that braising pans are truly the jack-of-all-trades when it comes to foodservice equipment. With the ability to perform multiple culinary tasks, your braising pan can also add variety to your menu selections that your kitchen may have not had space for.
Built to Last and Safe to Use
Foodservice Equipment Magazine simply states that braising pans are 'built like a tank', and the phrase couldn't be truer! Constructed with heavy gauge stainless steel, braising pans are rugged and will outlive many of its counterparts.
In terms of safety, these pans are specifically built with safety in mind. Safety shutoffs ensure that employees are given the best opportunities to avoid accidents, and pans are usually restricted to a 5-10 degree tilt. Water-resistance helps prevent vapor and steam injuries and draw valves ensure fats and grease don't harm the operator.
Different Models and Options
Some foodservice equipment comes in a small range of sizes and models. Braising pans can range anywhere from 10 to 40 gallons, and the cost of these pans can vary drastically depending on style and model, making it easy to fit into any budget. Open and closed base models are two basic designs for braising pans, and an open base will make it easier to reach under the pan to clean. The pan itself may be welded together or formed from a single sheet of stainless steel. Similarly, some models have the front wall of the pan angled for better pouring abilities! With so many options, it's easy to choose a braising pan that fits with your individual kitchen's needs.
Jenifer Aquino
Sales Consultant
Phone: 800-555-0666 x 1975
Mobile: 516-882-1975
Email: jenifer@ckitchen.com
Website: www.ckitchen.com
Address: 2237 New York Avenue Brooklyn, NY 11234