Commercial Smokers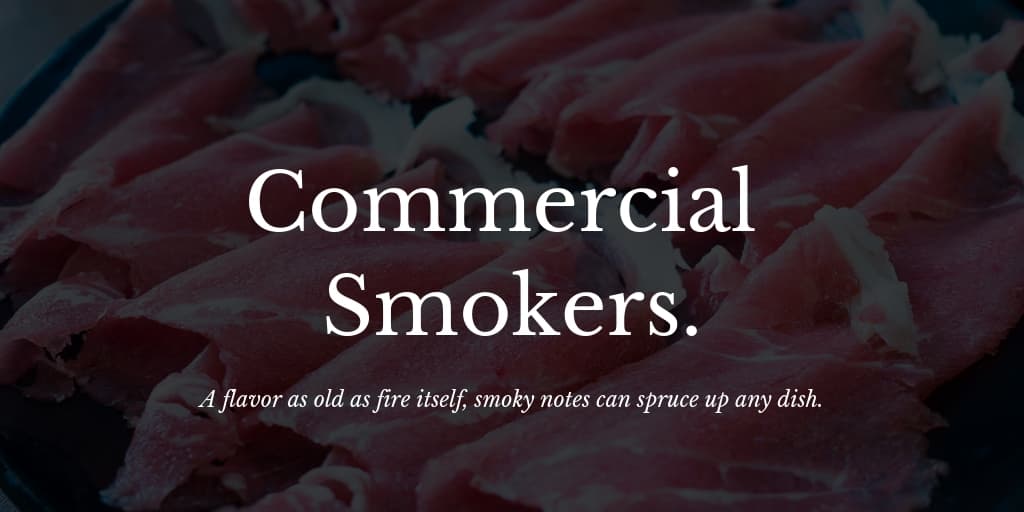 Two dishes with identical ingredients can have completely unique tastes and finishes based on the preparation method. Smokers can bring strong and smoky flavors to restaurant menus, and specialty restaurants especially may find that this appliance essential. While smokers are typically associated with meats, many chefs are utilizing their smoky properties for other entrees as well. A flavor as old as fire itself, smoky notes can spruce up any dish.
Smokers can be used as a cooking preparation tool for a variety of kitchen items. With such versatility, most any ingredient in the kitchen is up for grabs!
The Traditional: Meats should be the first idea that comes to mind when using a smoker in the kitchen, and any meat can benefit from it's smoky properties if marketed correctly. Depending on the type of meat as well as the result you're going for, a smoker can be utilized in a multitude of ways. The Complete Guide to Smoking Meats is a great resource if you are just beginning or looking for other ways to utilize your smoker with meats.
The Trendy: Fruit in a smoker? It seems absurd, but Rick Tramonto, executive chef/president of Tramonto Cuisine and culinary director of Tramonto's Steak and Seafood at the Westin Chicago North Shore, has been putting apple slices in his smoker recently. He lightly brines them in citrus, salt, and sugar, then smokes them to create a smoked apple purée for a pork dish. Keep the skin on fruits if you plan to use them in a vinaigrette, as this helps retain flavor. You can even smoke cheese, although it's trickier because of sweating. Keep the temperature around 60 and not 80 for cheeses to prevent sweating.
The Toppings: Honey, butter, and aioli are toppings that, with a smoky flavor, can add a complex mixture of flavors to any dish. For instance, Tramonto smoked almonds and then pureed them for an aoili topping. Cream, butter, and honey each require cold smoking, an expanding proposition as operators experiment with more-delicate ingredients. You can smoke honeycomb and stuff a chicken with it, and smoke butter and use a syringe to inject it into potatoes! The possibilities are truly endless.
While there are many choices for items to smoke, the chef must be skilled with the smoker. Firstly, selecting an appropriate smoker is key to starting on the right foot. Gas, electric, and charcoal kettle smokers are among the choices, as are vertical box, offset barrel, and water smokers. Next, consider the type of wood you plan to use, as this can add different flavors to whatever is being smoked. You can even add nutshells (soaked and placed around the perimeter of the coals) to add a nutty smoked flavor, and cinnamon sticks can also spice up the tones!
The key is to use smokers to enhance flavors while not overpowering the meal. Use it appropriately, and you can add depth to your menu that is unmatched! Make sure you know when to draw the line, and you'll ensure that guests will keep coming back for more.
JENIFER AQUINO
Sales Consultant
CKitchen.com
E Friedman Associates Inc
T: 800-555-0666 x 1975
D: 516-882-1975
jenifer@ckitchen.com