Portion/Price Control : Nixing the Table Condiments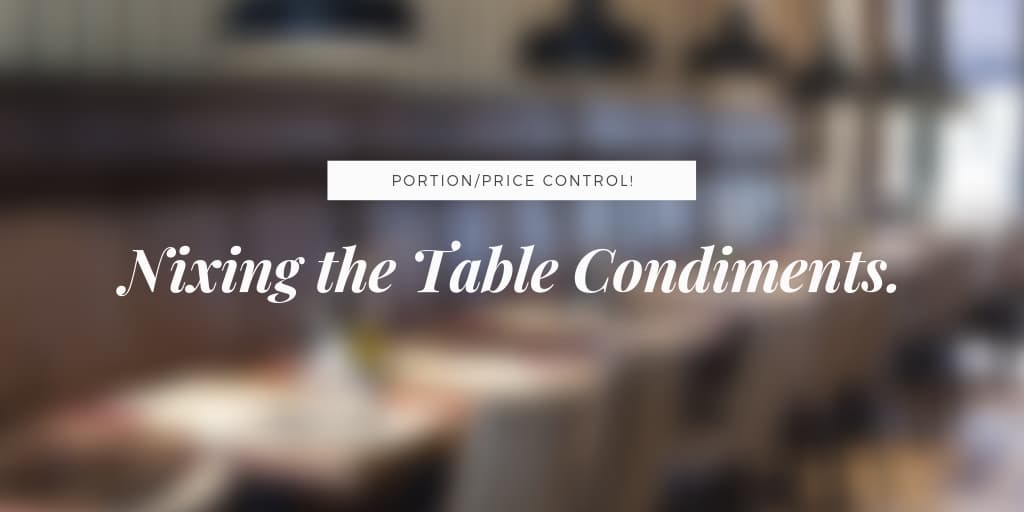 When reflecting on your restaurant's bottom line, you may see over time that costs that seemed negligible are actually chipping away at substantial profits. If you offer table condiments that are constantly stocked and stationary on tables, you may be inviting an unnecessary cost into the financial equation. To help get a hold on portion and price control, it may be time to nix the table condiments in your restaurant!
Convenience
For both you and your customers' convenience, you may have chosen to leave condiments on tables. Convenience, though, harks to what could be a larger problem. Are your employees not paying enough attention to guests? Is your setup too disorganized to allow for waitstaff to retrieve requested condiments? What makes the stationary condiments convenient? When you answer the last question, you may find an underlying problem that needs to be resolved.
Cleanliness
Condiments that are kept on tables tend to collect dirt and grime over time and can become an eyesore for any guest that sits at that table. Keeping the bottles clean is more difficult when those bottles remain on a table as opposed to being stored in the kitchen.
Portion Control
We've all had that (slightly annoying) family member that thefts sugar or ketchup packets from restaurants and stores them for home use. Keeping condiments in the kitchen means that portions are controlled by guest request and monitored by employees in a relaxed manner, saving you money on stolen items.
Fresher Condiments, Better Quality
By cutting out the cost of stolen condiments, you may find that you can invest in better ones! Perhaps you now have the extra money for raw sugar, fancy ketchup, and interesting dipping sauces - all of which can contribute to better guest experience. At the same time, condiments can be portioned individually and on an 'as-needed' bases for every meal, meaning that nozzles don't get crusted with previous improper use by other guests. This makes for overall fresher condiments, as buildup of previous meal grime is prevented with professional use.
Appearance
Have you ever considered that the fancier, higher-quality restaurants don't typically keep condiments on their tables while their groty, quick-serve counterparts do? When you keep condiments on the table, you run the risk of simply appearing lazy. Compounded with the likelihood that the condiment bottles are not cleaned consistently, the first impression for your guest may be a messy, unkempt condiment corner on their table. Keeping condiments in the kitchen means that tables are wide open for a fresher, cleaner appearance.
At the end of the day, keeping table condiments in the kitchen can save you money and improve the appearance of your restaurant. Train employees to stay on top of condiment requests and to automatically bring out condiments that tend to pair with certain dishes. By keeping table condiments in the back, you take control of the situation, benefiting your reviews and your bottom line!
DAMON SHRAUNER
Sales Consultant
E Friedman Associates Inc
T: 516-882-1955
D: 712-389-6805
F: 605-782-9015