Cranberry and Amaretto Chocolate Salami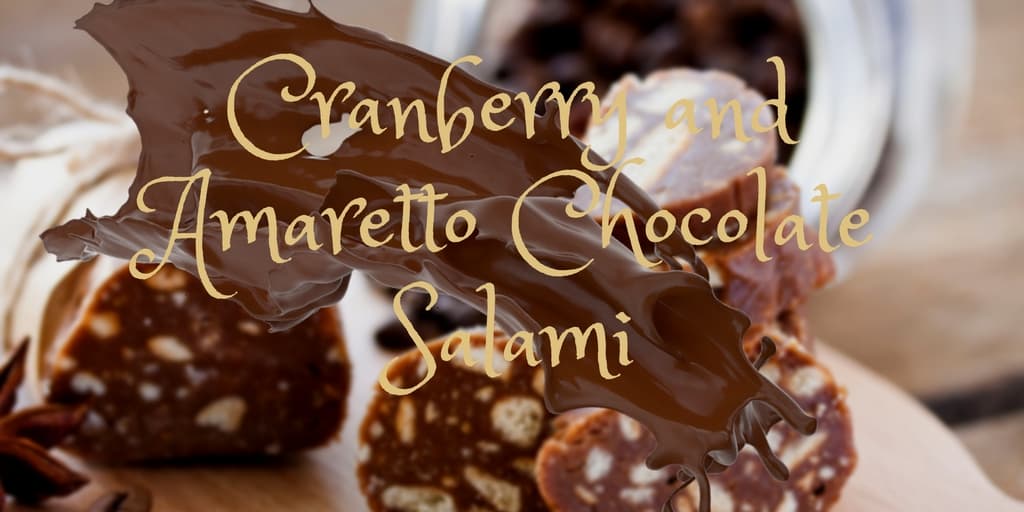 Foodies, did you miss any great desserts lately? No worries.
Holidays or not, the festive appetite is ever-present. And you know what you should try next?
The cranberry and Amaretto chocolate salami.
Forget about the sugar and calorie count because this dessert recipe is so tasty, yet can still pass the health check.
Before describing how to prepare this Italian dessert, let us look at some interesting nutritional facts about its major ingredients.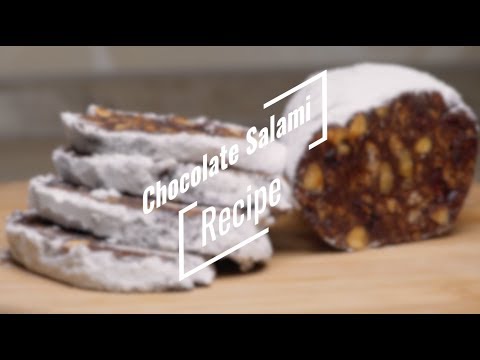 Chocolate Salami 101: Healthy or Not?
What is chocolate salami?
Unlike the original salami, chocolate salami is not a meat product. However, they do both have a long cylindrical shape sliced into discs.
As we all know, "Salame di Cioccolato" is a famous Italian dessert made from cocoa or just plainly dark chocolates with broken biscuits and a hint of some wine or some rum. Some recipes also include nuts and almonds for a twist in the taste buds.
Aside from its Italian origin, chocolate salami is also a popular dessert in Portugal that became later widespread in Europe. Today, it has become one of the favorite desserts that even American homes serve, especially during the Holidays.
This dessert can sometimes be considered as unhealthy because chocolate is the main ingredient.
The good news: dark chocolate brings health benefits.
Experts and nutritionists say that dark chocolate protects our bodies from free radicals, provides better brain and cognitive function, and aids blood pressure and blood sugar. Also, dark chocolate is rich in antioxidants, which means that this can lessen the risks of getting cancer, too (of course, in moderation). Always remember that high-quality dark chocolate contains 70 percent of cocoa solids.
On top of all that, the cranberry and amaretto chocolate salami includes blanched almonds, pistachio nuts, and eggs. These are all good sources of protein and other nutrients needed by our body.
The Wonders of Cranberries: Their Health Benefits
Another good thing about this recipe is that this includes the ever-healthy cranberry, a typically favored healthy ingredient used for sauces, drinks, or as an addition to stuffing and dessert.
How healthy is a cranberry?
Half a cup of cranberries is low in calories (25 calories) and rich in vitamins C, A, and K, dietary fiber, and antioxidant proanthocyanidins (PACs), which are essential in weight loss and preventing diseases, such as Urinary Tract Infection (UTI), cardiovascular disease, and even cancer.
In this recipe, you need dried cranberries.
Studies suggest that dried cranberries have the same nutrients as the fresh cranberries in terms of the antioxidant PACs and important dietary fibers in detoxifying the body. However, vitamins A and C might be reduced, depending on the drying process. Although sweetened, dried cranberries still bring the same health benefits as the fresh ones.
Amaretto: The Hint of Alcohol You Need
The chocolate salami will not be complete without that hint of alcohol. Amaretto is the sweet Italian liquor with a touch of almond flavors that will complement a chocolate salami dessert. However, two tablespoons of Amaretto should be enough because of its 24 to 28 percent by volume alcohol content. You can always substitute this sweet liquor with your favorite rum or brandy, but if you want the dessert to be kid-friendly, then the absence of Amaretto will never be a problem.
The Cranberry and Amaretto Chocolate Salami Recipe
Here is the much-awaited recipe on how to prepare the hearty cranberry and Amaretto chocolate salami dessert!
Ingredients:
125 grams of sweetened dried cranberries
2 tablespoons of Amaretto
150 grams of whole blanched almonds
50 grams of pistachio nuts
220 grams of roughly chopped dark chocolate
75 grams of regular butter
75 grams of caster sugar
25 grams of light brown sugar
1 large egg
1 large egg yolk
175 grams of amaretti biscuits
2 tablespoons of icing sugar
Procedures:
Combine the dried cranberries and amaretti in a bowl. Stir to mix the flavors and then set aside.
Spread almonds evenly on the baking sheet and toast in the oven for 5 to 8 minutes. After the desired toast is achieved, chop the almonds in half.
In heat-proof bowl, place the dark chocolate and the butter. Place the bowl on top of a pan with simmering water to melt the chocolate. Stir the chocolate and butter until melted and smooth.
Provide another bowl for the caster sugar, light brown sugar, egg, and egg yolk. Whisk the mixture until combined well.
Add the sugar and egg mixture to the bowl containing the melted chocolate and butter mixture. Continue cooking on the pan of simmering water for about 5 minutes or until the mixture is already hot to touch.
Place the amaretti biscuits inside a Ziploc or any other freezer bags and use a rolling pin to crush them into few pieces.
Combine the chocolate mixture and the cranberries and amaretti mixture in one bowl. Sprinkle the broken biscuits and carefully stir the mixture until combined properly. Leave to cool.
Prepare two pieces of nonstick baking paper. Divide the mixture in half and roll each half into a sausage shape. Twist each end to make the Chocolate Salami intact.
Refrigerate for 4-6 hours. This dessert can be kept inside the fridge, still wrapped, for about 10 days.
Unwrap the salami and dust with the icing sugar.