Design Trends You Can Try Out for Valentine's Day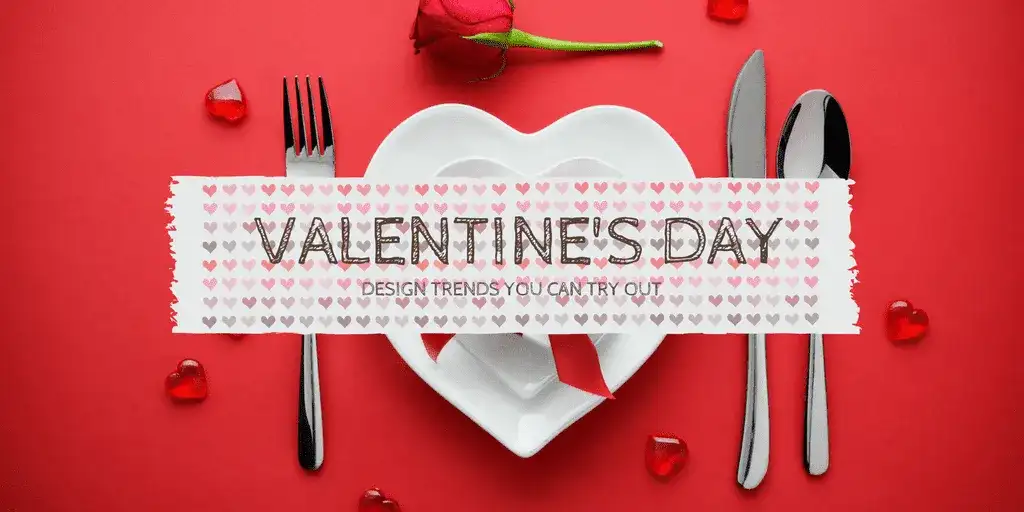 Decorating for Valentine's day is important. You want to make the place look romantic and inviting. You want to keep things trendy and looking up-to-date as well.
It doesn't matter whether you're decorating for a romantic evening at home or you're a restaurant owner hosting a Valentine's Day special for lovers, you want to make sure love is in the air. Colors, patterns, and even lighting will make a huge difference.
Here are five of the things you want to consider when it comes to design trends for Valentine's Day. These can be used at home and at work.
Colors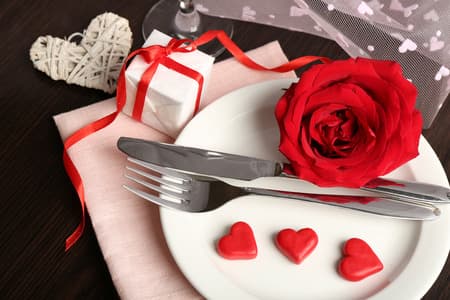 What colors come to mind when you think of Valentine's Day? The two most popular colors for this holiday will always be pink and red. Both of these colors evoke feelings of love.
Red is the color of passion. Pink is the color of love. White is the color of purity.
Too much red can be overwhelming. Mix in other lighter colors. White is always a good standby. White expands the size of a room and adds more light as well.
If you are using a red tablecloth, accent with white napkins and decor, and some pink flowers. Carnations and roses are both good Valentine's Day floral decor options.
Patterns
Flowers also come to mind when it comes to patterns for designing a romantic Valentine's Day evening. If you have art on the walls in your home or in your restaurant, consider swapping out what's displayed with romantic floral patterns.
Floral patterns used on tablecloths or curtains can be too overpowering sometimes, so make sure you are picking patterns that are subdued. Keep romance and relaxation in mind when picking patterns. Pastel and light colors and hazy views keep things light and airy.
Patterns are used in many places around the home and in restaurants. Look around at the furniture, the walls, and even the floors. While you won't be changing the carpet for one holiday, you may want to add a throw rug to accent the room and help blend the colors that are around you.
Decorations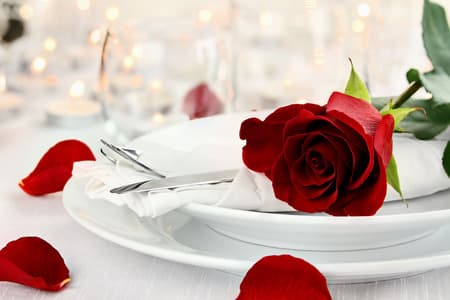 Decorations will help enhance the design of a room. That makes them just as important to the aesthetics.
Hearts are a commonly accepted pattern when it comes to design trends for Valentine's Day. From heart covered ties and dresses to heart-shaped cards, they'll be everywhere. Keep your heart decor to a minimum. Try table scatter with hearts or maybe a heart or two on the wall, but nothing more.
Consider what's popular right now, like flower chandeliers. The right bouquet of flowers can enhance the feeling of romance. A grouping of flowers flowing above the table leaves more space on the table's surface for hand-holding, and mood-enhancing candles.
Service
At home or in a restaurant, what you're serving food on and how the food is being served matters too. Fancy restaurants turn the food on each plate into a work of art.
Instead of serving a plain cup of coffee, create a heart in the froth on the top. Use syrups and berries to add reds to deserts. Serve salads with red fruit garnishes.
Serve the meals on plates that enhance the look of the meal. This may make white the best choice. But a white plate on a red tablecloth will surely stand out.
You also want staff to dress the part, and they count as part of the "service" in restaurants. Have them wear red ties or even a simple heart pin to show their own festivity.
Lighting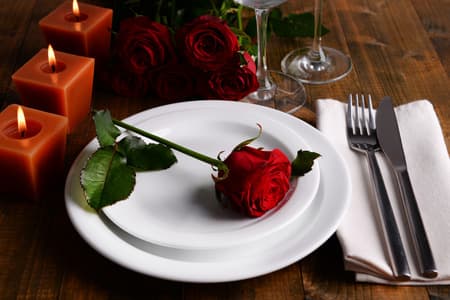 Lighting is one of the most important things when you're trying to set a mood. If you want to be trendy, install dimming lights. This lets you turn the lights up when needed, and turn them down to a romantic glow when you're hosting a Valentine's Day celebration.
Mood lighting lets couples relax. It's easy on the eyes and allows for a more romantic feel.
This is where candles come in handy. Pick candles that don't have a scent if you're dining at home or you have guests that will be eating at your restaurant. Scented candles can inhibit the taste of some foods.
While these design trends have been geared toward a home dining room or restaurant, they are things that can be transferred into anything. Consider these design trends for Valentine's Day when marketing. Use hearts, florals, reds, pinks, and the right "lighting" on your website to enhance the feeling of love for this holiday.