7 Pieces of Kitchen Equipment to Help You Cook Smarter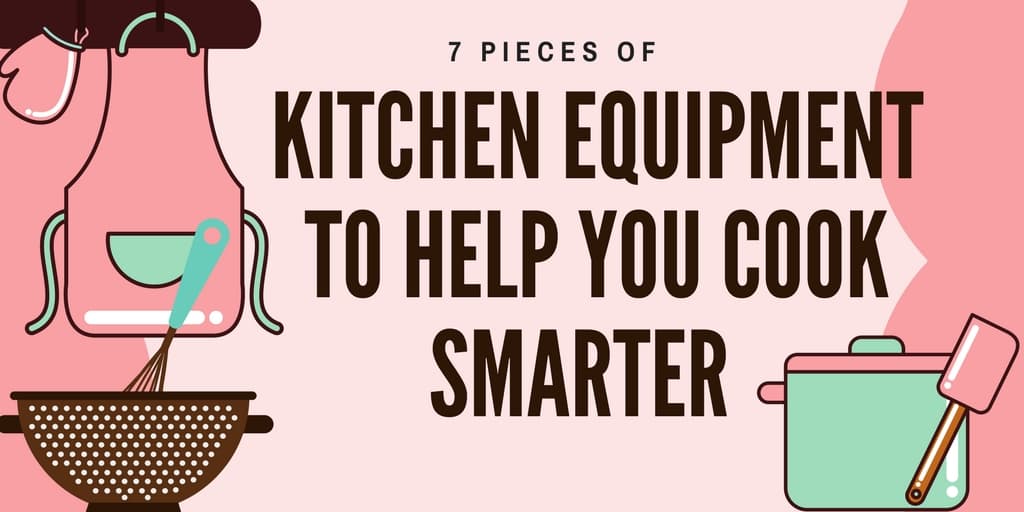 You've probably heard the saying: "Work smarter, not harder."
This saying is typically applied in the workplace, but it's been proven valuable in the home as well.
Take your kitchen, for instance.
Do you ever feel frustrated or confused? Do you ever avoid cooking interesting recipes because they seem way too complicated?
The key here is to work smarter! And the best way to do that is with the right pieces of kitchen cooking equipment.
Be a Smart Cook – 7 Pieces of Kitchen Equipment That Make Cooking So Much Easier
To get you on the right track when it comes to working smarter in the kitchen, here are seven pieces of equipment to help.
1. Make Peeling Potatoes Super Easy
Peeling potatoes can take a lot of time.
The best thing you can do is pick up the pace. No, this doesn't mean to become a knife ninja – it means investing in a potato peeler, like the Rotato Express.
You place the potato on the machine, turn it on, and it will turn the potato and peel it in no time.
2. Keep Things Balanced with an Oil and Vinegar Mister
Oil and vinegar is a great combination.
The issue with this tasty pair is that they need to be perfectly balanced. Too much oil will leave you begging for more flavor. Too much vinegar and you'll spend the rest of your meal with pursed lips.
What you need is an oil and vinegar mister. This device is affordable, fun, and will give you the ideal oil and vinegar flavor combination.
3. A Dry Goods Dispenser Will Keep Your Bulk Items Fresher Longer
If you're like most people, you keep your bulk items in plastic containers. But these tend to be bulky and aren't always air-tight, which can lead to stale food.
You can keep your dry goods fresher longer with a dry goods dispenser.
4. An Adjustable Apple Slicer and Corer Is a Must
Apples are the perfect healthy snack. It doesn't matter what age you are, this delicious fruit is sweet, refreshing, and totally nutritious.
The problem with apples, though, is that they need to be sliced. You can't just bite into one on every occasion. Sometimes, you need to eat your snacks discreetly. Plus, slices are way easier for your little ones to gobble down.
Unfortunately, apple slicing takes some time – time not everyone has.
This is why nearly every kitchen should have an apple slicer and corer. With one push, the job is done!
5. Cherries and Olives Are the Pits
They might be unless you have a cherry and olive pitter.
Instead of trying to dig pits out to make a fresh cherry pie or a unique olive tapenade, use this tool to simply pop those pits out with almost no effort whatsoever.
Investing in a pitter will make you fall in love with cherries and olives all over again.
6. The Fastest Way to Add Herbs – a Snipper
Chopping herbs can be incredibly satisfying. But if you're on a tight schedule, use an herb snipper. This device looks like a pair of scissors with multiple blades. Just a couple of snips and you can add fresh herbs to your salad or garnish your main dish.
7. You Need to Invest in the ShredMachine Meat Shredder
Shredded meat is perfect for tacos, stews, sandwiches, and much more. However, the time it takes to shred the meat can keep a cook from trying these types of recipes.
There's a wonderful tool on the market called the ShredMachine which can shred cooked meat with a simple rotation of the lid. It will make your life so much easier.
The Right Equipment Helps Improve Your Skills So Experimenting in the Kitchen is Fun
A lot of people take cooking way too seriously. It should be fun!
Yes, you have to learn new techniques and practice, but isn't that what you would do for any other art of hobby?
The best way to have fun in the kitchen is to keep practicing. Investing in cookbooks that interest you and in kitchen equipment that makes the process easier will help, too. The right equipment will allow you to practice and experiment with ease.
The next time you're in the kitchen, remember to get creative and have some fun. Before you know it, cooking will become one of your favorite activities of the day.