Apple Crisp Recipe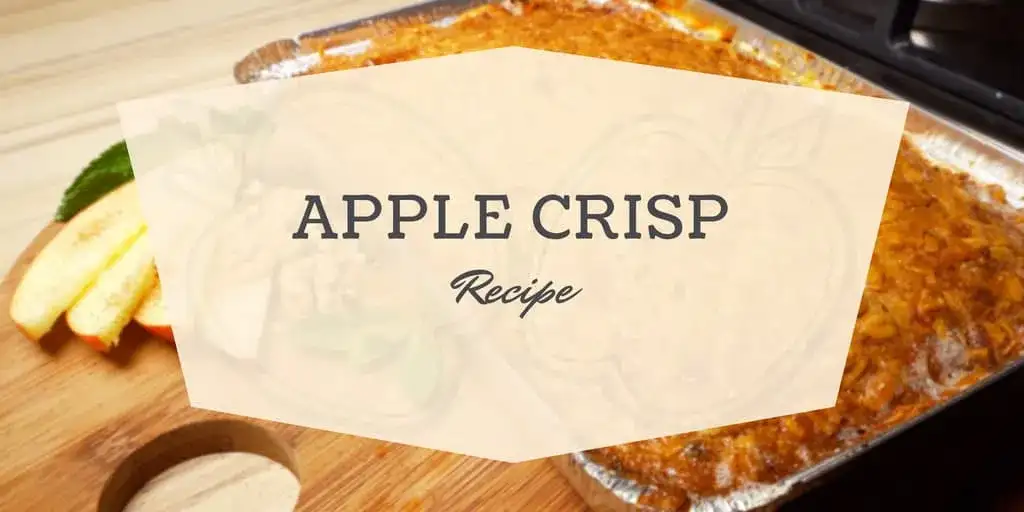 Believe it or not, apple crisp is actually a recent phenomenon recipe-wise. While you would think that it would hearken back to colonial times, the modern apple crisp recipe is possibly less than 100 years old.
According to Wikipedia: "The earliest reference to apple crisp in print occurs in 1924, with a recipe in the Everybody's Cook Book: A Comprehensive Manual of Home Cookery, Isabel Ely Lord."
However, apple crisp has become extremely popular. It's a lot like apple pie but involves less work to create, unless you are into store-bought pie crusts.

Many Different Types of Apple Crisps
Apple crisp traditionally has apples (of course) and some sort of crumbly, sweet topping.
Over the years, people have experimented with many variations on the apple crisp theme.
You can find all sorts of crazy apple crisp recipes on the Internet. Some are downright decadent (and a bit bizarre), like some that use the white cake mix (seriously) for the "crisp" part of the recipe.
Perhaps you might like Rice Krispies on your apple crisp or go so far as to sprinkle it with candied M&Ms or other types of chocolate bars.
Apple Crisps? Or Something Else Entirely?
Some of these recipes really aren't for apple crisps so much as apple crumbles or, more accurately, apple mushes. If you put granola on a bunch of apples and put it in the microwave, you aren't going to get anything crisp whatsoever.
It might be hot, it might be gooey, but it won't be crisp or crunchy.
If you want a healthier apple "crisp" recipe, you can try more exotic ingredients such as quinoa. Quinoa, not well-known for its crunchiness, won't give you a traditional apple crisp texture, but, hey, it's a superfood, right?
A Slightly Healthy Apple Crisp Recipe
Here's an apple crisp recipe that has a lot of the traditional elements but may be healthier than the typical recipe. You can replace the sugar with Stevia (or try another sweetener). The addition of chia seeds adds a healthy super food to the crumbly topping. Also, coconut oil is a very healthy and tasty oil to try instead of the typical butter.
Filling:
10 cups of sliced apples* (peeled or unpeeled, your choice)
1/2 cup sugar or Stevia
1 tablespoon white whole wheat flour (or rice flour for gluten-free)
1 teaspoon ground cinnamon
1/2 cup water
Topping:
1 cup old fashioned oats
1 cup whole wheat flour (or rice flour for gluten-free)
1/2 cup packed brown sugar
1/2 cup chopped walnuts
1/4 cup of chia seeds
1/2 cup melted butter or virgin coconut oil
*To get 10 cups of apples, you would need:
5 large apples (or)
5 medium-sized apples (or)
3 small apples
Supplies:
Apple corer
Paring knife
Peeler
Measuring cups and spoons
One or two large mixing bowls
9 x 13 inch baking pan
Instructions:
Preheat the oven to 350 degrees Fahrenheit.
Mix all the ingredients under "filling" in a mixing bowl except for the water. Put in water as needed to moisten the mixture, and then spoon it into the baking pan.
Then, mix all the ingredients under "topping" in another mixing bowl (or wash the first one first). Sprinkle over the apples.
Bake at 350 degrees F for approximately 45 minutes. If the topping is becoming too brown, then take the apple crisp out earlier.
Note: Using virgin coconut oil will impart a slightly coconut flavor to the topping that you might enjoy. You can also use refined coconut oil for a slightly less flavorful oil.
Apple crisp is great with vanilla ice cream. For a healthier option, try vanilla Greek yogurt.
Experiment with Apple Crisp Recipes
The great thing about apple crisp recipes is that, in the end, they are really hard to screw up. Your biggest danger will be in baking the crisp for too long, and burning the topping, or, putting it in the microwave and creating an apple mush.
Try different ingredients in your toppings. You can even try granola, which is an easy way to add a topping without making your own. Add some ice cream and you are good!