The Top 5 Best Recipes for the Perfect Cup of Classic Irish Coffee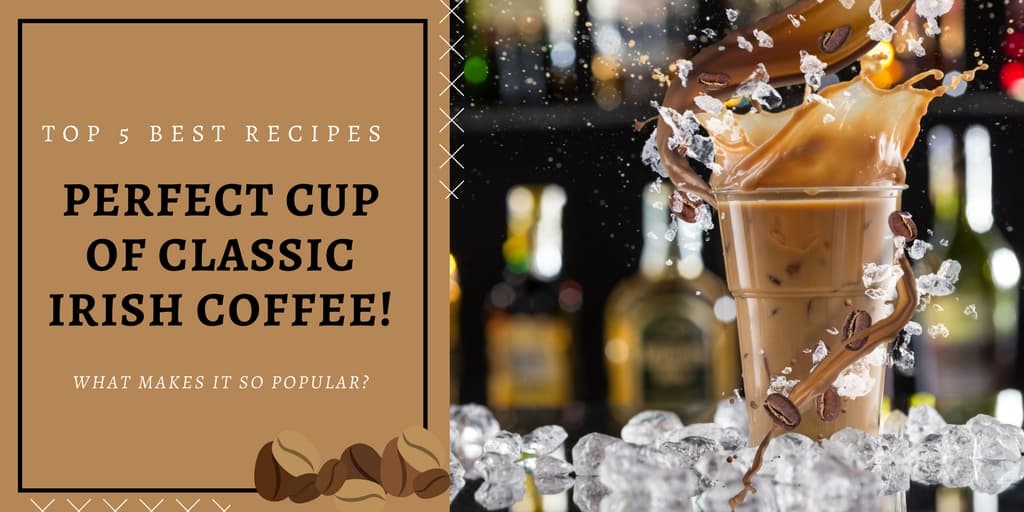 How do you like to end your evening meals? Try shaking things up a bit with a delicious cup of Irish coffee. This is a favorite for many people and can double as a delectable dessert. Serving this at your home or restaurant is a great way to keep them coming back for more!
What Is Irish Coffee and What Makes It So Popular?
Irish coffee is coffee with Irish whiskey. It's also served with cream on top. This type of coffee is ideal for cold, wintery days. Not only will the hot coffee keep you toasty, the alcohol will warm you up, too.
Irish coffee is one of the most wonderful warm cocktails you can try.
To make this cocktail, pour hot, black coffee into a mug. Add some Irish whiskey, sugar, and top with heavy cream. It's one of the most wonderful tastes you'll ever experience.
Some people make a quick and easy version at home by brewing some coffee, stirring in some Irish Cream (one of the best liqueurs you'll ever try!), and topping it with whipped cream.
The caffeine in the coffee is one of the perks of this cocktail, as is the sweetness and the bite of the alcohol. It's no wonder this drink has been popular for 75 years.
Try These Top 5 Irish Coffee Recipes
Most Irish coffee recipes are fairly similar. But these popular recipes have some slight differences, mostly based on the preference of the recipe developer. Give them a try and find your favorite recipe!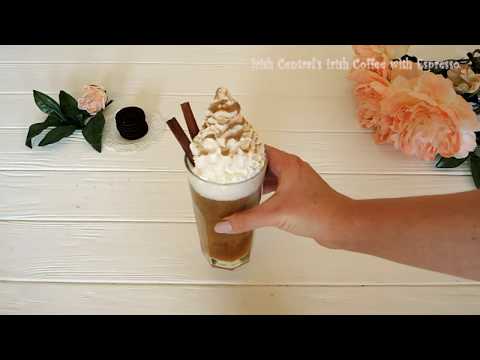 1. The Food Network's Original Irish Coffee Recipe
For those of you who want to follow a completely original recipe, try this one from the Food Network. It takes about 10 minutes to prepare, which includes coffee brewing time.
1 cup fresh brewed coffee
1 tablespoon brown sugar
1 jigger Irish whiskey
Slightly whipped heavy cream
Fill a glass mug or cup about ¾ full with coffee. Add the sugar and stir until dissolved. Then, add the whiskey and stir. Top with the whipped cream.
2. Irish Central's Irish Coffee with Espresso
This recipe can be made with brewed coffee or espresso from a commercial espresso machine. The choice is yours. Test it out both ways and see which you like the best.
1½ ounces Irish whiskey (Irish Central recommends Clontarf whiskey)
Fresh brewed coffee (5-7 ounces) or 2 shots of espresso
1-2 teaspoons brown sugar
Fresh whipped cream
This recipe calls for adding the ingredients in the opposite order from the Food Network's recipe.
Start by warming a glass mug. Then, pour in the sugar and top with the whiskey. Pour in the hot coffee or espresso, and top with the whipped cream.
3. The Guardian Is Not a Fan of Espresso
Felicity Cloake of The Guardian says she prefers brewed, filtered coffee over espresso when it comes to this warm cocktail. In her opinion (and that of other die-hard Irish coffee fans), the espresso is so strong that it takes away from the flavor of the sweet whiskey and cream. Irish whiskey – according to whiskey enthusiasts – is smooth and mild. Brewed coffee is the perfect compliment.
An interesting note about sugar in Ms. Cloake's article about Irish coffee – the sugar is essential. Yes, the sweetness makes this drink tasty, but the sugar keeps the heavy cream from dissolving into the hot coffee. The sugar molecules force the heavy cream to float on top of the coffee.
50ml cold whipping cream
2 tablespoons brown muscovado
50ml Irish whiskey
150-200ml coffee
Nutmeg
This recipe calls for dissolving the sugar in water to create a syrup. After heating the water and dissolving the sugar, add the whiskey. Pour the whiskey mixture into a mug, and then add the coffee. Stir well before adding the thick whipping cream. Sprinkle nutmeg onto the whipped cream.
4. Jamie Oliver's Irish Coffee Recipe
Famed chef Jamie Oliver agrees with Felicity Cloake of The Guardian – the hardest part about making this recipe is keeping the heavy cream from sinking to the bottom of the cup. But with some practice, you'll have the cream standing proud in no time.
Oliver doesn't thoroughly whip his cream. Some people like to whip their cream with a frenzy so that it becomes thick – something that can more easily float on top of the coffee. But Mr. Oliver likes things old-school. He uses heavy cream, whips it slightly, and then pours the cream over the back of a spoon onto the top of the coffee. This, in essence, allows the cream to slide over the top of the coffee instead of dropping to the bottom.
His recipe calls for:
1 cup hot coffee
2 teaspoons brown sugar
1 shot of Irish whiskey
Double (or heavy cream)
5. A Delicious Vegan Option
Though most people love cream, not everyone can handle it. They're either allergic to dairy products or avoid it because of dietary or ethical reasons.
Fortunately, for these folks, vegan foodies and chefs have created some amazing vegan options that taste as good as the real thing. And that includes Irish coffee.
The Spruce simply uses store-bought vegan whipped topping, while other vegan chefs make their own with coconut milk or a mixture of oat cream and non-dairy milk.
A Commercial Espresso Machine Takes Your Coffee to the Next Level
While some people prefer their Irish coffee with brewed coffee, others love a stronger coffee flavor. Using a commercial espresso machine can make your Irish coffee strong and smooth without having a bitter aftertaste that can be common with some brewed coffees.
Whatever type of coffee you decide to use, just make sure to give this cocktail a try. If you're like most people, you'll fall in love with this warm drink and make it a winter staple.