5 Shrimp Recipes You Can Try Out Today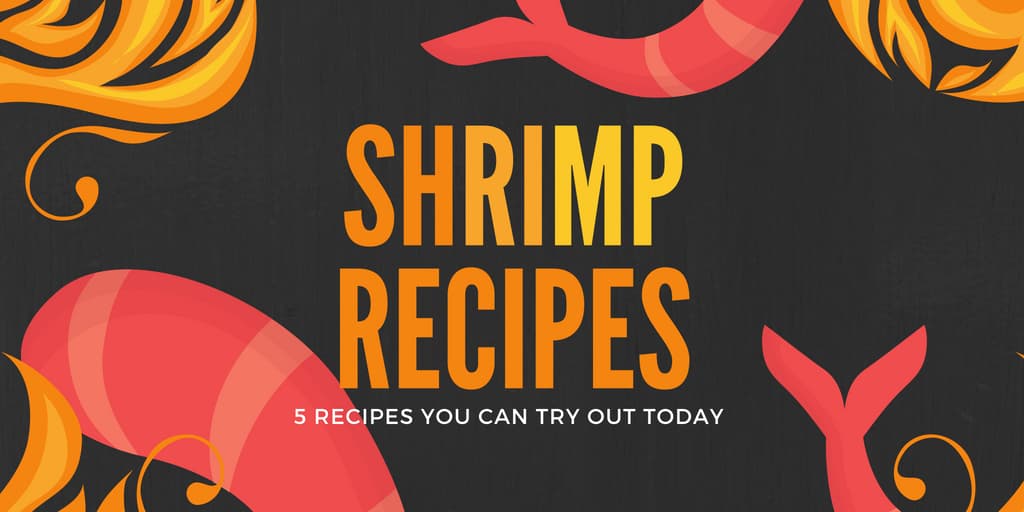 Shrimp is a common type of seafood that we eat since it's accessible in grocery stores as well as in most restaurants. Luckily, you don't have to restrain your desire for shrimp just when you're craving it. Making shrimp at home can be quite easy, and far cry cheaper than ordering it out.
Below, we've listed our five favorite recipes that you can make right at home with barely any hassle.


5 Easy to Make Shrimp Recipes
Thai Shrimp Soup
Who doesn't love Thai food? Anything Thai with shrimp in it is sure to taste good, but if you're ordering take out it may not be all that healthy. Fortunately, with this awesome Thai Shrimp Soup recipe you can make your own yummy Thai food right at home—it's more convenient, and healthier.
Aside from shrimp, this recipe calls for bell peppers, red curry paste, basmati rice, cilantro, coconut milk, and a variety of spaces to create that unique Thai blend.
The total time to prepare and cook this recipe is roughly 30 minutes.
Shrimp Scampi
Shrimp Scampi is perhaps one of the most classic ways to prepare shrimp, but that doesn't make it any less tasty. Plus, it combines two of our favorite things: shrimp and pasta.
Traditional shrimp scampi will use angel hair pasta for that finer take on spaghetti. Seasoned wither pepper, oregano, and parsley, this shrimp pasta is sure to please. You'll also need to add ingredients such as bread crumbs and grated parmesan.
The total time to prepare and cook this meal is 20 minutes—that's certainly a good deal less time than you'd be spending at a restaurant any day.
Garlic Basil Shrimp
Garlic and butter are two hallmarks of cooking and accentuating shellfish with. Why not upgrade this classic flavor with another great fresh garden herb, basil? Garlic Basil Shrimp provides a fresh take on a classic recipe.
In addition to garlic and basil, you'll need some white wine, hot red-pepper flakes, halved grape tomatoes, and olive oil. To cook, simply toss the shrimp in a pan with the white wine and olive oil and later add the tomatoes and basil.
We also recommend adding a bit of mozzarella to this recipe for a fun, Caprese-style twist.
Prep and cook time together generally takes 25 minutes from start to finish.
Shrimp and Snow Pea Stir-Fry
Stir-fry? Yum. Stir-fry with shrimp? Double yum.
Making stir-fry can sometimes seem intimidating—how can something healthy and delicious be easy to make? Many stir-fry dishes, however, can actually be quite easy and simple to make. Among these dishes is Shrimp and Snow Pea Stir-Fry.
Aside from shrimp and snow peas, this recipe calls for olive oil, garlic, parsley, green onions, lemon juice, salt, and pepper. If you want to kick up the flavor a notch, it's also recommended that you add a tablespoon or so of chopped ginger. Serve over brown rice or soba noodles.
Aside from containing healthy veggies, this is also a low-calorie dish—only 173 calories per serving.
This stir-fry dish typically takes 25 minutes to prepare and cook.
Honey Walnut Shrimp
Anyone who's both a fan of shrimp and of Panda Express has doubtlessly experienced the tasty wonder that is their Honey Walnut Shrimp. While mouthwateringly delicious, however, this food is also very unhealthy.
Fortunately, you can make your own Honey Walnut Shrimp right at home that's far healthier (though still not particularly healthy, so be sure to only have this on occasion as a special treat). Key ingredients include sugar, condensed milk, honey, mayonnaise, egg whites, mochiko, and, of course, walnuts.
This recipe typically takes 30 minutes to make from start to finish.
What Yummy Shrimp Recipe Should You Try Next?
Now that we've given you some options, how should you choose which shrimp recipe to start making for tonight's dinner? We've provided some pretty diverse options, so determine what kind of mood you're in. A shrimp mood, obviously, but what else? Do you want something healthy, sweet, or savory? Are you craving pasta, or maybe soup?
Whatever the case, any of these dishes will surely satisfy your shrimp-y cravings.