Back to School Food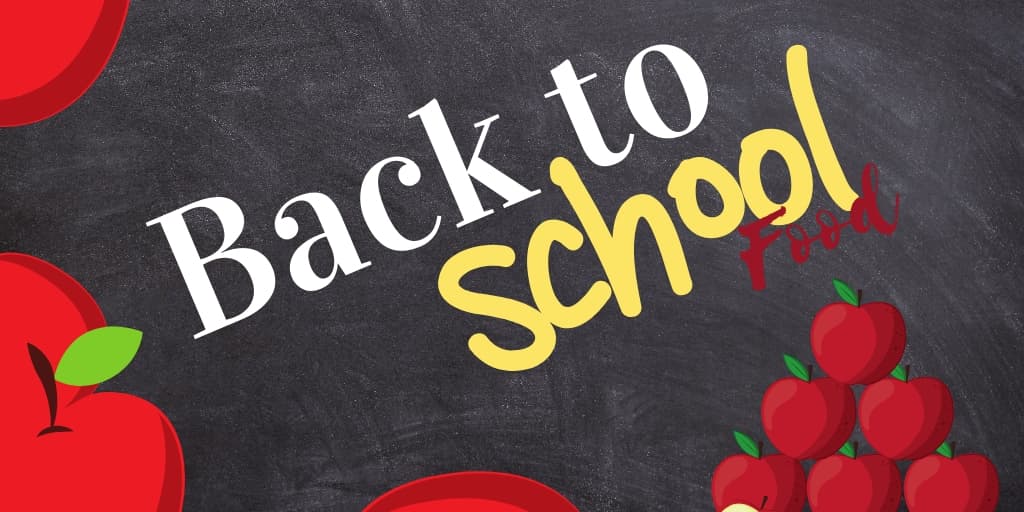 As a parent, there is nothing more important than your kid's wellbeing. This includes seeing to it that they consume the right foods.
Nutrition and diet are major topics. These have come to the forefront over the last couple of years, specifically school food.
Combing the grocery aisle can be tedious, especially when your child tends to lunge towards the sugar and carb loaded options. However, this issue can be navigated expertly.
All you need to do is to plan in advice, especially in preparation to get back to school food.
The Battle to Get Your Children to Eat Right
Healthy foods are loaded with essential nutrients and vitamins that every child needs. At such a young age, they are developing mentally, physically and yes, in their personalities as well.
That means they tend to get very vocal about what they want to eat, versus what you are willing to feed them. This takes expert coaxing and sometimes, simply putting your foot down.
You will need a lot of patience in these times. This is especially true if you have a picky eater on your hands.
Nonetheless, it is possible to coax your child into becoming a good eater, and opting for more healthy foods.
You will have to use a lot of well thought out maneuverings. But it all starts from day one.
From Birth and Every Day Afterwards
During pregnancy, you must eat healthily and carry this practice onwards, even when your baby is born.
When you have your newborn, feedings are much simpler. Most times, you are contending with two options. This is deciding whether to feed them breast milk only or formula.
We all know that breast is the best.
It is loaded with essential elements that babies need to grow and flourish successfully. If they don't have this, then their development can be hampered and they become more prone to various sickness. They might even suffer from affected brain and physical development.
But, for those who cannot offer breast milk, for any number of reasons, there is the formula.
Notice that the aim is to give them the healthiest option always.
Then, after their days of breast milk and formula, you need to introduce mashed fruits and vegetables. Sticking to this strategy will help them develop a taste for these types of foods.
If you start introducing them to processed foods loaded with sugars and carbohydrates, you will have great difficulty in the years to come. Always remember, that everyone is influenced by how they are socialized.
Usually, childhood obesity stems from the practices allowed and started by the parents themselves.
So, you need to take the matter into the hand, for your child's sake.
Incorporating Fruits and Vegetables into Back to School Food
If you use the strategies above, when your child goes off to school, not only will they eat healthier but you can trust them to choose these kinds of foods in the cafeteria.
However, if you are sending snacks and lunch, there are great options that come pre-packaged or that you can prepare yourself.
1. Sandwiches from Smucker's
Many of us have grown up with Smucker's for years. So it is a trusted and reliable brand. Your children will benefit from some of their newer ideas as well. One easy and the pre-packaged product is the Uncrustables® Sandwich.
According to Smucker's, they have "variety of sweet and fruity spreads and whole wheat and reduced-sugar options, these handheld PB&J's make perfect on-the-go snacks or mealtime sidekicks."
You can purchase any of the following options:
Peanut Butter and Strawberry Jam on Wheat Sandwich
Peanut Butter and Strawberry Jam Sandwich
Peanut Butter and Honey Sandwich
Peanut Butter and Grape Jelly Sandwich
Hazelnut Spread Sandwich
2. The Popular Lunchables
There area number items, which you can purchase from Lunchables as well. These include options with 100% Capri sun Juice. They have no preservatives, artificial colors or flavors. All made from real fruit.
Chicken Popper Kabobbles
Turkey + Cheddar Sub Sandwich
Turkey + Cheddar Cracker Stackers
Then there are the Lunchables Organic options. These are USDA approved.
Extra Cheezy Pizza
Pizza with pepperoni
Finally, there are the traditional Lunchables options, which do not include a drink. These include:
Italian Style Chicken
Asian Style BBQ Chicken
Mexican Style Chicken Tacos
Chicken Dunks
Nachos Cheese Dip + Salsa
Turkey + Cheddar with Crackers
Ham + Cheddar with Crackers
Good Luck with Prepping Your Healthy School Food
You can combine these items with slices of fruit, a bottle of water and a small bottle of pure juice. They save you time and you have more diversity in what you offer them in the mornings.
In the evenings, for dinner, you can prepare some quick and healthy options as well.
These can include lasagna, curried chicken and dumplings, stewed chicken and rice and other wholesome option. Prepare enough, so that it can be served on another night.
It is all about working smart and not hard. You don't have to fear the back to school season.