Traveling with Food and Best Practices for Shipping Food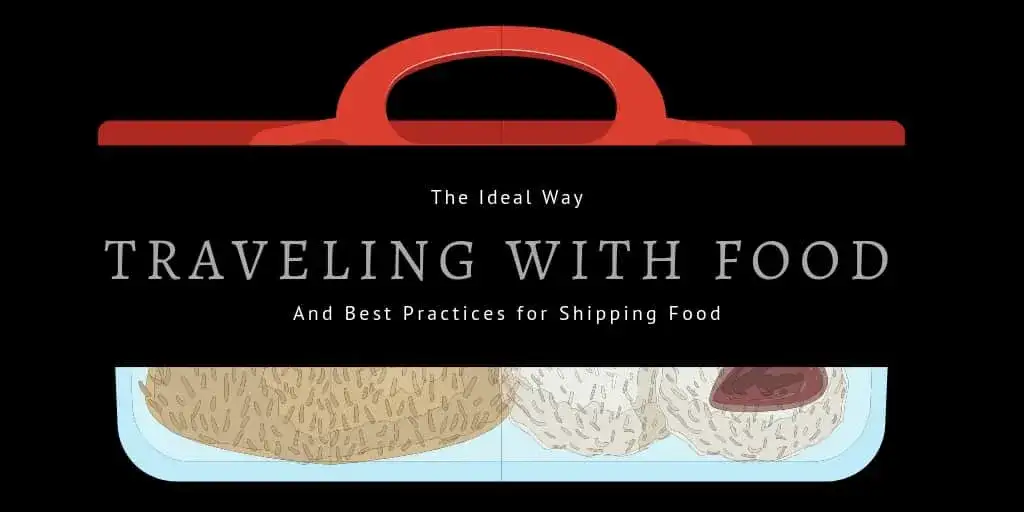 Food tends to spoil quickly if it is either not kept at the right temperature or used at a particular time. For one reason or another, you may want to travel with food or ship it to someone else.
People who travel from country to country, or go back to their homes, may want to take some indigenous food with them also.
The best way to do so is to package it properly and implement the best practices for shipping food.
It is similar to when you visit the grocery store and want to keep that cold cut of meat frozen because you know you have multiple stops on the way home. So what do you do?
You buy a cold bag or an insulated bag and place the item in it.
When you get home, the meat or ice cream is still frozen.
We do a similar thing for when we want to tailgate or go out on a picnic. We stock up an igloo with enough ice to keep our drinks, water, and sodas cold.
Shipping Food the Ideal Way
Getting that food to your loved one is essential. It is especially so if you are running a business. So to avoid disappointment on both sides, here are a few tips and tricks.
1. Let the Baked Goods Cool Completely
Once the item comes out of the oven, it will be quite hot. It cannot be shipped this way. So, allow it to sit and cool completely before putting it into the package.
This will make sure that you have no moisture issues to contend with during its journey.
2. Separate Moist Items from Crisp Ones
You will need to keep crisp and moist items separate. So prepare them in separate packages.
Your soft cookies, chocolate bars, pies, brownies or bread are easier to travel with or send across great distances. However, the same cannot be said for crisper items.
The jarring and bumping can easily break them apart. And you also don't want moisture transferring from one item to the other.
3. Prevent Transfer of Flavor
It is possible for that bread pudding or pecan pie to get flavored by another item. So, you have to wrap them up separately to stop the flavors from crossing container boundaries.
4. Do Compact Packing
The less your baked good moves around, the better. The more room it has, the more likely it is to get damaged.
So, make sure your items fit snuggly in that box, and you will avoid any crumbled cookies or cakes when it arrives. The same goes for if you are sending popped popcorn and other such items.
How to Travel with Food on Airplanes
For those who travel overseas to visit family members, you often want to take back some of that local deliciousness and preserve it for as long as you can.
This can be done successfully if you follow the airlines' guidelines on how to package food.
Many airlines allow you to take frozen food, both in a checked luggage and a carry-on. However, you have to use TSA guidelines for that country. In fact, they allow you to take a certain amount of dry ice, about 5.5 pounds. This is one of the best ways of maintaining the frozen condition of your food items.
If you use JetBlue, however, that dry ice item must be checked. While on American Airlines, you can take it in a carryon luggage.
Always inform the airline and TSA that you are taking foods with you.
They use a specific machine to x-ray these items. negating to do so, may cause you to lose that item during transit. So declare everything on arrival at the airport, to be safe.
Use the Best Methods to Ensure Proper Food Delivery
One of the busiest times for shipping food is during the holidays. Thanksgiving and Christmas come to mind.
There is nothing like receiving some gorgeous and savory home baked item in the mail.
However, great care must be taken in how this is packaged to preserve it. Cookies and cakes can be distorted during transit. So, you know what to do to ensure that the person gets them, the same way they came out of the oven.