Specialty Refrigeration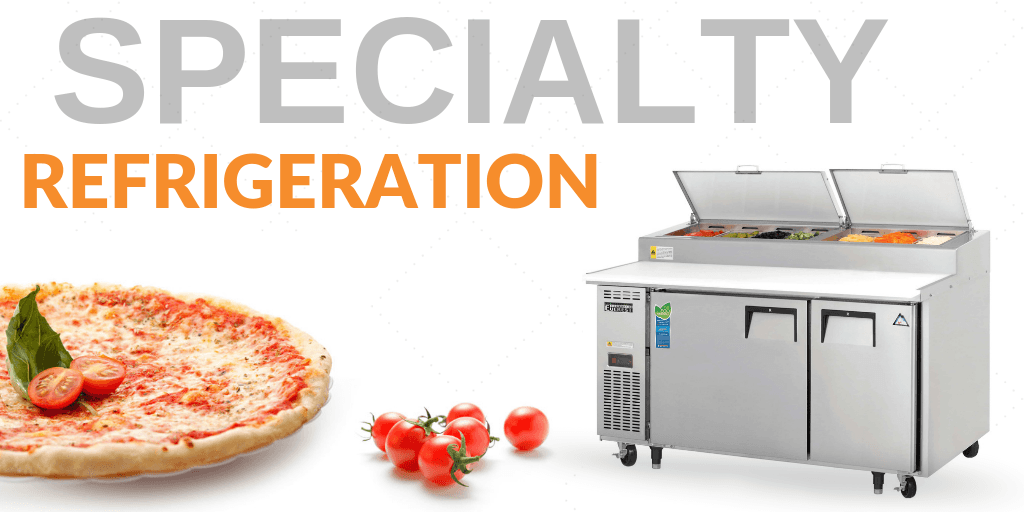 Your refrigeration unit is a focal point in your kitchen, but in addition to your walk-in or reach-in unit, there are several types of specialty refrigeration units to consider. Specialty refrigeration allows kitchens a more convenient setup so that employees aren't constantly tied to a single cooler, and many of these units tend to be designed for unique tasks. Here are a few specialty refrigeration units to consider for your kitchen setup.
Pizza Prep Tables
These specialty units are equipped with a cutting board and food pans and are designed for speedy pizza preparation. Store toppings within reach on the topside of the unit while keeping sauces and other refrigerated ingredients in the cooled bins underneath.
These units are obviously ideal for pizzerias or restaurants who plan to prep a lot of pizzas or strombolis on a regular occasion.
Sandwich Prep Tables
Keep sandwich accouterments and toppings at-hand on the topside of the unit next to your prep surface while storing larger ingredients below-decks in the refrigerated compartments.
These units are ideal for deli shops or cafes that prep sandwiches and chopped salads.
Dual Temperature
These units have the same abilities as refrigerators and freezers packed into a single model. While these come in all sizes and types, it's best to get two separate units if you're considering a 3 door model as the price is fairly equal.
Kitchens with space constraints can usually benefit most from the duality of these units, which consume a smaller footprint than two separate units (one cooler and one freezer).
If you're unsure of whether or not a specialty unit is right for your restaurant, you'll need to consider your needs as well as your kitchen setup. I can help you choose the perfect unit for your establishment, and our designers can carefully work your new unit into your existing structure.
JENIFER AQUINO
Sales Consultant
CKitchen.com
E Friedman Associates Inc
T: 800-555-0666 x 1975
D: 516-882-1975
jenifer@ckitchen.com