Palate-Pleasing Pork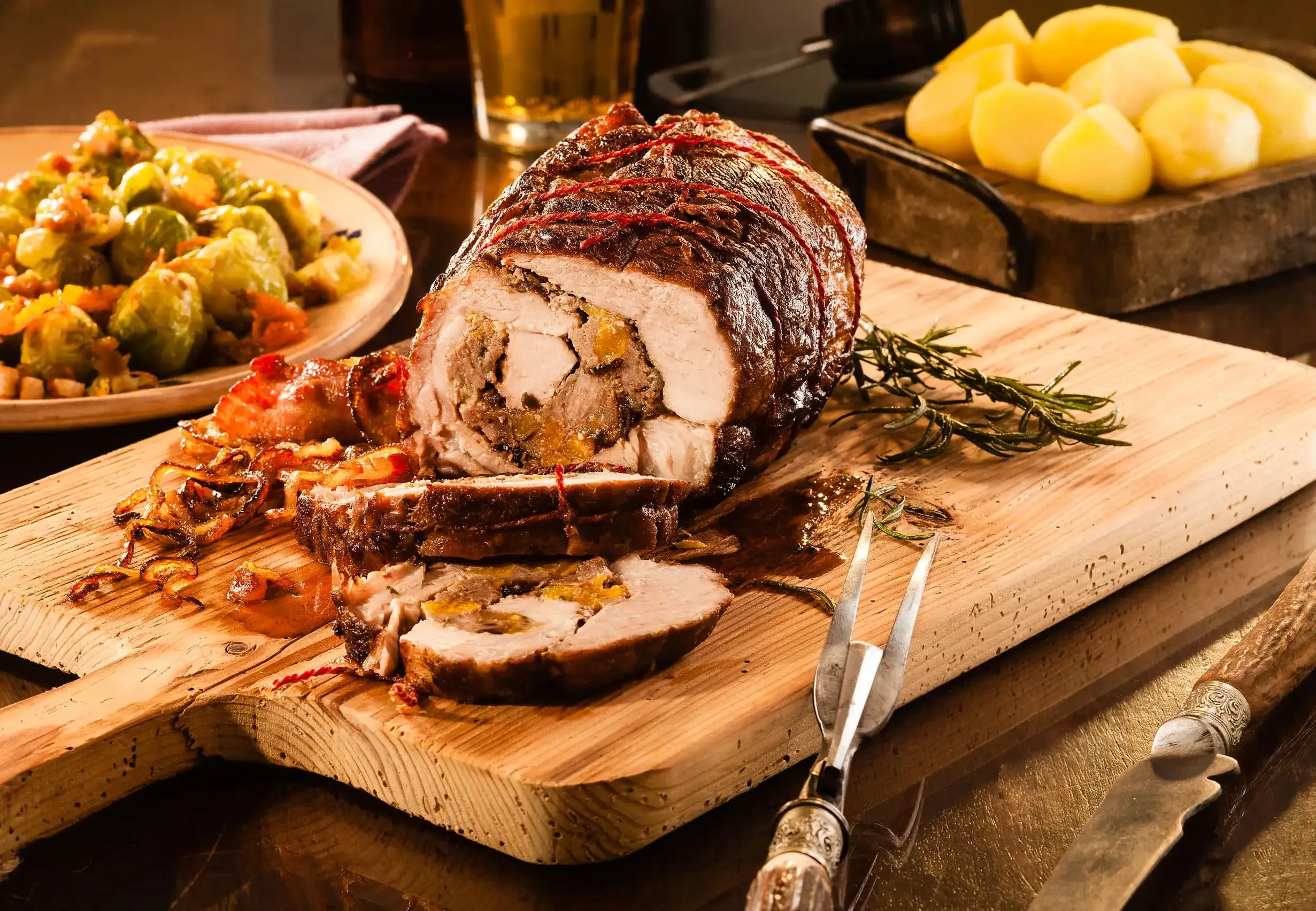 Dating back to 5000 BC, domesticated pig has been used as a source of food. Nowadays, pork products are found in many forms and in a gamut of cuisines! America's love affair with bacon is certainly driving a large portion of the pork franchise, but traditional favorites like pork chops and pork loins are always a sure-fire way to get your customers in the door and coming back for more. Here are a few of our favorite palate-pleasing pork recipes to get your creative juices flowing.
First, the cut of meat that you are using will help drive your recipe options. If you're unsure of where to start, take a look at this list of pork cuts to see where they come from and what type of cooking method they may work best for. Second, if you have a certain cut of meat and a desired cooking method, simply fill in the blanks here to see some recipe options!
A great way to order pork is in bulk wherein you cut your meat selections in-house. In this way, your bulk purchases can cut down on costs, and you can vacuum seal and store the cuts for later use as well! Be sure to stock your kitchen with slicers, tenderizers, and grinders to achieve a multitude of pork dishes.
Once you've got your kitchen prepared for pork, give a few of these recipes a go!
Pan Fried Pork Chops from the Food Network
Ingredients
1 teaspoon seasoned salt, plus more for seasoning
1 teaspoon ground black pepper, plus more for seasoning
8 pork breakfast chops
1 cup all-purpose flour
Cayenne pepper
1/2 cup canola oil
1 tablespoon butter
Smashed new potatoes, for serving
Directions
Salt and pepper both sides of the pork chops.
Combine the flour and some cayenne, salt and black pepper. Dredge each side of the pork chops in the flour mixture, and then set aside on a plate.
Heat the canola oil over medium to medium-high heat. Add the butter. When the butter is melted and the butter/oil mixture is hot, cook 3 pork chops at a time, 2 to 3 minutes on the first side. Flip and cook until the chops are golden brown on the other side, 1 to 2 minutes (make sure no pink juices remain). Remove to a plate and repeat with the remaining pork chops.
Pork Tenderloin with Seasoned Rub from The Food Network
Ingredients
1 teaspoon garlic powder
1 teaspoon dried oregano
1 teaspoon ground cumin
1 teaspoon ground coriander
1 teaspoon dried thyme
Salt
1 1/4 pounds pork tenderloin
1 tablespoon olive oil
1 teaspoon minced garlic
Directions
Preheat the oven to 450 degrees F.

In separate bowl mix dry ingredients such as garlic powder, oregano, cumin, coriander, thyme, and salt. Stir the mixture with a fork until all the ingredients are well combined and they form a seasoning. This will be used as a rub to ensure the pork is well seasoned throughout. Sprinkle the rub over the tenderloin with a dry hand, then rub the pork with the seasoning over both sides of the meat, pressing gently so the seasoning adheres well to the tenderloin.

In a large skillet over medium-high heat, add the olive oil and heat. Add the minced garlic and saute, stirring, for 1 minute. Put tenderloin in the pan and cook for about 10 minutes, searing each side using tongs to turn the meat. Transfer meat to a roasting pan and bake for 20 minutes. Slice and serve.
Bacon-Wrapped Smoked Trout With Tarragon from Saveur
INGREDIENTS
12 slices bacon
2 whole rainbow trout (about 1 lb. each), cleaned
2 tbsp. olive oil
Kosher salt and freshly ground black pepper, to taste
6 sprigs tarragon
INSTRUCTIONS
Heat oven to 375°. Place bacon on a rimmed baking sheet, and bake until half-cooked, about 10 minutes. Remove from oven, and let cool.

Brush inside and outside of each trout with 1 tbsp. oil, season with salt and pepper, and stuff with 3 sprigs tarragon each; set aside.

Arrange 6 bacon slices, overlapping slightly, on a cutting board parallel to you. Place I trout over middle of bacon perpendicular to you, and wrap trout in bacon, arranging it seam side down on the rack of a stove-top smoker (see link for instructions). Repeat with remaining bacon and trout.

Prepare stove-top smoker according to manufacturer's instructions, using apple or pecan wood shavings (see Fuel and Flavor); place rack with trout inside. Smoke until fish is cooked through, about 15 minutes.
Heat broiler to high and arrange a rack 4″ from broiler element. Transfer trout on smoker rack to a baking sheet and place under broiler; cook until bacon is crisp, about 2 minutes.