5 Tips for Ordering a Vegan Meal at Any Restaurant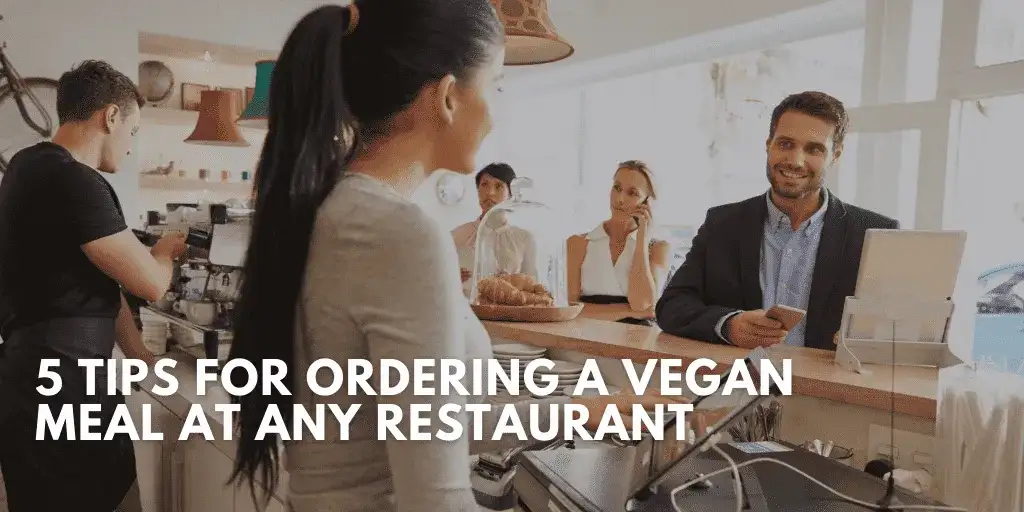 Anyone with special dietary needs or desires knows that there is nothing more frustrating than going out to eat at a restaurant and not knowing what to order, or whether or not the food that you're about to bite into is even safe for you. In a perfect world, all restaurants would have specialized menus to meet everyone's specific needs, and nobody would never have to ask millions of questions about ingredients or how their food is being made. Sadly, we don't live in a perfect world and this is not the case. Fortunately though, more and more restaurants these days are becoming aware of, and sensitive to, dietary restrictions, allergies, health concerns, and ethical food choices.
One of the major ways the restaurant industry is adapting by popular demand, is by offering an increasing amount of vegan choices for customers. There are still some preparation and safety actions you should take as the customer, but overall, it is certainly becoming much easier to order a delicious vegan meal at any restaurant. Here are five tips to keep in mind when ordering your next vegan meal while dining out.
1. Check out the menu online or call ahead. Most restaurants today have a website and post their menus online. Right off the bat, research to see if they offer any vegan dishes or vegetarian dishes that can easily be made vegan. Having some sort of idea about what the restaurant offers will make it easier for you to choose a restaurant, and then to choose a meal at that restaurant. If you can't find a menu online, it may be a good idea to call the restaurant and ask them about their menu. Let them know that you would like to dine at their establishment, but that you have dietary needs and you are hoping they can accommodate you. If you feel it necessary, don't hesitate to ask specific questions over the phone about dishes, how they are prepared, and whether or not they can be altered.
2. Search for helpful apps. There are tons of apps and websites available that can help you locate vegan-friendly restaurants near you. Happy Cow is one of these apps that allows you to search for vegan-friendly eateries worldwide. It contains interactive maps, reviews, and contact info for each restaurant. Another awesome app is VeganXpress, which contains a comprehensive list of vegan options at mainstream restaurants.
3. Choose ethnic dishes. If you're really feeling weary, choose an ethnic meal. Since much of ethnic cuisine is very veggie-centered, it is typically pretty easy to find vegan options this way. Take a look at some of these examples:
Chinese, Thai, or Japanese cuisine - vegetable dishes, soups, spring rolls, and noodle dishes (choose one that doesn't contain egg, fish sauce, fish broth, or chicken broth)

Middle Eastern cuisine - falafel, tabbouleh, tahini, couscous, vegetable pakora, rice, lentils, and chickpeas (confirm that your dish does not contain any butter or ghee)

Italian cuisine - grilled vegetables, salads, and pastas with marinara sauce or oil and garlic (specify that you don't want any cheese or eggs)

Mexican cuisine - rice, beans, and veggie fajitas (hold the sour cream and cheese)
4. Check for special menus. If you're lucky, you'll find a restaurant that actually offers a vegan menu. These specialized foods may be a bit discreet on the main menu, symbolized by having a "V" or an asterisk next to them; there may be a vegan section on the main menu; or you may have to ask for the separate menu specifically, as it may not be a part of the main menu at all. It's actually surprising that more restaurants don't offer vegan options, as it would save the wait staff a lot of time answering customers' questions or trying to satisfy substitution requests.
5. Make substitutions. Many menu items can be made vegan with just a few substitutions. Likewise, many of these substitutions are quite simple for the kitchen to accommodate. For example, ask if they can leave the cheese off your salad, or if they can cook the veggies in oil instead of butter. Although the restaurant may charge a little bit extra, it may be worth it. In addition, side dishes are often-times vegan, so consider combining a few of these - such as rice, veggies, and beans - to make one delicious meal.