Product Focus: Vulcan Ranges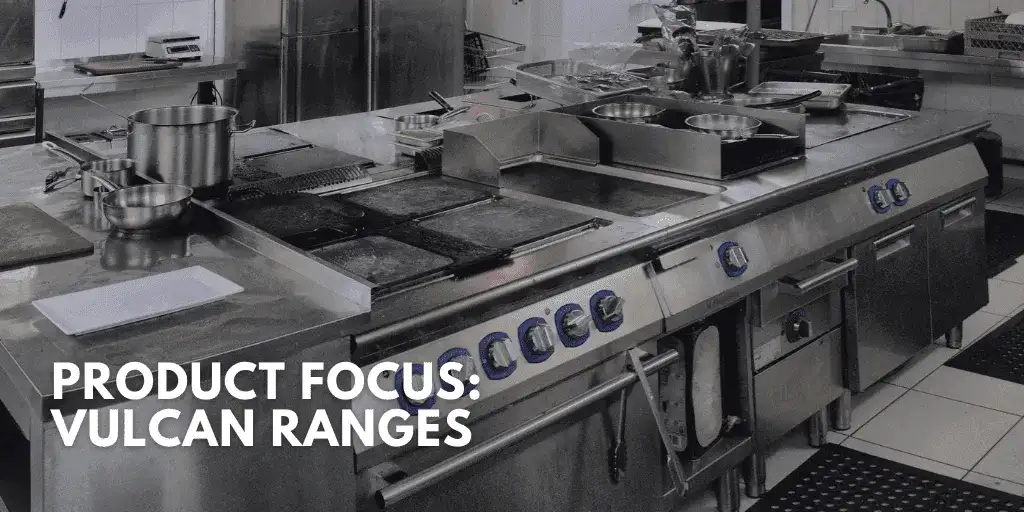 Many of the leaders in the food service equipment industry compete for technological advances, many times outdoing one another in order to stay ahead of the game. In our 'Product Focus' blog series, we'll discuss many of the industry leaders in commercial kitchen equipment, highlighting what sets them apart from the rest! In this post, we'll delve a little deeper into one of the leaders in cooking equipment: Vulcan.
Vulcan is known as an industry leader for their commercial and professional ranges, and their innovative features are designed to help improve productivity and ensure the high-quality, consistent results. Besides electric and gas models, Vulcan ranges come in three product levels:
Restaurant Series

Medium Heavy Duty
From here, you can find a variety of options and features that are unique to the Vulcan line of ranges:
Flashtube Pilot System: Saving you up to $300 a year in gas consumption, the flashtube pilot system uses 1 pilot for every two open burners. Available in Vulcan Endurance Ranges (Model #72CC-8B24G).

23,000 BTU/hr bakers depth standard oven allows 18" x 26" sheet pans to fit side to side or front to back. Additionally, there are two racks with four different available positions.

Accelerator Airflow Technology: Typical hot and cold spots aren't present, as this technology allows for better airflow.

High performance 30,000 BTU/hr open top burners with lift-off heads for easy cleaning. These feature heavy duty cast grates, easy lift-off 12" x 12" in front and 12" x 14" in back, allowing for larger stockpots and pans to be accommodated in the back.

Large, stainless steel ledge in the front allows for chefs to bring plates and bowls right up to the burners for easier transfer of food items from pans to dishes.

The cooktop also features an extra deep stainless steel pull-out crumb tray with welded corners to contain liquids.

A fully MIG welded frame offers toughness and durability that is unmatched in the commercial range category.

Boil times are reduced with the Vulcan V Series Heavy Duty Ranges (Model #V2B12) from 21 minutes on a standard commercial range down to less than 17 minutes.
You can learn more about Vulcan ranges and cooking equipment by listening to their webinar HERE. Visual aesthetics and commercial performance is what drives innovation at Vulcan, and it's why their ranges come out on top in the industry. In addition to their ranges, you can find grills, ovens, kettles, and a variety of other Vulcan products as well at CKitchen.
Your evolving restaurant drives innovation from foodservice equipment companies. While the process may be involved, you know that it's with purpose and intensive. Vulcan is leading the pack in innovation! Expect to see more innovative products as restaurant needs and demands change.