The Essential Equipment For Your Commercial Kitchen in 2021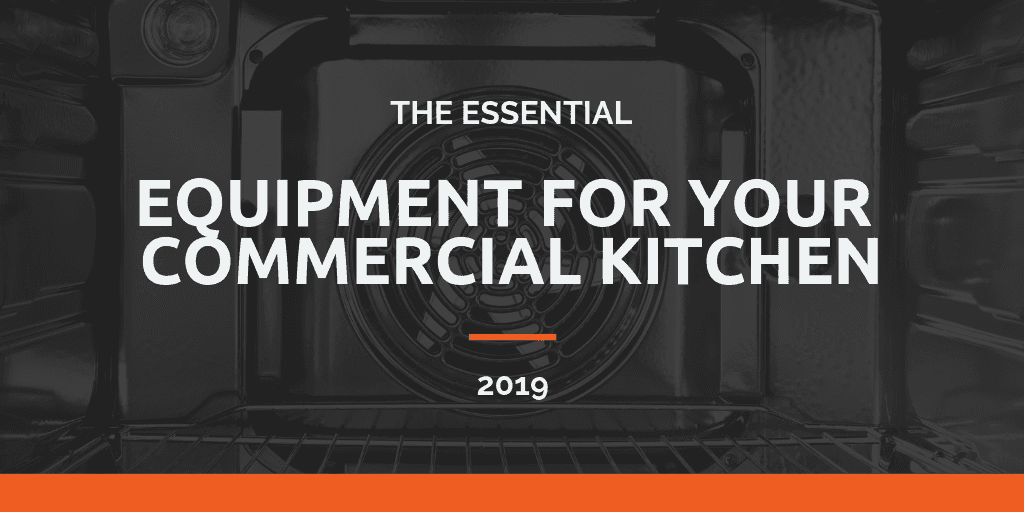 Some very interesting restaurant statistics, just for you.
Did you know that in the USA …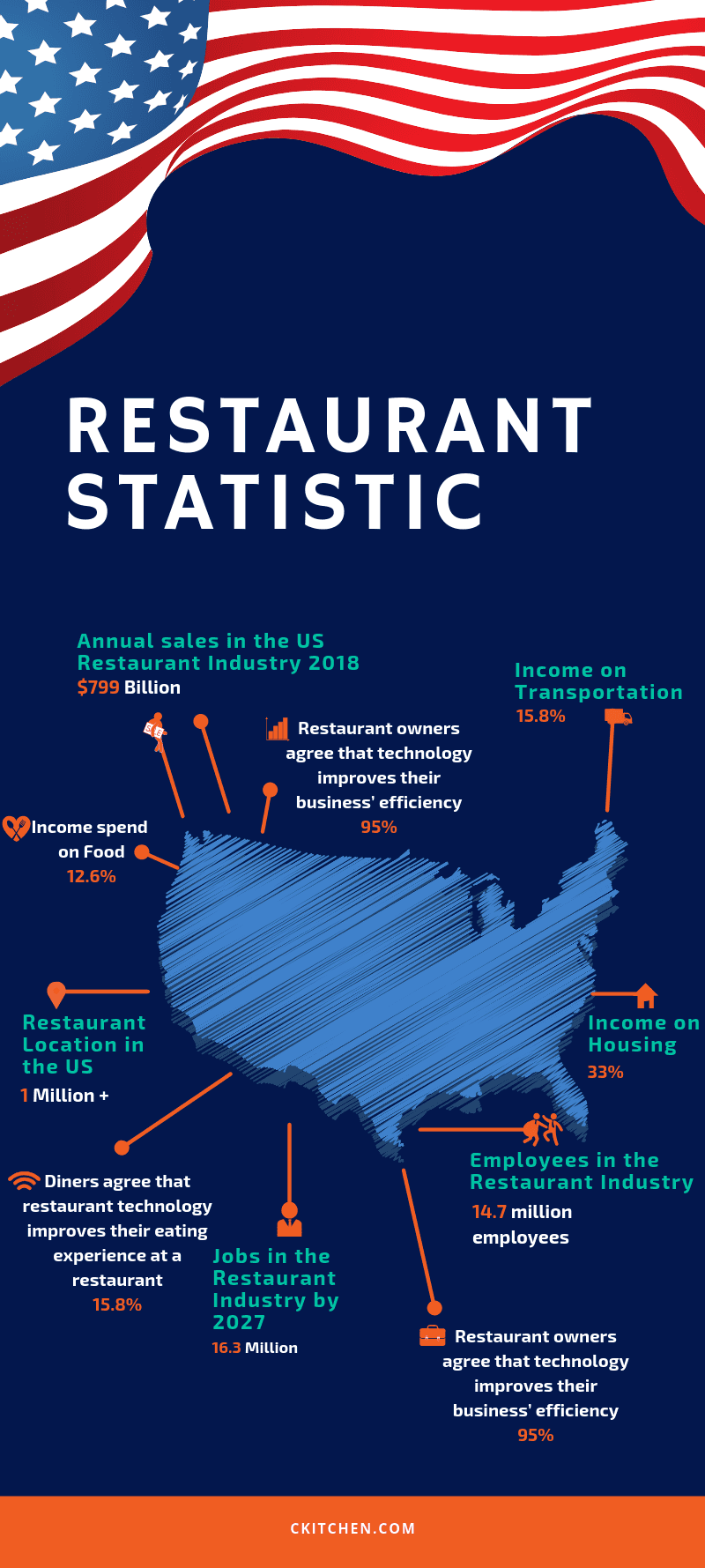 When opening a restaurant, you are not only opening a business, you are also creating a unique space where you can give your patrons a great experience. You need fantastic service, exciting food, state-of-the-art design, but most importantly you have the responsibility of providing a safe environment for your diners with regards to food safety and cross-contamination.
Choosing the right design plan and layout for your kitchen is probably a problem that many entrepreneurs have when starting a new restaurant business. It is also the biggest investment any restaurant owner /any restaurant owner can make.
Unfortunately, or fortunately for some, the vast majority of patrons will never set foot in your kitchen.
Of course, you know how to cook, you're a chef or a restaurant owner, aren't you? You've hit the big time and want to start your own restaurant.
Yes, and you know a few things about kitchen appliances. Great!
You also want to design your own commercial kitchen or you want to renovate and revamp without spending too much money.
Planning is of utmost importance. The key element is to plan your kitchen design effectively. Place and plan it on blueprint software, if you have, or get an architect or designer to help you with the initial stages.
Do you know how to design an effective, well-laid-out kitchen?
Basically what the average man on the street knows about commercial kitchens, is what we have seen in action movies. When they start running through silver kitchens shooting guns and toting knives, all the while making lots of noise, simultaneously trying to break all the stainless steel they can find.
Modern Commercial Kitchens
Back in the day, when designing a kitchen, you needed to satisfy the needs of the chef, but times they are a-changing! Not only the chef has a say about a new kitchen. Other aspects need to be taken into consideration as well.
Below, are some tips on how to make your kitchen more environmentally-friendly.
Going Green Commercial Kitchen Tips

Characteristics of a good commercial kitchen
What makes a good commercial kitchen? Generally, you want to have a space that is conducive to the needs of your operation. This is where you will create the dishes that your customers are willing to pay for. So it makes sense that it is an environment that is comfortable for your staff but also one that promotes productivity that will, in turn, create an overall amazing experience for the diners. Check out the graphic below and make sure that your kitchen ticks every single one of the boxes: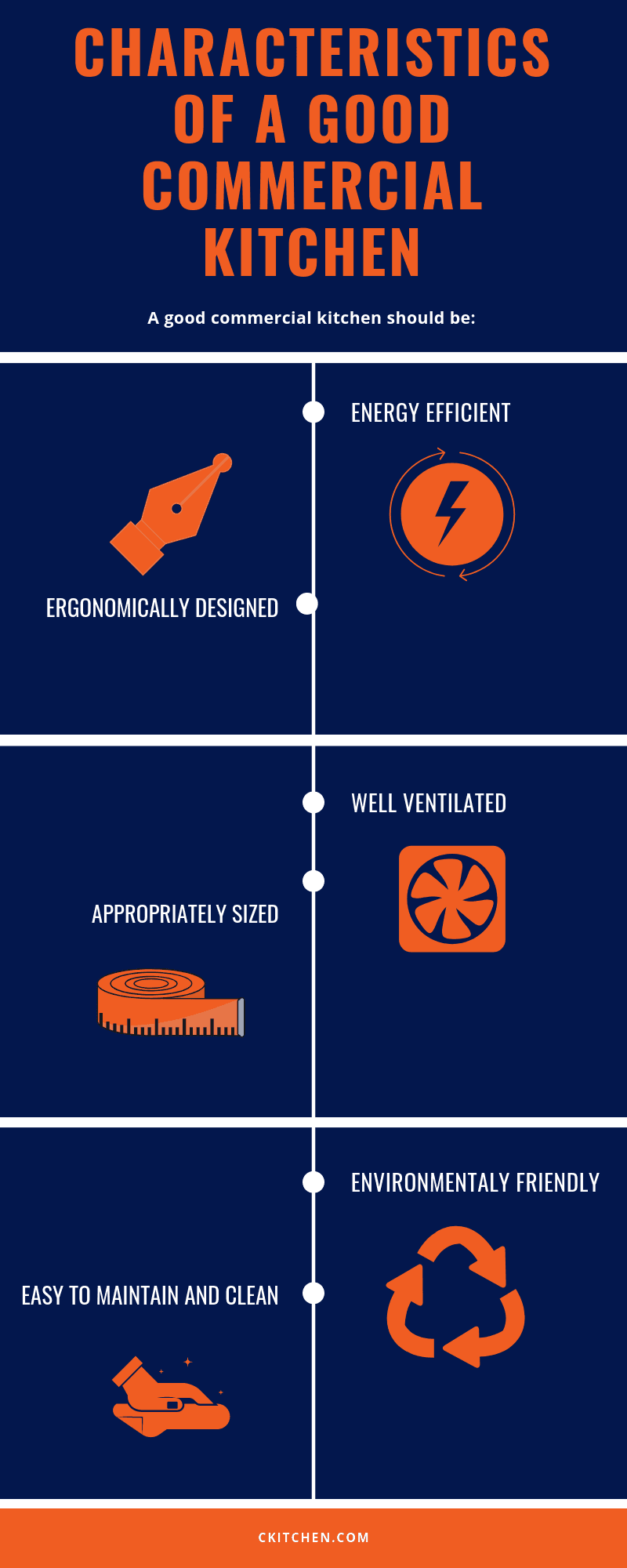 When choosing commercial kitchen equipment, remember the following: ALWAYS CHOOSE COMMERCIAL KITCHEN EQUIPMENT. We are talking about the HEAVY-DUTY solutions specifically and meticulously build to keep up with the challenges and busy pace of your operation and can promise long service life. You want a piece of equipment that can deliver the power you need in an efficient manner. Additionally, you want features that make them easy to use, clean, and maintain.
An effective commercial kitchen should have the following areas:

The Cleaning Area
We don't have to tell you the importance of maintaining the cleanliness of your kitchen. And with the emergence of COVID-19, customers are paying much closer attention to your cleaning processes. They are looking for transparency and assurance that their safety is your priority when they spend time in your restaurant or even order food out.
Learn the ideal equipment for the cleaning area in the graphic below. In addition, stock up on powerful sanitizers and disinfectants to clean tables, surfaces, and other high-touch points in the common area and the back of the house.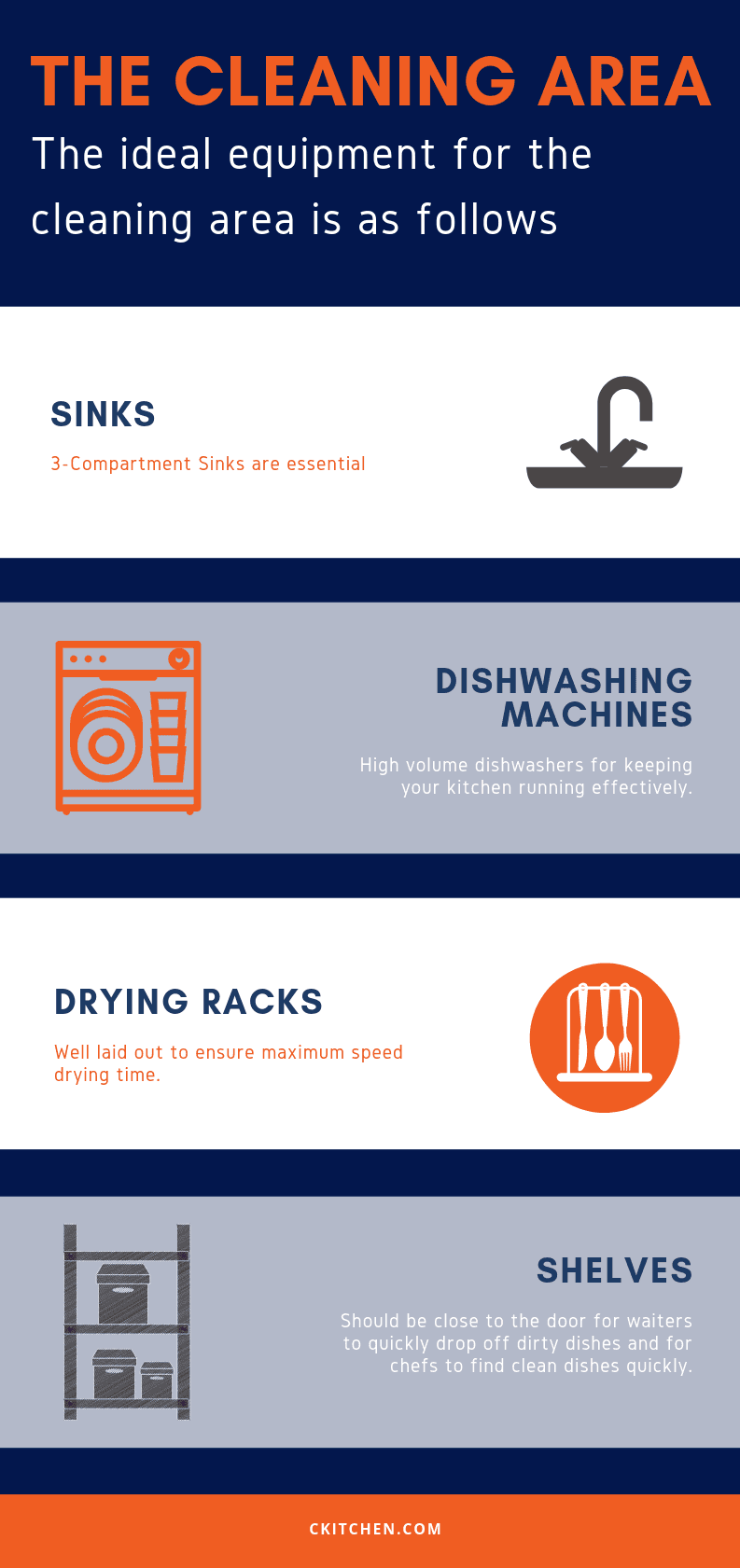 The Storage Area
An often overlooked crucial part of a well-designed kitchen is the storage area. Storage organization directly influences the workflow of your kitchen as well as how you can maximize the space you have available. The area can be split into 3 different storage areas as shown in the graphic below. For more specific tips on how to properly organize your kitchen, we've prepared a comprehensive post.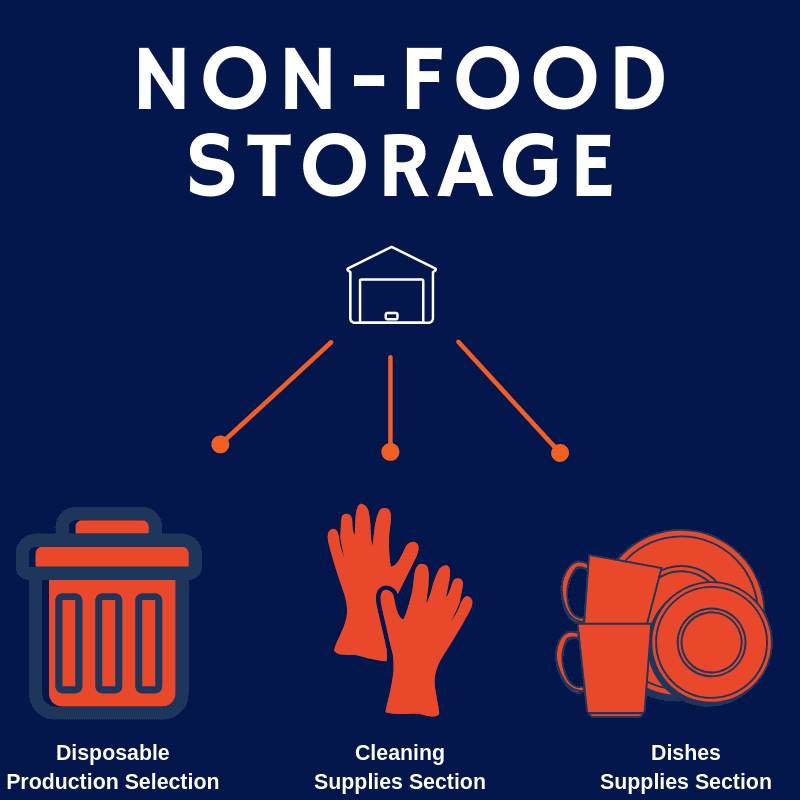 Cold Storage
As we are dealing with perishables and food safety, refrigerators and freezers are fundamental to any commercial kitchen.
Temperatures to Subzero!
Temperatures should be able to go below freezing for a freezer and ambient temperature for a fridge. Fridges should include elite extras like air purification systems and a vacuum seal to keep food fresher for longer.
Waste not, want not.
These great appliances can be undercounter or countertop. These configurations are excellent options if space is a problem for smaller kitchens and restaurants or walk-in but within easy reach of a chef's island or cooking top.
The range starts from smaller undercounter units right up to walk-in cooler rooms for larger restaurants. Don't worry if you think you might not need a larger fridge to start. Invest in a larger one than required, your restaurant business will soon grow into the new fridge.
It is essential that you choose a good quality fridge and freezer that might cost more in the beginning. By choosing a good brand name, you can ensure that your refrigeration needs are taken care of for the period of the warranty. The reason for this is that kitchens are very hot spaces so ensure your refrigeration is effective. The guys at ckitchen.com have an excellent range of fridges, ranging from walk-in to undercounter. They are also extremely talented in kitchen design and can help you at the press of a button.
How about ice?
Always having plenty of ice on hand is absolutely essential. Invest in a commercial, heavy-duty ice machine - one that is always ready to provide. There is an extremely wide variety of ice machines, categorized into three different types of cooling, air-cooled, water-cooled, or remote cooled, depending on your needs and budget.
If your budget permits, it is essential that any green restaurateur purchases an air-cooled ice maker. They are extremely easy to install and require only fans and vents instead of invasive installations of piping and water lines. They can also easily be moved. A win-win situation in my eyes.
Water-cooled ice machines consume more water than the other two options. This also means they won't add heat to the kitchen during operation, which may be useful if you have poor ventilation or high temperatures in your location.
Remote-cooled ice machines can keep heat as well as noise out of the room because the compressor can be installed at a location separate from the actual unit.
Dry Storage
Dry storage has been put in a greater focus with the rise of the new coronavirus. As a place for dry items including takeout supplies, restaurants with delivery and takeout services are taking more time to find the right placement for maximum efficiency.
This is an area dedicated to a wide variety of items--from dry ingredients to disposable containers, and even cleaning items. Ideally, the dry storage area should be located close to the locations where items will be used. For example, shelves should be close to the door for waiters to quickly drop off dirty dishes and for chefs to find clean dishes quickly.
Some items you will need for dry storage include:
Sealed containers and ingredient bins: For storing dry ingredients such as rice or flour. Can be stacked to take advantage of vertical space. Larger capacity ingredient bins come standard with casters so ingredients can be easily transported wherever it is needed.
Shelves: They are available in a range of capacities and styles to suit every storage need. They come with single or multiple tiers, various widths, and are wall-mount, fixed, mobile, or floating. Materials include plastic or steel, which can be wired or solid.
High-density shelving kits: Also called track shelving, they are great for maximizing space to create more shelf storage and allow you to store more items in less space
Dunnage racks: Large and heavy items like cases can be close to the floor for easy access

Food Preparation Area
The food preparation area is one of the most important zones in a kitchen. It goes without saying that should be ergonomically designed, i.e. the staff and chef should have everything at their fingertips, without moving about too much.
There are many appliances that you can purchase to equip your food prep area and I have included a list below, depending on the size of your restaurant. There are various types of food preparation tools on the market and they all depend on your chef. Some chefs prefer to manually prepare some kinds of food. Automatic models are best suited for high-volume kitchens because they use electric power to handle tasks like slicing and dicing.
Remember: Your chef will know exactly which pieces of equipment he or she needs - listen to your chef.
Slicers

Slices loaves of bread or bagels into individual slices at uniform thickness for consistent product

Choose between countertop and freestanding

High-performance units can slice, half, or quarter up to 100 slices per minute

Handheld or electric, freestanding units

Handheld box graters and shredders for most types of cheese

Electric m

odels specifically for soft cheeses and hard cheeses available

Can slice a large volume of ingredients in a short amount of time

Manual, semi-automatic, and automatic electric slicers available

Achieve consistent cut size for accurate portions

Cuts meats and deli ingredients to desired thickness

Flywheel slicers have a beautiful design perfect for front-of-house meat slicing

Achieve consistent cut size for accurate portions

Fruit and Vegetable Preparation

Depending on the size of your kitchen

Units can be used for most vegetables

Specialized models for specific ingredients available

Used to remove excess water from greens

Available in manual and electric-powered versions

Designed for specific types of vegetables

Potato peelers, pineapple peelers

Available in manual and electric versions

Handheld versions allow for peeling one vegetable at a time

Automatic models have 20 lbs of vegetables in minutes

For quick and easy slicing, dicing, and cutting

Available in manual and electric styles

Electric-powered units can cut hundreds of vegetables per hour
High-capacity cutters have an hourly capacity of hundreds of pounds

Meat Preparation

Meat and seafood can often be difficult to prepare, but if you have the right, heavy-duty equipment, it could turn into a breeze.

Precise and high-capacity cutting of various types of meats

Feature a large motor-powered (available in a range of sizes) that cuts through bone and thick cuts

Electric-powered for high-speed performance

Available in countertop and floor model styles

For mincing meat into fine pieces with excellent texture

Comes with different grinding plates with different hole sizes to get desired results

Manual units are operated with a crank

Electric models have up to several thousand pounds grinding capacity

Softens and add moistures to meats

Enhance the quality of tougher cuts of meat

Breaks long strands of muscle and softens the collagen until it turns into gelatin


Handheld (manual) models for small cuts and limited use

Electric models for quick and high-volume applications

Used to blend ground meat into ingredients and spices




Smaller models generally at 20 lbs capacity; crank-operated for faster operation compared to hand mixing

High-capacity units can handle several hundred pounds at a time; use electric power for effortless mixing

Dough Preparation

Make sure your kitchen is properly fitted and prepared for anything that your restaurant throws at it.


Designed specifically for kneading dough

Perfect for bakeries and pizzeria

Features a rotating bowl to mix dense dough like pizza thoroughly

Comes with variable speeds to achieve desired quality and texture of dough for different types of products

Available in countertop and floor model styles

Versatile mixer that can be used for various ingredients

Ideal for commercial restaurants

Has a stationary bowl and an agitator that does the mixing

Comes with an array of attachments such as paddles, whisks, and flat beaters for mixing batter, icing, and more

Available in countertop and floor model styles

Flattens the dough in a matter of seconds

Single-pass sheeters ideal for making pizza crust

Double-pass dough sheeters can produce a thinner product

Countertop and floor model styles available




Creates balls of dough at uniform weight and volume

Automatic models can divide and round at the push of a button

Semi-automatic models typically use separate cranks for dividing and rounding

Usually paired with dough dividers to consolidate two usually interconnected tasks

Cuts a bulk of dough into equal portions to achieve consistent product quality

Automatic and semi-automatic dough dividers available

Semi-automatic are crank-operated and are simple to use

Handheld option for cutting dough

Can be used to scrape off loose flour and dough bits on the counter

Wheel dough cutters available for cutting pastry dough, brownies, cookies, or pasta dough

Commercial Blenders

Available in light-duty, medium-duty, and heavy-duty models (determined by the horsepower or HP) depending on the type of food you will bend and the frequency of use


Can puree vegetables to make soup,

grind grains into flour, or chip vegetables to make salsa

Features high horsepower that support a wider range of speeds and power settings to achieve a variety of results

Comes with plastic, glass, or stainless steel jars

Used to make smoothies and frozen drinks

Comes with plastic, glass, or stainless steel jars




Handheld blender that can be used directly on the existing container

Best for soup, sauces, and other liquid food items

Scales

Scales allow you to achieve accuracy when measuring the amount of ingredients you use, the portion for every serving, or the weight of the food items being sold.

Versatile scales that can measure a wide range of products

Typically used for measuring heavy loads

Comes with a hook where items are suspended

Easier to read and provides more accurate readings

Supports multiple units of measurement

Available in a wide range of increments

Simple and very easy to use

Usually comes with dual measurement units

Available in a wide range of increments

Price Computing or Label Printing Scales


Weighs products and computes price based on programmed unit prices

Prints labels that include details such as the name and SKU of the item, best-before date, bar code, and the total price

Food Processors

Get the lowdown on food processors from your chef.

Allows you to feed food into the unit in succession

Processed ingredients are dispensed in a separate bowl so you can produce the exact quantity you need

Can process ingredients in batches

Comes with a built-in bowl available in a range of capacity to catch the processed ingredients

Perfect for processing ingredients at a set quantity

Support different kinds of attachments to handle various types of food and achieve specific results

Can process a wide variety of ingredients such as meats, fruits, and vegetables

Interchangeable hubs for adding multiple functionalities as needed

Chop up and mix large batches of cooked and raw ingredients




Can puree and process liquid and semi-liquid items

Features a tiltable large-capacity bowl for easy transfer of finished product into separate vessels

Removable bowls and serrated blades for easy and thorough cleaning

Food Packaging Machines




To seal in product freshness and quality to extend shelf life




Seals out the air to make food last much longer




Maximizes space to fit more products in the freezer

Handheld and countertop models available

Pistol style vacuum sealers are rechargeable

Quickly wrap products in film for storage or selling fresh products
Can be used in conjunction with label printers

Available in countertop and floor model designs
Meal Cooking Area
Now we're cooking...with gas!
A gas cook range that has been installed and operates effectively is the heart of the kitchen. Nobody wants to struggle to get food cooked when they work in a busy restaurant, as I'm sure any good chef will know.
Choose heavy-duty cookers and stoves for commercial kitchens with a lot of traffic because chances are, you're going to need them. There is a gargantuan range of heavy-duty gas stoves and cookers to choose from. Be kind to the environment and kind to your chef and install gas, if space permits. Gas gives instant heat, while electrical appliances like stoves would still need to warm up, wasting time you might not have.
Service Area
Worktops, surfaces, and chef stations
You can purchase stations and worktops that double up as chef's stations or 'workstations' to begin with and have a communal 'work station' as well when all your chefs and assistants need to work together, side by side. The more dedicated stations you have, the better your kitchen will function and flow. Worktops and surfaces need to be easy to clean and preferably, constructed of stainless steel. Some commercial work tables you may need for your operation include:
Prep tables are designed for assembling

salad, sandwich, or pizza. They come with a

chilled pan rail with storage space for two to three rows of pans.

The base is a refrigerator for keeping reserve ingredients fresh and accessible.

Chef bases have a refrigerated base where products or ingredients waiting to be cooked are stored to stay fresh. The top is a solid surface built to support heavy-duty cooking equipment.
Equipment stands hold equipment used in various types of kitchen tasks. The base can be open or fitted with an undershelf for added storage. It can also be enclosed to provide cabinet storage.
Dishtables provide flat storage for plates during dishwashing, which makes your kitchen more organized and sanitary. There are two types of dishtables--one for clean dishes and another for soiled dishes. They come in several layouts to fit in most kitchens.
Shelves, plenty of them, to store and organize your supplies for easy access. Shelves can be added beneath the surfaces for extra storage space. Service shelves and overshelves can also be added for front-of-house use.
Well-designed cooker top placement
Include plenty of space for multiple kitchen staff to stand around a single island for cooking at the same time, or give each one their own station. You may want to accomplish this more easily by leaving the kitchen designed as an open plan floor, with islands placed in strategic places.
In Conclusion
Kitchen placement and the workflow plan are the most important elements to a good commercial kitchen. If your kitchen doesn't work, your restaurant won't either. Thirty to 40 percent of a restaurant's total space should be allocated to the kitchen alone.
While delivery and takeout might be causing the traditional restaurant kitchen to shrink, what's clear is that its role in the overall success of your operation is still as huge as ever. Don't skimp on the size and equipment that you purchase for your kitchen.