Have a Seat: Seating Options for Your Bar Area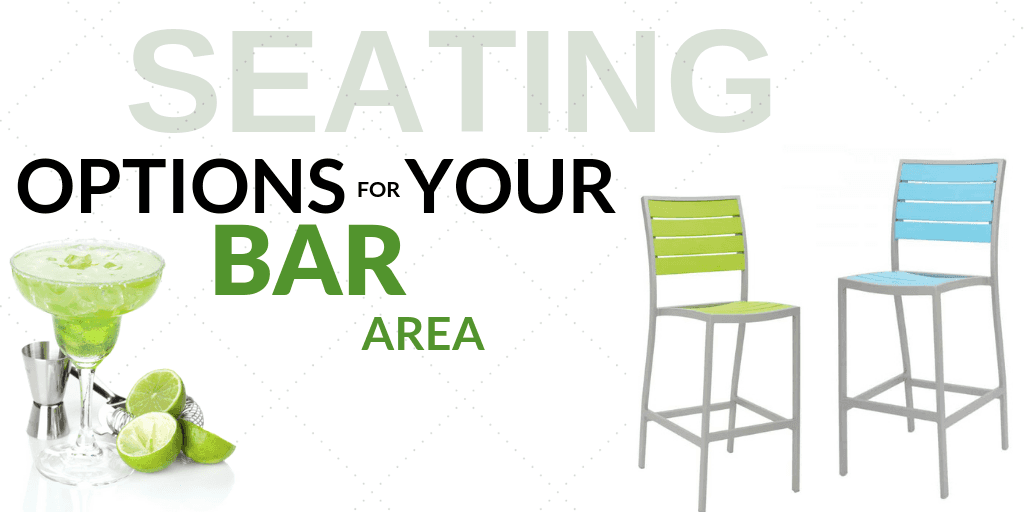 For commercial establishments with a bar area, choosing specialty seating is the key to tying the decor all together while maintaining its functionality. Bars bring a different aspect to your restaurant seating in terms of its setup and layout, and the result is that one must choose from different styles of specialty bar stools to fit the bill. Because the bar area typically forces guests to sit side-by-side, these areas are typically reserved as 'seat yourself' options with a limited menu. Bar stools help to cater to this more casual seating arrangement, and choosing the right seating option for your bar area is the key to rounding out the layout.
First things first…
Before you go selecting your favorite bar stool from our inventory, you've first got to measure how high your bar actually is. By foregoing this important step, you may be forcing your guests to peer over a too-high bar with too-low stools or forcing them to stoop over your bar with their knees smashed against the underside because their stool is indeed too tall for your setup. As a general rule of thumb, it is recommended to have a 10-12 inch difference between your tabletop and seat (Ex: a 42" table top works best with a 30" stool.) Also take into consideration the overhang of your table, as this can cut away at the height of your stool as well. For instance, a 42" high table seems like it should be paired with a 32" tall stool, but if the table has a 6" overhang, then you may want to opt for a 26" high stool instead to ensure your guests are comfortable.
Next, choose your style!
This is where you can mesh your needs with your restaurant's design. Feel free to get a little creative, as there are many options when it comes to bar stools. Here are just a few to consider:
Armless vs With Arms

Stationary vs Swivel

Fabrics and Finishes
While some of these options regard your customer's comfort as well as the pragmatism of your setup, others can also enhance the aesthetics of your bar as well! For instance, some finishes like smooth metals can be easier to clean, but fine dining establishments may want a fabric-covered seat to add to the comfort of the seating arrangement. With several options and styles to choose from, it may be best to consult with me, your kitchen specialist, to find the right style for your restaurant.
Finally, choose how many stools you'll need
Once you've got the heights and favorite styles sorted out, it's time to start thinking about how many stools you'll need to purchase. Giving your guests enough girth to feel comfortable at the bar is key. Here are some recommendations based on stool width for how much space you need between each stool:
Stools ~16"-18" wide: allow for 21"-22' of space

Stools ~19"-22" wide: allow for 24"-25" of space

Swivel Stools or Stools with Arms: allow for even more space
Cynthia Maier
Cindy@ckitchen.com
347-394-7584
Sales Consultant
CKitchen.com
E Friedman Associates Inc