Millennials Demanding Kid-Friendly Restaurants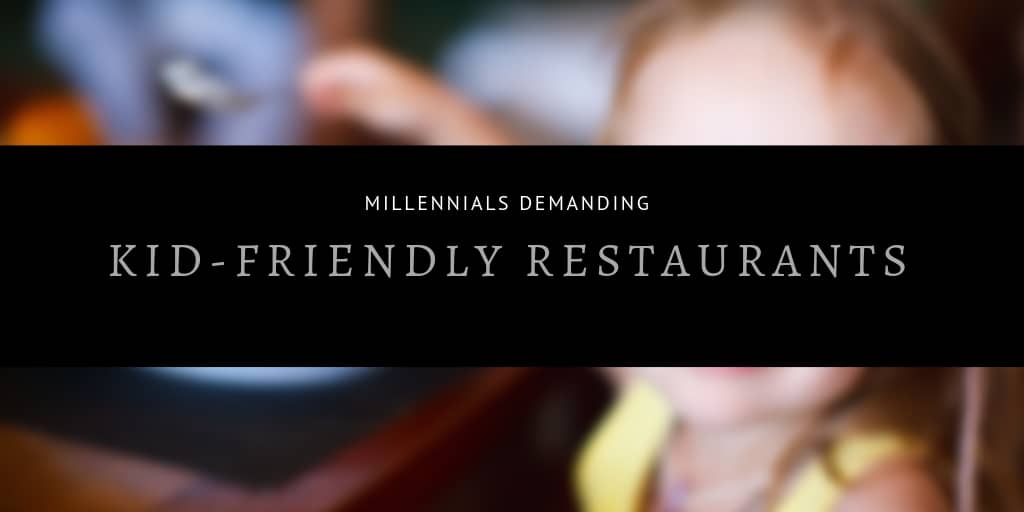 We all know the general feeling towards millennials - that it's the generations of 'me'. So it might surprise you that research from The NPD Group has found that millennials, in fact, put their kids first. Restaurants seeking to capture the millennial market should pay close attention to this oft-overlooked aspect, lest they lose their millennial patrons.
National Restaurant News sums up some of the findings from The NPD Group on millennials in regards to their feelings about restaurants and kids:
According to a recent report from Port Washington, N.Y.-based NPD, families with kids made 1.2 billion fewer visits to restaurants in 2014 than they did in 2008. For millennial families, those cutbacks are in part due to dissatisfaction with the menu choices for children. In the year ended September 2014, 28 percent of younger millennials (those aged 18 to 24) and 14 percent of older millennials (those aged 25 to 34), cited "not kid-friendly" among their reasons for visiting restaurants with their children less often. Other top reasons for their continued cutbacks included "prefer home cooking," "watching what I spend," "bad economy" and "too expensive."
What's more, the majority of millennial families either let their children decide or decided as a family which restaurant to visit. Eighteen percent of younger millennial households with kids and 16 percent of older millennial households with kids let the children lead the decision of which restaurant to visit. In 44 percent of younger millennial households with kids and 42 percent of older millennial households with kids, the decision was made jointly between adults and children.
So what does that leave you with? Your restaurant may find that your kid-friendly menu - or lack thereof - may be the issue. In fact, only about a third of millennials with kids found that they were satisfied with the selections on kid menus. While they may choose to order from this section, they're certainly looking for more. "Millennial households with kids want more options on menus that are not a kids menu stuck in a box in a corner of the menu," said NPD analyst Bonnie Riggs. "Kids don't want to order from the corner. There's an opportunity here."
Revamping your kid menu should involve healthier selections, as demanded by millennials in the study. Similarly, different size portions for different child appetites and a la carte items are lacking in their current offerings.
The best way to gain traction in the Millennial community is to take these studies, listen to the demands, and cater accordingly. Gleaning information from this study may lead you to change up your kid menu selections, and doing so may gain you some valuable patrons!
DAMON SHRAUNER
Sales Consultant
E Friedman Associates Inc
T: 516-882-1955
D: 712-389-6805
F: 605-782-9015
damon@ckitchen.com