How Salad Bars Are Solving The COVID-19 Problem
Due to the self-serve nature of their operation, salad bars were among the first to be put on the chopping block as the industry ramped up its efforts to mitigate the spread of the COVID-19 disease in public dining spaces. Operators of salad bars, whether in supermarkets, restaurants, or in their own brick-and-mortar locations, had to make some big changes and had to do so very quickly if they were to live through this crisis.
Has the COVID-19 Spelled Doom for Salad Bars?
Salad bars provided an instant fresh food solution. The do-it-yourself element was crucial to the entire experience as customers are able to get the exact product they want and how they want it.
Salad bars were the quick healthy alternative to home cooking and non-healthy takeouts. The convenience is invaluable to people who have no time to whip up a nutritious dish for themselves or their family that they can order. Health-conscious customers loved the ability to simply just toss a colorful, nourishing hodgepodge of fresh vegetables and fruits such as red onions, kale chips, Brussel sprouts, green beans, and sunflower seeds into a bowl mixed together with their choice of add-ons like boiled eggs, salad dressings, soured cream, olive oil, and many more.
It is easy to see why there are salad bars basically everywhere. In fact, more than 90 percent of supermarkets have them [source]. Supermarkets and grocery stores consolidated the eating and shopping experience through salad bars, which was effective in driving traffic and ultimately boosting sales. Salad bars were also integrated in many restaurants and not long after rose restaurants that specialize solely in salad.
Healthy food became convenient and easy to access--that's what the salad bars are all about, at least before the coronavirus threw the world for a loop. Are salad bars as we know it going extinct? Jerrod Melman, executive partner of Lettuce Entertain You Enterprises, believes that they are simply going to evolve [source]. Things will have to be done a little differently if people were to once again set foot in one and enjoy a safer and more sanitary experience. It is more crucial than ever to monitor customers and how they behave especially around the food bar.
Salad Bars Before Coronavirus Was Hands-On
Before COVID-19, salad bars operated very much like a buffet. Customers will assemble their very own salad from a spread of ingredients laid out on a refrigerated display. People line up around the bar and take turns scooping up ingredients they like using common utensils. There are barriers in between customers and food, which are mostly screen guards that provided enough space to access the ingredients.
Supermarkets-based salad bars continue to be profitable, but sales have been in a slump in the past few years. As per IRI, salad bar sales have gone down by 3.5% between May 2017 and May 2018, as other convenient, more innovative food solutions, which what salad bars had going for, popped up with the likes of packaged salads and meal kits [source].
Even before the pandemic, many salad bar customers have expressed sanitation concerns and have ultimately shied away from them. COVID-19 did nothing to douse those worries and has in fact heightened or renewed these trepidations, with 80% of customers now firm in their belief that salad bars in grocery stores are risky, according to Datassential.
The early detection of these pre-coronavirus sanitation problems allowed operators to navigate the crisis much better. The Salad Station, for one, already had a lot of safety protocols in place before the coronavirus hit, and when it did, the brand was ready. There is a dedicated staff member that hands out gloves to customers to make sure that they are wearing one. Serving utensils are changed every single hour to reduce risks of cross-contamination, which is more frequent than they did before. They also opened up their kitchen to customers in a bold display of transparency and confidence in the cleanliness of their production. Even then, there is a staff member round the clock cleaning and sanitizing tables, chairs, and credit card terminals, POS systems, and other high-touch points in customer-accessible areas [source].
Salad Bars are Struggling To Stay Open in COVID-19
What happened to salad bars after the virus took hold of the world? Many salad bars were shuttered as the establishments were deemed high-risk for transmission and customers became more uncomfortable with the idea of eating buffet-style at a salad bar. Some operators had to trade the kale and lettuce for liquor just so the space remains profitable.
The recently released Official Return to Work Guidelines for Foodservice Establishments continues to spell trouble, with many cities still prohibiting these establishments from reopening and the rest requiring operators to staff stations and and heighten safety efforts.
Salad Bars Will Not Be the Same After COVID-19
No More Self-Service
Customers are no longer allowed to build the salad themselves, at least not in the way they did before. Employees now man the stations and put together the orders for each customer to limit interaction and touchpoints at the bar. At the moment, this is a mandate by most municipalities for salad bars.
Amtekco Industries has fashioned a simple $200 solution that comes in the form of an insert designed to convert your salad bar into a chilled display case for prepackaged refrigerated salad in an affordable way. Bruce Wasserstrom, Amtekco president, even teased the development of what they refer to as "the future of food bars", although he kept the details close to his chest. Either way, this is another promising innovation that operators can look forward to.
Sneeze guards will be a more normal sight and the bar will be fully enclosed to reduce customer access and minimize any risk of contamination from outside elements. Taste of Texas is keeping much of the salad bar experience the same, only now there is plexiglass dividing the space between the staff side and the customer side.
There are, however, still operations that continue to operate normally. For the folks over at Phoenicia, trusting customers to do the right thing and recognize the importance of practicing safety can help them preserve what the salad bar is really all about even in the face of pandemic [source].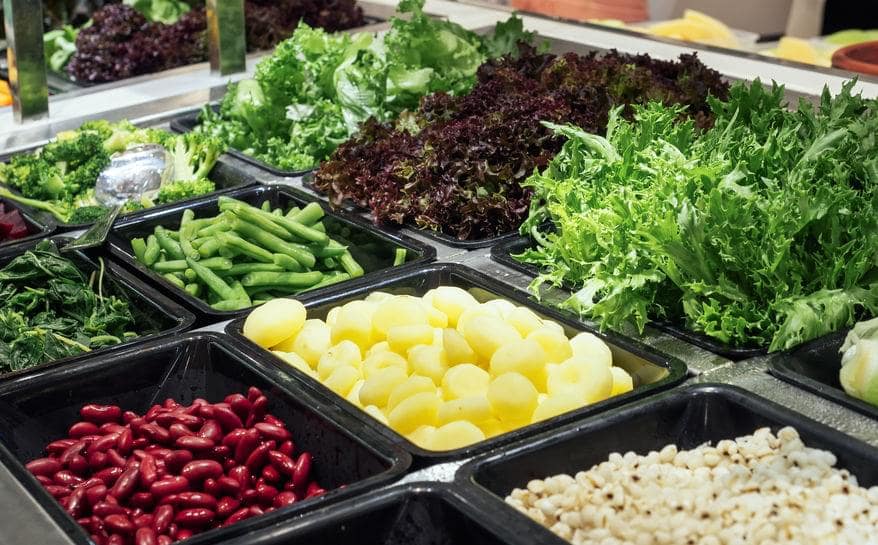 Online Ordering
Supermarket salad bars and salad-based restaurants were not immune to the effects of the coronavirus outbreak. What made the difference between the success and failure for most is how quicker they were able to pivot to a digital operation.
Operators knew that grab-and-go and delivery, which have seen a spike in demand as these were deemed the safer way to eat during these times, will be crucial to success. The Salad Station was ahead of the curve and was able to quickly switch to online ordering, which put them in a much more advantageous position as the pandemic ravaged the industry. The brand provides takeout salads assembled by chefs and based on a 10-topping menu that caters to customers who want to make the most use of customization and those who simply want the salad created for them. Their efforts resulted in 700% increase in online orders and they plan to continue digital operations even when dining rooms reopen [source].
Salad chain Sweetgreen had an established digital ordering system in place since 2012 [source]. They have ghost kitchens, which are production-only facilities that cater specifically to delivery and pick-up orders. The brand also has an app through which customers can track and get notified of the status of their orders. Sweetgreen also implements a contact-free, cashless payment system. All this allowed the brand to adapt to the new norm of to-go and deliveries fairly quickly.
Sweetgreen is stepping it up in the safety department too. Outside their restaurants, you will find dedicated concierges stationed at their pick-up points to assist customers and sanitize the area round the clock. Inside, customers are required to wear masks and practice physical distancing. Hand sanitizing stations are set up to encourage hygiene at all times. The restaurant also has solid crowd management in place.
Sweetgreen uses tamper-proof seals on all their packaging to ensure the food arrives safely to their customers' doorsteps. Delivery couriers wear face masks and gloves and have hand sanitizers with them at all times. Sweetgreen implements no-contact delivery and orders can be placed at the door to eliminate any face-to-face interaction [source]. Sweetgreen has seen great success in this approach, getting a huge surge in digital orders, which helped them recover from the sales nosedive they experienced last March [source]. The brand has in fact opened two new locations in Denver [source].
Everything Prepackaged with Expanded Menus
Many operators had to retool their operations into what is essentially made-to-order, so that they only serve prepackaged salads and veggies to go. The do-it-yourself element, a crucial part of the salad bar experience, may have been dropped but customization is still very much there. Heinen's Grocery Store, in fact, even expanded its menu of prepackaged salad to offer 18 varieties. The food is proportioned and prepackaged and the brand even added ingredients like chicken, salmon, and fruit that are individually packed to offer more choices.
Robots Serve Up The Greens
Just like the rest of the industry, salad bars have turned to technology to fill the gaps in labor while also ensuring optimal cleanliness and efficiency. Heinen's Grocery Store is among the growing number of operators that are deploying Sally, a first-of-its-kind vending machine-like robot developed by a Bay Area-based startup called Chowbotics designed to make fresh salads for customers at the touch of a button.
Customers can assemble their salad virtually through the touchscreen while Sally the Robot puts the product together in real-time using ingredients sanitarily stored inside. This way, there are fewer touch points along the way. Chowbotics is also fast-tracking the development of a mobile ordering app that allows customers to simply scan a QR code at the robot to completely remove the need for touching anything.
Sally the Robot offers a total of 22 salad bar items and tracks the nutritional profile as customers assemble their salad. The machine will take about 90 seconds to put together a single meal with eight ingredients, able to dish up as many as 30 to 35 salads per hour, with each order to range from $5 to $11. Sally the Robot comes with a $35,000 price tag, which already includes the training, maintenance, and marketing [source].
At Heinen's Grocery Store, Sally the Robot will start out with five standard salads, but customers will soon be able to customize their own with soups, parfaits, and even full meals. Thanks to this wonderful piece of technology, the brand is also able to enjoy more control and confidence over how the more expensive ingredients on its menu are consumed. Before, the brand decided against putting out the most costly options like salmon because customers just overindulged on them.
Salad Bars Moving Forward
The industry was transitioning to delivery, ghost kitchens, and increased technological elements when the pandemic put everything to a sudden stop. COVID-19 has simply accelerated the implementation of these many changes. Now we may be seeing a glimpse of what salad bars will look like on the other side of this crisis. What seems to be set in stone is that customers will want a more sanitary way to enjoy their salads. Phoenicia Specialty Foods owner and manager Ann-Marie Tcholakian believes that the prepackaged salad and full-service salad bars will be here to stay. Salad buffet may be no more and self-service altogether might be out for a while. Most restaurants could be looking at converting to full-service as well.
As usual, the customer behavior will shape the new salad bar industry anew, and there are quite a few habits that they are already picking up to make the pandemic more bearable.
Salad Bar Ideas
Product freshness is still the name of the game. While you beef up your safety protocols, it is important that you keep your food storage and preservation processes on point too. Well-built refrigerators and freezers are still some of the best assets you can have to serve up the freshest ingredients to your customers, which is all the more important now that orders are largely being transported instead of being consumed on-premises.
The bar should be freshly stocked, with no gap in between the vibrant colors of the vegetables and fruits to make it more appealing to the eyes and the stomach. Displayed products should be cooled or heated properly, so make sure your temperature-controlled salad bars are running as they should. You can even opt for an additional thermometer for good measure.
What items are on a salad bar now? Not much is changing when it comes to salad bar offerings although operators will have to focus on food items that travel well so that the food stays fresh until customers are ready to eat it. You can offer limited or expanded varieties depending on the type of customers you have. Tons of research has shown that more and more people are quickly gravitating towards healthier food options. Use this time to come up with some unique spins on common salad food items to attract new customers.
Frozen foods like peas or fish are a great way to add a twist or diversify your menu [source]. Consider adding low-calorie vegetarian recipes to your menu to cater to customers who may have grown tired of home cooking and dishwashing during the self-quarantine period, but are still looking to continue the healthier diet they developed.
Packaging will be a bigger discussion now that delivery is larger than ever in the salad bar industry. Keep in mind that customers are more inclined to support a brand with sustainable practices, so when deciding on your packaging, consider compostable items with safety seals. The same goes for minimizing food waste. When you have total control over how your ingredients are stored and served, you can also mitigate the waste of your operation at the end of the day. This may be a good time to take a bard look at your food waste management system to see what aspects can be improved. With a lot more prepackaged orders going around, make sure your salad bars have kitchen scales to make sure portions are sized right.