Mexican Menu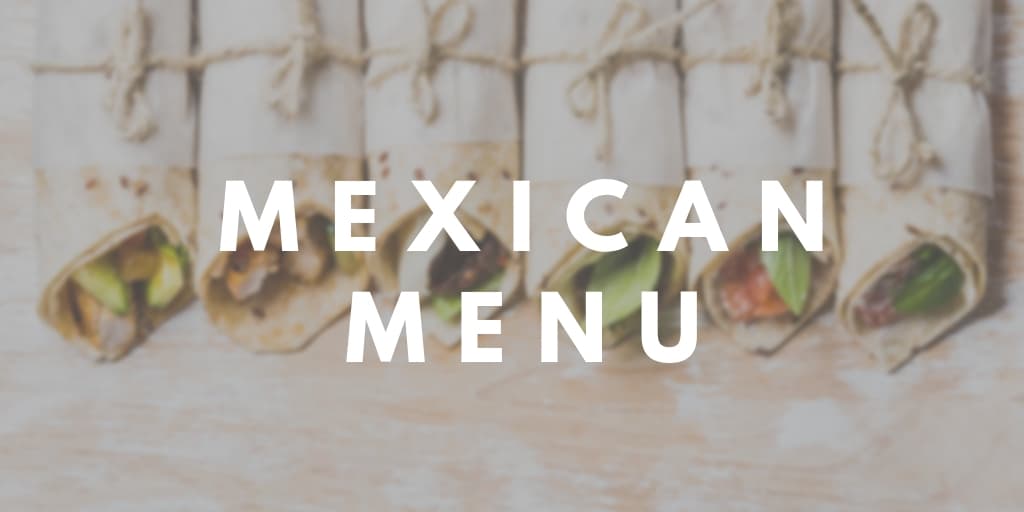 Tacos, fajitas, enchiladas: These foods all bring back spicy memories of menus south of the border. Dishes like these are essential to any Mexican restaurant, but many other eateries try to tap into the fiesta spirit by mimicking these favorites. Whether you're designing an entire menu with a Mexican flare or merely adding a hint of ethnic entrees to your lineup, there are a few essentials to keep in mind for your Mexican menu.
The essentials to opening any given restaurant are no different for opening a Mexican themed restaurant (or adding Mexican dishes to your menu). In fact, there are additional pieces of equipment that you'll likely need in order to achieve the dishes and drinks you're planning to serve!
Food Blender for Salsas

Salsa Bowls

Fajita Plate Heating Grate

Tortilla Server

Tortilla Press
Once you've got your kitchen stocked and ready to go, it's time to create unique and tasty entrees! The basic premise for Mexican dishes is the combination of beans, meats, and toppings on Mexican flatbreads such as tortillas. Incorporating theme-appropriate spices and sauces ccompletethe perfect meal. Here are a few entree ideas to get your creative juices flowing:
Ingredients
4 (6-ounce) skinless, boneless chicken breast halves

1 tablespoon fresh lime juice

1 tablespoon 40% less-sodium taco seasoning (such as Old El Paso)

1/2 teaspoon sugar

Cooking spray

6 (8-inch) flour tortillas

6 cups packaged coleslaw

1 (7-ounce) can green salsa

4 cups chopped tomato

1/4 cup sliced ripe olives, chopped

1 1/4 cups fat-free refried beans

1/2 cup (2 ounces) crumbled feta cheese

6 tablespoons reduced-fat sour cream

1/4 cup fresh cilantro leaves

1/4 cup unsalted pumpkin seed kernels, toasted (optional)
Preparation
Prepare grill, or heat a grill pan over medium-high heat.

Brush chicken with juice; sprinkle with seasoning and sugar. Place chicken on grill rack or grill pan coated with cooking spray; grill 4 minutes on each side or until chicken is done. Cool slightly. Cut chicken into 1/4-inch strips; set aside. Place tortillas on grill rack or grill pan coated with cooking spray; grill 30 seconds on each side or until golden brown.

Combine coleslaw and salsa; toss to coat. Combine tomato and olives; toss gently.

Spread about 3 tablespoons beans over each tortilla; divide chicken evenly among tortillas. Top each serving with about 2/3 cup slaw mixture, 2/3 cup tomato mixture, 4 teaspoons cheese, 1 tablespoon sour cream, and 2 teaspoons cilantro. Sprinkle each serving with 2 teaspoons pumpkin seeds, if desired.
Fish Tacos with Lime-Cilantro Crema
Ingredients
CREMA:
1/4 cup thinly sliced green onions

1/4 cup chopped fresh cilantro $

3 tablespoons fat-free mayonnaise $

3 tablespoons reduced-fat sour cream $

1 teaspoon grated lime rind $

1 1/2 teaspoons fresh lime juice $

1/4 teaspoon salt $

1 garlic clove, minced
TACOS:
1 teaspoon ground cumin

1 teaspoon ground coriander

1/2 teaspoon smoked paprika

1/4 teaspoon ground red pepper

1/8 teaspoon salt $

1/8 teaspoon garlic powder

1 1/2 pounds red snapper fillets

Cooking spray $

8 (6-inch) corn tortillas

2 cups shredded cabbage $
Preparation
Preheat oven to 425°.

To prepare crema, combine the first 8 ingredients in a small bowl; set aside.

To prepare tacos, combine cumin and next 5 ingredients (through garlic powder) in a small bowl; sprinkle spice mixture evenly over both sides of fish. Place fish on a baking sheet coated with cooking spray.

Bake at 425° for 9 minutes or until fish flakes easily when tested with a fork or until desired degree of doneness.

Place fish in a bowl; break into pieces with a fork. Heat tortillas according to package directions.

Divide fish evenly among tortillas; top each with 1/4 cup cabbage and 1 tablespoon crema.
Ingredients
SERVINGS: 12
Nonstick vegetable oil spray

3 9-ounce bags tortilla chips

2 15-ounce cans black beans, rinsed

1 large white onion, chopped

3 pounds shredded cheese (such as sharp cheddar and Monterey Jack)

8 ounces Cotija cheese or feta, crumbled

1 bunch radishes, thinly sliced

1 fresh cilantro leaves
Toppings (Choose From The Following)
Pico de gallo

Guacamole

2 cups sour cream, thinned with 1/3 cup water

Hot pepper sauce
Preparation
PREP: 1 MINTOTAL: 2 MIN
Preheat oven to 350°. Coat 2 large rimmed baking sheets with nonstick spray. Dividing evenly between baking sheets, layer chips, carnitas, beans, onion, and shredded cheese, mounding in the center. DO AHEAD: Nachos can be assembled up to 1 hour before baking.

Working with 1 sheet at a time, bake until cheese is melted, 20-25 minutes. Sprinkle with Cotija cheese, radishes, and cilantro. Serve with desired toppings.