New Year Restaurant Design for Your Festive Table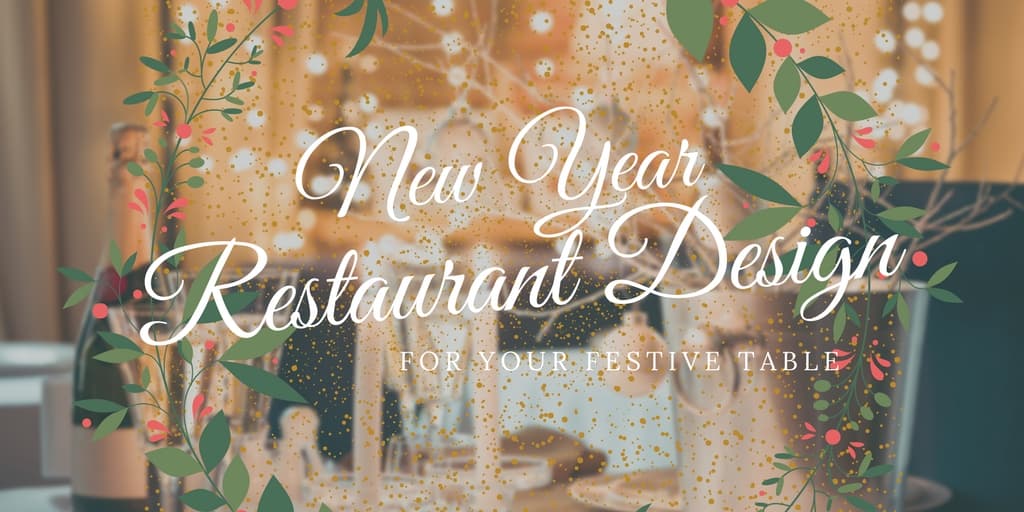 Welcome the New Year in style with a fabulously festive table setting.
The holiday season brings with it an increase in the number of people eating out.
If you're wondering how best to make your restaurant stand out, you might want to consider getting creative restaurant designs for your tables.
We've put together a list of some of the best (and most affordable) ways to decorate your tables this New Year.
Furthermore, many of these ideas involve a little DIY. So, rope in the kids to help you out, and have as much fun as you can!
1. Add a little metallic sparkle to the table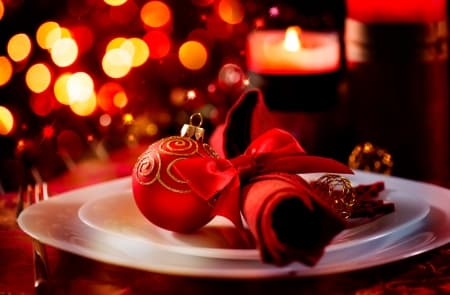 The holidays are all about going extra and creating a warm atmosphere to balance the cold outside. Create this inviting atmosphere inside your restaurant by adding a little metallic sparkle in the form of silver metal tape. It's affordable and looks elegant when wrapped around candleholders. It's just what your restaurant tables need to shine as that New Year's countdown begins.
2. Add some greenery
Nothing says the holidays quite like greenery indoors. Whether you choose to use holly or other shrubbery is up to you. There are plenty of creative design for festive table online if you look on picture-based social media platforms like Instagram and Pinterest. If you want to really deck out the place, you should consider getting a florist involved to set and arrange flowery table settings correctly.
3. Create your own centerpieces
If you can't afford to hire a florist to give you a helping hand with your centerpieces, it's not the end of the world.
Create your own by using things that are readily available in your own kitchen, for example, Martha Stewart's glittered faux lemon centerpieces. All you need are several lemons, pile them high on top of each other in a glass fruit holder, and tastefully stick velvet leaves and gold or silver decoration balls to create a pleasing and unique eye-catching table centerpiece.
4. Craft some glitter candles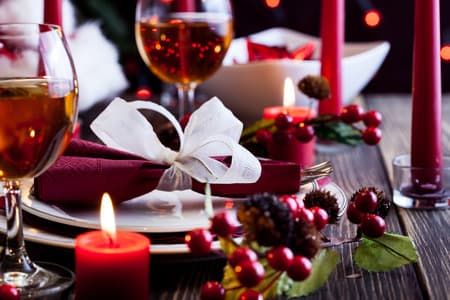 Anything that sparkles and glitters is always welcome on New Year's – the more sparkle the better. These glitter candles are so easy to make that you can virtually craft as many as you want. Plus you don't even need to light them up. They'll look good just standing there.
To make them, you'll have to purchase superfine metallic glitter and spray adhesive. Then coat all the candles you want glittered with spray adhesive. Once you've done that, sprinkle the glitter overall. Leave to dry overnight and voilà, you've got yourself a fine set of glitter candles on hand.
5. Pine it
Pinecones aren't just reserved for Christmas decor. You can also use them as napkin holders to create pleasing themes and bring a certain warmth to your restaurant tables on New Year's. Who says you have to spend a lot of money buying napkin holders when you can easily make your own one-of-a-kind pinecone napkin holders?
6. Place ornaments in a glass
You don't have to break the bank to have stunning New Year design décor in your restaurant. An idea we love involves the use of champagne flutes filled with gumball sized ball-shaped ornaments. These balls can be of varying sizes. For best results, use gold and silver balls, or pearl-like balls. Place them on a silver tray to give them that sophisticated look.
7. Go red on your tabletop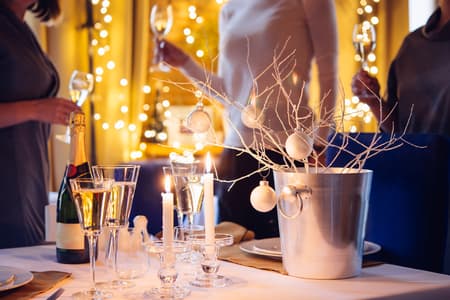 Christmas may be over, but this doesn't mean you can't include red decorations for your New Year's décor theme.
Red is bold, bright, and befitting for the holiday season. Pair it up with any of the aforementioned glitter candles, or golden balls in champagne flutes to really complement the colors. Don't forget to include crisp, white, starched table linen as well as polished silver. Take a look at this guide to know how to properly lay out cutlery for festive formal meals.
Get It Right This New Year's Day
People love being in a place that makes them feel special. You can use décor to help set the tone for the evening. Elegance and class are never out of fashion. Armed with these seven inspirational ideas, you'll be sure to get it right this New Year's Day.