5 of the Best Foods to Try in Charleston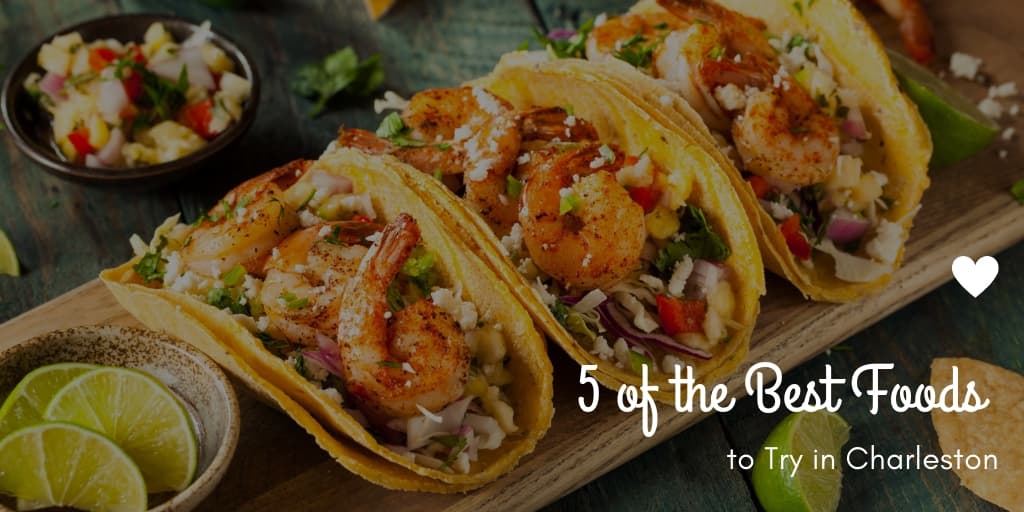 While there are plenty of excellent reasons to visit Charleston, South Carolina, there is one reason that seems to be above all others: the food. Charleston has been referred to as the "culinary destination of the deep South, " as the city offers foods of all types. Whether it is fresh seafood, fried food, or other Lowcountry cuisine that you are craving, one thing you can be sure of is that your meal in Charleston will stand out from all other foods in tourist areas. Below, are just five of the best foods you MUST try in Charleston!
1. Shrimp and grits. Also referred to by some as "hominy," shrimp and grits has been one of Charleston's most popular and iconic main dishes for decades. It is so well-liked that you can find it on the menu at the majority of restaurants within the city. There are many ways to dress-up shrimp and grits as well, such as by adding lemon, garlic, cheese, mushrooms, sausage, ham, tomato, onion, bacon, and the like. Two locations you can be sure to find this historic dish at are Hominy Grill and Slightly North of Broad (S.N.O.B.).
2. Oysters. There are many different ways to try oysters in Charleston. Two of the most common styles are roasted oysters and oyster sliders. The primary reason oyster dishes are such a hit is because the oysters are local and fresh. The high oyster season in the Charleston area is October through April, so be sure to visit during these months to shuck your own delicious oysters and garnish them however you please. The second great way to experience oysters in Charleston is in the form of an oyster slider. Oyster sliders can be found at many restaurants around Charleston, but nothing compares to the dish served at a restaurant called The Ordinary. The oysters here are fried to a perfect crispness with the mild taste of jalapeno, cabbage, pickled carrots, and cilantro, and then tucked into a warm, house-made Hawaiian bun.
3. She-crab soup. Invented in 1909 by William Deas, a cook for Charleston mayor R. Goodwyn Rhett, she-crab soup is one of the most well-known and well-liked culinary masterpieces of the city of Charleston. This creamy, crabby soup is so unbelievably tasty because of the addition of crab roe, which tints the soup orange and truly enriches the flavor of the soup. One of the greatest restaurants to order a bowl of delicious she-crab soup is The Wreck of the Richard and Charlene, or The Wreck.
4. Fish tacos. Fish tacos can be made in a variety of tasty ways. At 167 Raw, an extremely popular restaurant in Charleston, the tacos are made with crispy flounder, house-made guacamole, rock sauce, pickled red onion, cilantro, house-made hot sauce, and soy caramel. Be sure to visit 167 Raw in Charleston and don't miss out on these scrumptious fish tacos!
5. Fried flounder. When not inside of a taco, the flounder in Charleston is commonly served whole and lightly fried with a bit of a salty taste. Often times, this dish is served as a meal with a side of grits or rice. At Dave's Carry-Out, a small open kitchen in Charleston, the whole fried flounder is served with rice and red field peas seasoned with bacon. This is referred to by locals as "Hoppin' John."
While there are tons of different foods to try and restaurants to check out when visiting the city of Charleston, these are five of the best according to many others. They are very different but one thing they all have in common is high end commercial cooking equipment. Take a taste of one or all of these items and you can be sure that your trip to Charleston, SC will be an experience worth remembering!