Pumpkin Baked Goods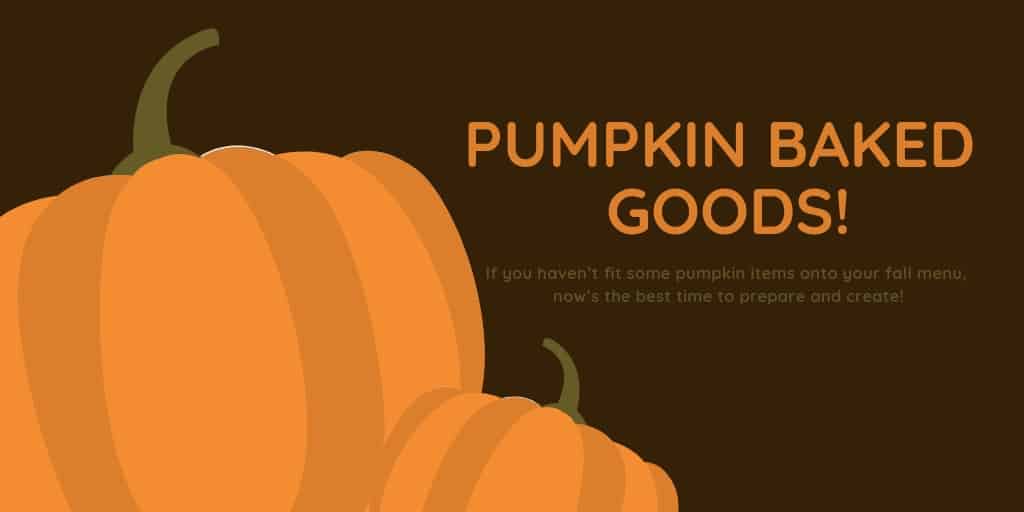 Fall is the season for warm beverages, comfort foods, and pumpkin baked goods. Fall and winter seasons bring with it a surge in baked goods purchases. Colder weather heats up your baked goods demands not only because of the comfort factor but also because of holidays that demand fresh bakery items. While many of your regular menu items may simply need a little tweaking to fit onto your new fall menu, others will need to be reinvented entirely to cope with the surge in business. If you haven't fit some pumpkin items onto your fall menu, now's the best time to prepare and create!
If you haven't already integrated your seasonal menu items into your restaurant by this time, then you may already be behind the eight ball. "We usually launch [fall products] in October. But this year, for the first time, we are bringing them out in September," says Lafeea Watson, spokeswoman for Krispy Kreme. "That's what the industry seems to be doing." Carrie Pemberton, director of franchisee relations for Orange Leaf, seems to agree as well: "Last year, we introduced [fall products] later and noticed that all of our competitors had introduced them very early. It really felt like, if consumers want fall flavors, we should be offering them."
So hopefully that's kicked you into high gear! Now it's time to take a look at your menu to see what can and should be added. Some common themes are pumpkin, salted caramel, and chocolate - so incorporating those flavors in a variety of ways that reflect your restaurant's theme is the key to succeeding during the fall season. Consider that Starbucks created lattes with key fall flavors (salted caramel macchiato, anyone?), and other large companies like Krispy Kreme rolled out their pumpkin spice donuts earlier this month.
If you've got some great recipe ideas but are left wondering how on earth you'll replicate it enough to withstand the fall and winter demands, consider investing in a dough sheeter and/or dough rounder. These are great for any bakery item and helps to eliminate some of the costs and time constraints associated with labor. Additionally, these pieces of equipment are easy to carry over into the warmer seasons and can help with fresh breads and buns for those summer sandwiches!
Find recipes, design a menu, and invest in appropriate equipment to help reach the demands. Always be sure to market your products on social media in order to gain the most traction! Keep track of what seems to be a big seller, and remember those for next year! It's always a work-in-progress, and you can use this opportunity to get creative and reach more consumers.
JENIFER AQUINO
Sales Consultant
CKitchen.com
E Friedman Associates Inc
T: 800-555-0666 x 1975
D: 516-882-1975
jenifer@ckitchen.com