Freshen Your Menu: Salad Bars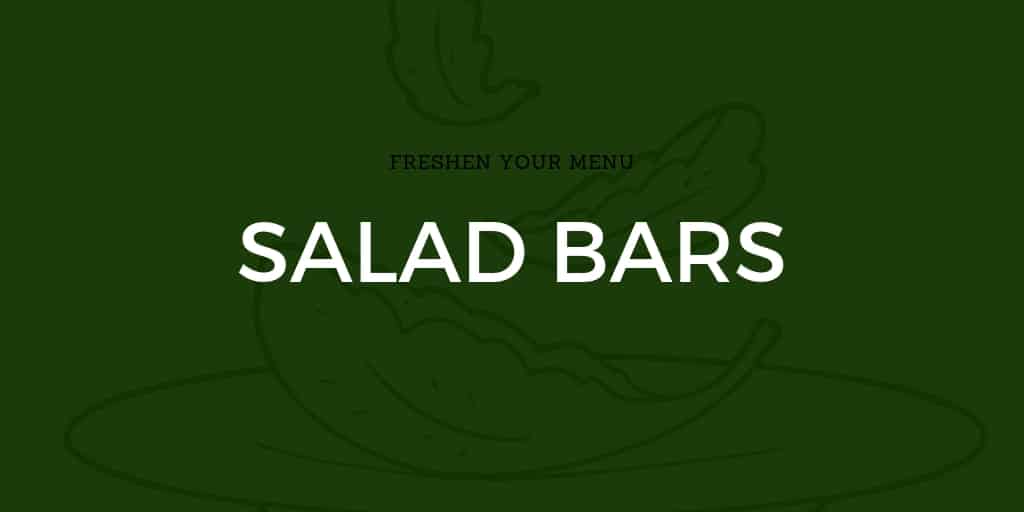 Salad bars are essential to the buffet-style restaurant but can also be an added bonus for your customers in your menu-style restaurant as well! The addition of a salad bar can enhance customer satisfaction, but it also has the potential of leaving a bad impression if not initiated and maintained properly. Salad bars are generally easy to maintain, simple to restock, and effortless to market! Let's take a look at a few points when freshening your menu with the addition of a salad bar.
Perception
Salad bars are a way to offer your guests the experience of creating their own tailored dish with a restaurant-style flare, so the perception is key to salad bars! Chris Dahlander of Snappy Salads says that 'Visual cues, such as the nugget ice, assorted types of containers and seeing the walk-in, let guests know they're eating the fresh product.' Always have your staff keep this in mind when restocking merchandise and cleaning the bar.
Equipment
The right cold food bar can help streamline the process and funnel guests properly. A Carlisle Tabletop Food Bar is ideal for holding multiple pans of various sizes, allowing for a multitude of dishes with a well-laid out display. Tray slides can make it easier for guests to design their meals without fumbling to hold their plates. As a helpful tip, be sure to leave room for plates and utensils at the ends of the bars for guests to easily retrieve!
Experiment!
Consider mixing a few hot items with a buffet warmer into your salad bar. Your guests will be able to mix warm ingredients such as meats and soups with their standard cold bar selections. Also, think about adding a few restaurant favorites such as your house-made dressings to the bar to separate your salads from the ordinary. Salad bars are a unique way to incorporate unusual items without forcing guests to try an entire dish made of it. They can pick and choose what they'd like to add and how much, so feel free to throw a few fun items on the bar!
Salad bars are a tried and true favorite, and with the ability to experiment with some unique add-ons, these buffet-style bars are the perfect addition to help freshen your menu. According to a LivingSocial survey, Americans tend to eat out at a restaurant 4.8 times a week on average. With so many opportunities to cater to consumers, restaurant owners are constantly looking for ways to appeal to their target audience. To stay in the game, restaurants need to constantly 'freshen' their menu! Each week, we will discuss a key aspect to help you in this endeavor and to keep your products trendy. Get creative, and find ways to incorporate this week's topic of salad bars into your menu!