3 Fun Ways to Expand Your Career: Bars, Vacations, and Restaurants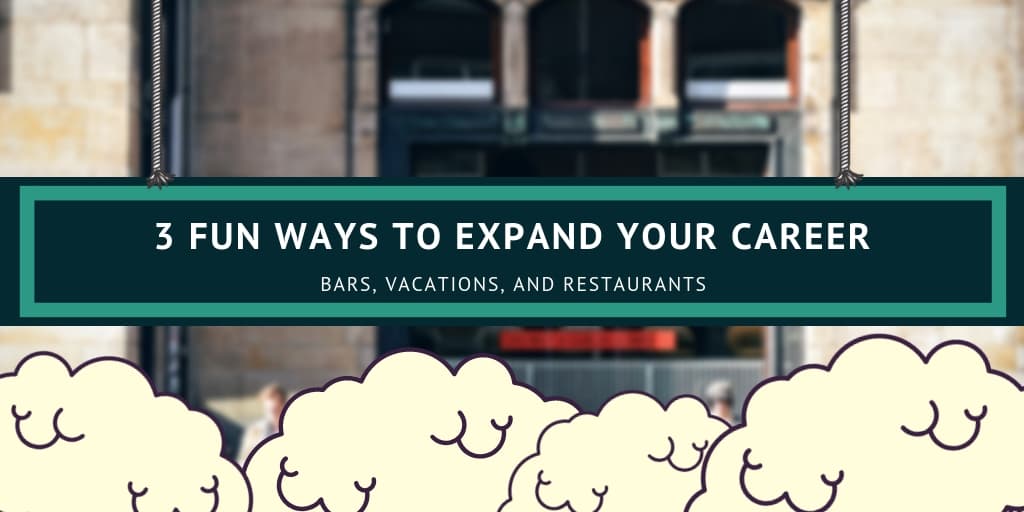 All professionals feel the need to grow and expand their businesses, but many of them are on tight budgets just like the rest of the world. So why not think outside the box and combine fun-money with work-money?! Who says your professional development can't be fun? As long as you stay in-check and well-balanced, it is a win-win situation for you and your business alike! Here are three ways to have fun while simultaneously investing in your professional development:
1. Bars.
There is always going to be the next hot-spot bar getting ready to open, and once it is open, it will most likely be packed. Therefore, it is a good idea to get your foot in the door before this happens. Call the general manager ahead of time and offer to host a small intimate party with various professionals in the area before the grand opening. You may consider charging a small fee if needed. Once the general manager approves, invite several influential business people, letting them know that you are organizing and hosting a networking event at a chic establishment not yet open to the general public. By way of networking and relationship-building, your super-fun party will be professional development, as well.
2. Vacations.
While many people think of a vacation as taking time off from work, the fact of the matter is, most professionals cannot actually shut their brain off from work even if they want to. Doesn't it make sense then, to just add work and career-building right into your vacation? This way, you can vacation as much as you want, without feeling guilty about taking so much time away from work! While on vacation, take time to reflect on your career, take notes on the behaviors of people in the culture, recognize busy and trendy local places, search for trends that aren't yet present in your hometown, introduce yourself to business owners, and develop new contacts in various markets.
3. Restaurants.
Choose one of your favorite restaurants, and arrange a lunch or dinner with a client who rejected your business or services in the past. This may sound like a strange and awkward time, but instead, think of it as a learning experience for yourself, to learn about yourself the way others see you. Use this time to get helpful feedback and constructive criticism from this person. For example, why didn't you get the job, or why didn't they want to invest in your business? Hear it, learn from it, and grow from it.

As you can see, professional development can be gained in many different ways. It doesn't always have to be all-business either! Experience new things, build new relationships, and always try to have fun while expanding your professional development.