Lava Cake Recipe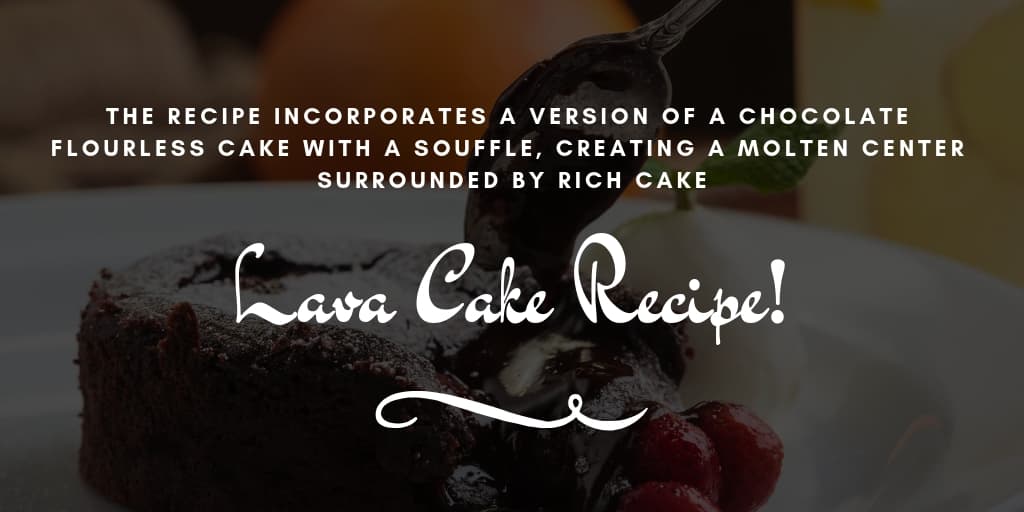 Lava cake, chocolate meltdown, molten chocolate cake - this gooey dessert goes by many names but boils down to one general recipe. Its best-selling qualities are in the simplicity of its ingredients which include chocolate cake, fudge-filled center, and a side of ice cream to sweeten the deal! The recipe incorporates a version of a chocolate flourless cake with a souffle, creating a molten center surrounded by rich cake.
While the US-based chef Jean-Georges Vongerichten claims to have invented this delicious dessert, a chocolatier in France Jacques Torres stakes his own claim. Interestingly enough, Jacques Torres claims that this discovery was happened upon by accident when he removed a sponge cake from the oven before it was fully cooked! And thus the lava cake was born. While Monsieur Torres may have invented it, Mr. Vongerichten is still credited with establishing its popularity, at least in America.
While there are many variations on this classic, Paula Deen from Food Network has a recipe rated 5/5 by over 300 bakers!
Ingredients:
6 (1-ounce) squares bittersweet chocolate

2 (1-ounce) squares semisweet chocolate

10 tablespoons (1 1/4 stick) butter

1/2 cup all-purpose flour

1 1/2 cups confectioners' sugar

3 large eggs

3 egg yolks

1 teaspoon vanilla extract

2 tablespoons orange liqueur
Directions:
Preheat your convection oven to 425 degrees F.

Melt the chocolates and butter in the microwave or in a double boiler.

Add the flour and sugar to chocolate mixture.

Stir in the eggs and yolks until smooth.

Stir in the vanilla and orange liqueur.

Divide the batter evenly among greased custard cups.

Place in the oven and bake for 14 minutes. The edges should be firm but the center will be runny. Run a knife around the edges to loosen and invert onto dessert plates.
You can spruce up your final product with a scoop of house-made ice cream and drizzled with fruit sauce for a well-plated dessert! Another interesting way to put your own twist on this tried-and-true classic is to change up the flavors. For instance, rather than a gooey chocolate center, consider mixing it up by adding a caramel center and a sprinkle of salt! Take this recipe from Baking Bites a try.