Recipes: Breads and Biscuits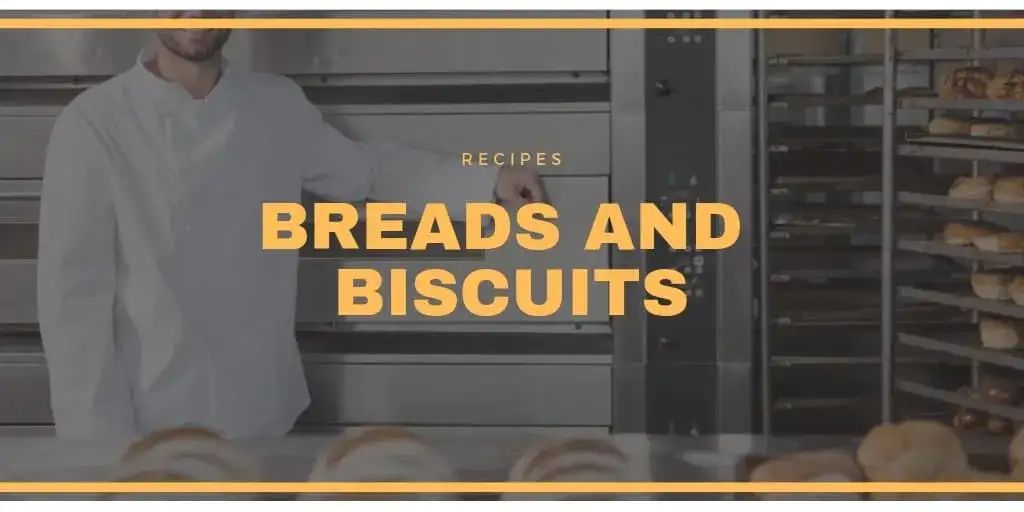 'Let's start with bread and water.' This traditional segway for staff from seating to gearing up for customers to order their food rings nostalgic for many guests. Many restaurants have used water and bread as a way to gear guests into their dining experience. At the same time, bread helps to pad the stomachs of hungry customers who may choose not to order an appetizer, buying time for your kitchen to prepare the main course without keeping customers hungrily waiting. While your restaurant may now charge a nominal fee for a bread basket nowadays, you should still make every effort for your breads and biscuits to be of the same high quality as the rest of your menu items!
Consider that first impressions are hard to shake, and a bread basket is typically the first food item your guests taste your food. If you choose to not offer breads or biscuits as a prerequisite to the main course, then these carbohydrate-loaded sides surely show up in some of your main menu items. Rather than slacking and purchasing ready-made breads (which typically lack in freshness and flavor that a house-made bread could provide!), consider making your breads and biscuits on-site. Many would agree that it's better to serve no bread at all than to serve the obligatory basket of mediocre selection, so give some of these tried-and-true favorites a try in your restaurant!
Traditional Breadsticks - The Food Network Kitchen
Ingredients
For the Dough:
1 package active dry yeast

4 1/4 cups all-purpose flour,plus more for dusting

2 tablespoons unsalted butter,softened

2 tablespoons sugar

1 tablespoon fine salt
For the Topping:
3 tablespoons unsalted butter,melted

1/2 teaspoon kosher salt

1/8 to 1/4 teaspoon garlic powder

Pinch of dried oregano
Directions
Make the dough: Place 1/4 cup warm water in the bowl of a mixer; sprinkle in the yeast and set aside until foamy, about 5 minutes. Add the flour, butter, sugar, fine salt and 1 1/4 cups plus 2 tablespoons warm water; mix with the paddle attachment until a slightly sticky dough forms, 5 minutes.

Knead the dough by hand on a floured surface until very smooth and soft, 3 minutes. Roll into a 2-foot-long log; cut into 16 1 1/2-inch-long pieces. Knead each piece slightly and shape into a 7-inch-long breadstick; arrange 2 inches apart on a parchment-lined baking sheet. Cover with a cloth; let rise in a warm spot until almost doubled, about 45 minutes.

Preheat the oven to 400 degrees. Make the topping: Brush the breadsticks with 1 1/2 tablespoons of the butter and sprinkle with 1/4 teaspoon kosher salt. Bake until lightly golden, about 15 minutes.

Meanwhile, combine the remaining 1/4 teaspoon salt with the garlic powder and oregano. Brush the warm breadsticks with the remaining 1 1/2 tablespoons melted butter and sprinkle with the flavored salt.
Cheddar Biscuits - The Food Network Kitchen
Ingredients
For the biscuits:
Cooking spray

1 3/4 cups all-purpose flour

1 tablespoon plus 2 teaspoons baking powder

2 1/2 teaspoons sugar

1/4 teaspoon salt

3 tablespoons vegetable shortening, at room temperature

4 tablespoons cold unsalted butter, cut into 1/2-inch pieces

6 ounces grated yellow cheddar cheese (about 1 1/4 cups)

3/4 cup whole milk
For the garlic butter:
3 tablespoons unsalted butter

1 clove garlic, smashed

1 teaspoon chopped fresh parsley
Directions
Position a rack in the upper third of the oven and preheat to 425 degrees. Lightly mist a large baking sheet with cooking spray.

Make the biscuits: Pulse the flour, baking powder, sugar and salt in a food processor. Add the shortening and pulse until combined. Add the butter; pulse 4 or 5 times, or until the butter is in pea-size pieces. Add the cheese and pulse 2 or 3 times. Pour in the milk and pulse just until the mixture is moistened and forms a shaggy dough. Turn out onto a clean surface and gently knead until the dough comes together. Do not overwork the dough or the biscuits will be tough.

Drop the dough onto the baking sheet in scant 1/4-cup portions, 2 inches apart, and bake until golden, 15 to 20 minutes.

Meanwhile, make the garlic butter: Melt the butter with the garlic in a small saucepan over medium heat; cook for 1 minute. Remove from the heat and stir in the parsley. Brush the biscuits with the garlic butter and serve warm.
Rosemary Bread Loaf - The Food Network Kitchen
Ingredients
1 1/4 -ounce packet active dry yeast

2 teaspoons sugar

2 tablespoons extra-virgin olive oil, plus more for brushing and serving

2 1/2 cups all-purpose flour, plus more for dusting

2 tablespoons dried rosemary

1 teaspoon fine salt

1/2 teaspoon kosher salt Freshly ground pepper
Directions
Stir the yeast, sugar and 1/4 cup warm water in a large bowl (or in the bowl of a stand mixer). Let sit until foamy, about 5 minutes.

Add 1 tablespoon olive oil, the flour, 1 1/2 tablespoons rosemary, the fine salt and 3/4 cup warm water; stir with a wooden spoon (or with the dough hook if using a mixer) until a dough forms.

Turn the dough out onto a lightly floured surface and knead, dusting lightly with flour if necessary, until smooth and elastic, about 10 minutes. (Or knead with the dough hook on medium-high speed, adding a little flour if the dough sticks to the bowl, about 8 minutes.)

Brush a large bowl with olive oil. Add the dough, cover with plastic wrap and let stand at room temperature until more than doubled, about 2 hours.

Brush 2 baking sheets with olive oil. Generously flour a work surface; turn the dough out onto the flour and divide into 4 pieces. Working with one piece at a time, sprinkle some flour on the dough, then fold the top and bottom portions into the middle. Fold in the sides to make a free-form square. Use a spatula to turn the dough over, then tuck the corners under to form a ball. Place seam-side down on a prepared baking sheet. Repeat with the remaining dough, putting 2 balls on each baking sheet. Let stand, uncovered, until more than doubled, about 2 hours.

Preheat the oven to 400 degrees F. Bake the loaves 10 minutes; brush with the remaining 1 tablespoon olive oil and sprinkle with the kosher salt and the remaining 1/2 tablespoon rosemary. Continue baking until golden brown, about 10 more minutes. Transfer to a rack to cool. Serve with olive oil seasoned with pepper.
For any of these recipes, be sure your kitchen is ready! Baker's Pride ovens and bakery equipment are perfect for getting your bread-making kitchen off to a great start! If you have any questions, give us a call. Our design department can also help organize your kitchen for the most efficient setup to include your new bread-baking work lines.