4th of July Entertaining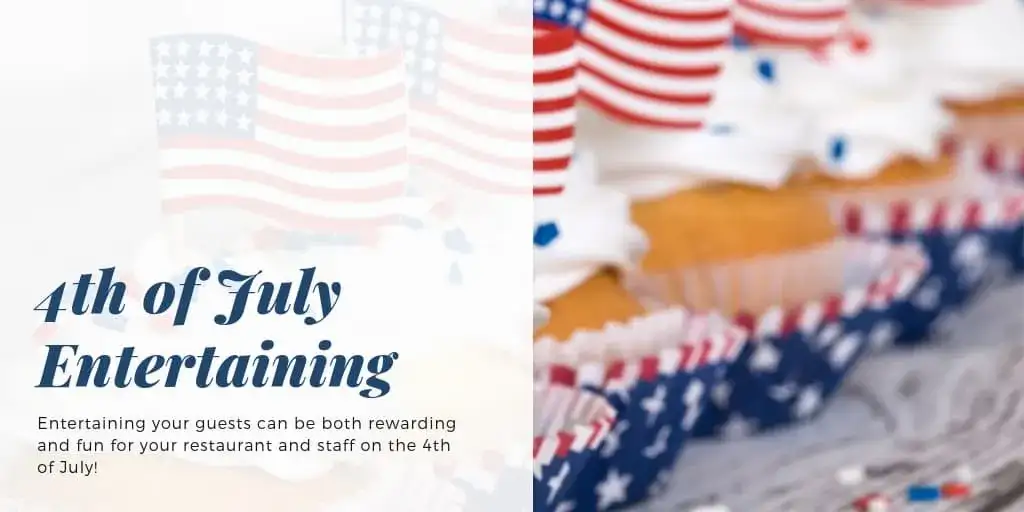 Holidays bring with them a surge in business for restaurants, and the fourth of July is no different! With unique themes and festive accouterments, Independence Day is a holiday where you can integrate the traditional and the modern. While some may simply add a few patriotic decorations, the truly business-minded restaurants will take full advantage of a holiday to reap the most benefits. Entertaining your guests can be both rewarding and fun for your restaurant and staff on the 4th of July!
Location, Location, Location
And if you've got a great location for firework-watching, then you're all the better! Is your restaurant within range to view the fireworks? Take advantage of the opportunity and beef up your marketing for outdoor seating during the show if you've got a great location! Similarly, if you can't see fireworks from your restaurant, then cater to the anti-fireworks crowd as well. Whatever your location, you can entertain the holiday crowd.
Marketing is Key
If you plan to treat your Independence Day patrons to a special night of entertainment, the key to getting the most out of your efforts is to market appropriately. Don't forget the power of social media! Prepare for targeted marketing by taking photographs of festive drinks and food that you plan to serve on the 4th. Similarly, take photos in real time throughout the day itself to drum up any last-minute party-goers!
Festive Foods and Special Menus
This is the place where chefs and bartenders can have a little fun and get creative. A few weeks beforehand (NOW would be a great time!), have your chefs and bartenders take some time to come up with appropriately-themed specialty items. For drinks, take a look at a list of July 4th-themed cocktails from Mix That Drink! And for food, you may plan for some specialty carry-out dishes for party-goers who forgot to make a dish for their cookout. Grilled items and barbeque are a must-have for this summer holiday as well as berry-themed desserts and light cornbreads.
Don't forget the decorations!
Remember, not all 4th of July decor has to be tacky. Incorporating some red, white, and blue into even the fanciest of restaurants can be simple if given enough attention. If you're overwhelmed with ideas, focus on areas of consideration such as centerpieces and the waiting area. While Pinterest is usually a great go-to place for idea generation, you can also simply create your own! Remember to stay in line with your restaurant's theme and to allow the decor to accent the food rather than drown it out.
All in all, simply don't let this holiday slip by unnoticed in your restaurant. Reap the benefits of this festive occasion by entertaining your guests in a fun and patriotic way!