The Innovations And Uncertainties That Shape The Future of U.S. Foodservice Post-Coronavirus
The public remains as wary about going to restaurants as the COVID-19 pandemic wears on. The resurgence of coronavirus cases on the heels of the reopening efforts last May did not help. According to the latest data from market research firm Datassential, 52% of customers avoid eating out, 9% more than last month. This is the same situation at play in a survey of 1,000 customers by consulting firm AlixPartners with 26% cutting back on dining out, up by 6% from April. Restaurant transactions have been on a serious decline for the past six weeks, dipping by 11 to 14%, as per The NPD Group. It is not looking good for universities either as dining halls become empty and the uncertainty of school reopenings looms large.
If people are not setting foot in dining rooms any time soon, operators are bringing the experience to them instead. This is the heart of the foodservice industry's response to the COVID-19 pandemic as it leaned into grab-and-go and delivery to pull through. These efforts, although devised to get us through the crisis, have also helped paint a picture of how the industry would look like on the other side of the coronavirus--the aspects of it that will remain the same and those that will be a thing of the past.
What's In: A more Earth-friendly packaging
The days of single-use plastic are numbered
As customers spend less time in the dining area, food is more mobile than ever before. Demand for delivery and takeout is through the roof, leading to a call for more innovative and sustainable packaging solutions.
The packaging is perhaps the most visible and tangible reflection of your production processes and as the outbreak bumps up the need for delivery and customers experience first-hand the disruptions in the supply chain during the COVID-19 pandemic, they are taking a closer look at how you package their orders. And they are doing so through the lens of a more informed eye with a better understanding of food waste and its devastating impact on the planet. This prompts customers to be more proactive in making the world a little cleaner and greener. One of the ways they are expressing this is through the restaurants they choose to do business with. Research shows that customers are willing to pay more for sustainable brands. It is safe to say that sustainable packaging is one way to provide a quality customer experience.
Sustainable food packaging is where the industry was headed even before the pandemic struck. Now, the situation has warranted its quicker and wider adoption, which resulted in new regulations in select municipalities such as the ban of plastic bags.
Admittedly, this is not an easy transition and rather a costly investment that's around 20 to 50% more expensive than regular packaging, as per Joel Feigenheimer of RealEats Consulting. However, it is important to keep in mind that cost should not be the only driving force of your decision. Perceived value may hold greater weight.
The benefits far outweigh the costs. Sustainability will go a long way for your brand perception and lends itself to many marketing opportunities. Claire Koelsch Sand, consultant and owner of Packaging Technology and Research, believes that a sustainably packed meal sends a strong message about your commitment to the environment. Customers will respond better to transparency and concrete action as opposed to empty flowery marketing. They are more inclined to support brands that walk the talk and visibly take action.
In the past, switching to sustainable packaging meant that a fresh meal straight out of your kitchen will be somehow diminished into a low-quality mess along the way--that's the worst-case scenario anyway. This is no longer a tradeoff you have to make. Technology is catching up, leading to the development of more eco-friendly packaging that is much more affordable and capable of keeping the food fresh and intact during transport.
Many manufacturers are putting out fiber-based food packaging and paper bags with reusable carriers that offer excellent recyclability. Cardboard and fiberboard containers are also becoming more prevalent as they retain heat well and are leak-proof, which is perfect for transporting sauces and other liquid food items. Most of the time, these materials can also be customized to include your logo and other promotional information that further strengthens your sustainable image to keep your business on the customer's top-of-mind.
Sustainability remains a priority in non-commercial operations although there are many factors at play. As more students have their lunch to go, schools first had to suffer a shortage of packaging that they have only managed to overcome recently. Andrew Greene, chef and sector purchasing manager for Chartwells Higher Education, says that they are constantly looking for ways to become more sustainable as they ensure the health and safety of the people in the current environment, which means packaging that is strong and tamper-proof to prevent delivery people from taking food from the order.
Most options are plastic-based, but more eco-friendly alternatives have popped up. Some paper bags now come with a tamper-evident strip that seals the top while some recycled paperboard boxes have lockable tabs. Chipotle has introduced tamper-evident packaging seals while HipCityVeg is using compostable stickers. Sodexo is shifting to compostable packaging that is able to preserve food quality during travel coupled. It has also streamlined its menu to focus on food that is easy grab-and-go.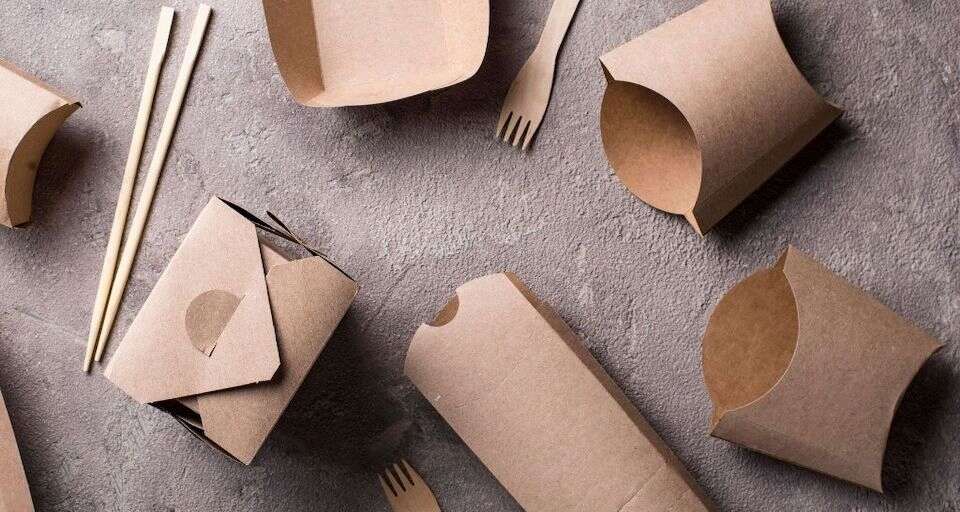 What's Out: Excessive food waste
Customers are calling for better waste management
Customers are also prepared to use their wallets to support restaurants that actively limit food waste and adopt more environmentally friendly practices in all facets of their service. More and more operators including big chains like Taco Bell are going back to the drawing board, putting their menus under a microscope to identify areas where it can be improved ecologically.
Solutions that emerged including locally sourced ingredients, a tailored menu of bestsellers and signature items that have a broad appeal and can travel well, better and more efficient use of ingredients, and proper portion sizing with the help of kitchen scales that provide exact weight of the ingredients or the serving of a dish. Learn more about reducing food waste in our comprehensive blog post.
Sourcing ingredients locally reduces the carbon footprint that comes from transporting the food, but it also gives you the opportunity to create unique dishes that no other restaurants have. It also ultimately generates more cost-savings in the long run. Locally sourced ingredients help you create healthier and fresher food, which customers are willing to pay extra money for.
Consider ramping up efforts towards reducing waste as you reopen and take the time to develop an effective system that can quantify the food waste you produce on a daily, weekly, and monthly basis in order to pinpoint weak areas that can be reconfigured.
What's In: Non-traditional university dining
Big changes are afoot as we move away from face-to-face education and into remote learning
Over at university foodservice, the future is full of uncertainty. The packed campus dining halls that serve tens of thousands of students now only have hundreds or dozens to cater to. Renovations and new building projects have been put on hold as health and safety take priority.
Everything is up in the air and the only thing certain, according to Zia Ahmed, senior director of dining services at The Ohio State University Budgets via Fesmag, is that no matter what happens, the budgets have been heavily dented and it would be difficult to come back from it. This is mostly by the sudden closure of traditional campus dining spaces and the refunds for semester meal plans it has necessitated. Even before COVID-19, students have already shown preference to take-out and delivery and are looking for more delivery options on-campus.
If things get even more drastic--enrollments continue on a downward slope or worse, on-campus education doesn't push through--staffing will be further trimmed and so will operational capacity. With the greater implementation of remote learning, the on-campus population could deplete significantly and enrollment of international students, which contributes to the overall net worth of universities, will further drop. Even before, many students were already making the switch to online courses. This time, there could be more and they could even anticipate lower tuition rates as a result.
While residential programs will not be entirely off the table, Orlynn Rosaasen, director of dining services at UND and president-elect of the National Association of College & University Food Service, believes that these programs will be a lot smaller, which will affect the way they design their facilities.
Operators with existing technology-based systems in place emerged in a better position to accommodate the unique demands as they were able to transition much quicker into delivery and digital ordering options. Self-service stations are no more and operations are reoriented for an effective takeout system and classrooms and libraries serving as secondary dining spaces, which snowballs into adjustments on their sustainability practices. This means expanding waste management to accommodate this while also protecting the freshness of food and offering students the ability to easily reheat the food.
Rafi Taherian, associate vice president of Yale Hospitality, noted that they are looking at the "transactional aspect of food" rather than the experiential aspect of it since COVID-19 changed everything.
What's Out: Working in groups
Your staff might have to follow physical distancing in the kitchen or counter
In the COVID-19 era, everyone has become increasingly critical about how food is safely prepared, cooked, and delivered. Customers want transparency before they open their wallets for you.
Ed Viser, principal at Café Design & Architecture, is helping coffee shop operators find any room for improvement in the way their staff moves behind the counter. Optimizing the workflow and expanding the space for multiple people working the counter could help them get tasks done without crossover. This means having a tailored space for each employee that promotes a more vertical workflow so that they simply walk back and forth rather than side to side. More handwashing and sanitation stations could also be set up to encourage frequent hand hygiene and at the same time increase customer assurance of the restaurant's safety.
Although deployed minimize face-to-face interactions and reduce the restaurant's high-touch points, QR codes and touchscreen tablets are replacing single-use menus, which also improves on key areas of your service-speed and convenience. More operations are also embracing the use of self-ordering kiosks and cashless systems, which you can read more about here.
When customers do go out to eat, they are looking for visible action and implementation of your safety policies. Keep in mind that customers primarily shy away from dining out to be safer. What you need to do is to make them feel safe at your restaurant. Knowing and seeing with their own eyes that you are taking proper steps to keep your space clean goes a long way.
One way to communicate this is by paying attention to every little detail in your front-of-house. Grab-and-go and takeout operations ca still rely on open-air merchandisers to display and keep food fresh. These paired with roll-down locking doors and interior lighting showcase the products beautiful while also keeping contact to a minimum.
Tabletops could be easily overlooked as dining areas shutter, but they offer a lot of opportunities to show your commitment on top of the taped markings on the floor, plexiglass barriers, protective equipment. You can opt not to set the table until the guests take their seats. This gives you the opportunity to clean and sanitize it in front of them and save labor by having everything ready on the side and simply retrieving them when it's needed. Tabletops might feel a bit bare with little to no items that people can touch. Condiments will have to be provided upon request and flatware is delivered wrapped in cloth or napkin or even sealed.
In keeping with the physical distancing protocols, the first thing you might do is to remove every other table. This could make the exterior look a bit empty. Consider using larger tables instead or filling in the gaps with planters and decorations. For outside dining, you can't go wrong with signages and umbrellas as well as boards that communicate the restaurant offerings and reminders--anything to make the space more meaningful and work to your advantage.
What's In: Third-party delivery
More customers are getting used to the convenience
Third-party delivery systems were quick to alleviate the pressure on the staffing and the ability of restaurants to keep up, but they are expected to be integral in the coming years beyond COVID-19.
Online orders have become the primary source of income for most restaurants. Datassential reveals that 72% of customers are sticking to delivery. The self-quarantine and social distancing protocols brought about a change in customer behavior. Safety concerns pushed people of all ages to try ordering their food online and rely on it for a while. This has, in turn, made them, especially the older generation, much more comfortable shopping online and having their food delivered to their homes . The value lies in the seamless convenience and safety offered by these services.
Naturally, the number of consumers that use third-party apps has surged as a result. This has reached a point where these apps have taken over as the main dining resource of customers through which they order their food, cutting the communication between customers and the operator.
While third-party delivery systems offer tons of benefits--they can be a good place for independent operators to implement wholesale delivery--their dominance may cause operators to lose touch with their customers. Industry experts in the National Restaurant Association or NRA's Restaurant 2030 report suggested that this could prompt the industry to develop an application that can preserve the relationship between customers and restaurants.
Additionally, third-party delivery systems might also be subject to increased regulation in the coming years. Several cities have already set caps on the commissions that platforms like DoorDash, UberEats, and GrubHub.
Even healthcare facilities have relied on delivery. At the Mayo Clinic in Rochester, efforts revolve around the combined utilization of the in-house delivery and a take-home system. For the former, online order placement and payment are allowed and food is picked up at a designated collection point. The hospital also allows orders from an outside delivery company to give customers expanded options. Mayo Clinic is also among the many healthcare facilities that have switched to providing take-home dinners for their staff members who do not have a lot of time to prepare food for their families. Through the hospital's designated portals, workers can order meals and adjust portion size and customize to meet dietary restrictions, and then pick up their orders.
Catering to offices has drastically changed too. Large spreads of food trays that can feed dozens of people at a time are traded for individually packed orders to reduce potential exposure. After all, employees are more likely to order in than go out for their lunch break, and the convenience of having their meals delivered, which they enjoyed pre-COVID-19, is still very much there, just in a safer format that fits the times.
What's Out: Indoor dining spaces
Restaurants become virtual and diners hit the streets
Takeout and delivery might take precedence over in-house dining when designing a floor plan. The industry is moving in the direction of delivery-focused business models. Industry forecasts show that more ghost kitchens and virtual restaurants will emerge in the coming decade as dining areas take up less and less space. These "placeless" restaurants strictly exist and operate online or via an app with no physical space to host guests but a central kitchen from which they prep, cook, and pack orders for delivery.
Viser believes that most restaurants can switch gears for the time-being as a ghost kitchen to help absorb the financial blow dealt by the COVID-19. High-end restaurants can pivot towards this same style of operation to serve in-home dining, and ultimately adopt this model into a post-coronavirus service for catering when food delivery further increases. Full-service restaurants have watched on-premise traffic diminished in their own dining rooms, where most of their business comes from. The transactions in these establishments declined by 27% compared to last year, and the shift to off-site dining has helped them get lost business back, with 91% from last year.
That being said, many people still miss dining out as some are starting to grow out of home cooking. Street dining may be the closest to restaurant experience they are willing to get. Kentucky, for one, has allowed restaurants to operate full capacity for outdoor dining for a short period. Several cities have also closed streets to set up shop while operators are adding patio areas and converting their parking spots, alleyways, and side streets into additional dining spaces. This is one of the solutions implemented by chain BJ's Restaurant Brewery that paid off to the tune of $26,000 per restaurant in incremental sales during the past week.
Another successful attempt at this is by Beef 'O' Brady's, which migrated its tailgate trivia night to their parking lot, where they set up a line of tents. Customers can participate in their cars or sit at the tables, which are arranged with appropriate distance. Orders are placed through POS terminals and wi-fi coverage was upgraded. These efforts doubled the franchise's pre-coronavirus sales, getting business from both regular and new customers introduced to the location during the pandemic.
At least 25% of independent operators are thinking about extending their dining rooms outside, according to a survey conducted by Rewards Network.
Drive-thru is also gaining more traction than ever. Triple O, for one, has just launched a drive-thru restaurant, retooling their processes to accommodate contactless payment, regular wellness checks of the staff, stricter cleanliness and sanitation protocols, and a reconfigured floor plans that take into account physical distancing guidelines.
What's In: Burger-flipping robots and blockchain
Technology plays a crucial role in these trying times and especially when the dust finally settles
The COVID-19 pandemic has fast-tracked the integration of robotics into the kitchen. As more customers feel less comfortable with human beings cooking and serving their food, perhaps a machine could ease their worries. For the operator's part, it helps fill the gap in staffing in a much safer way.
The latest endeavor in this field is being made by White Castle as the popular chain is getting ready to deploy Flippy, a robot fryer developed by a California-based manufacturer Miso Robotics. Flippy will be responsible for flipping burgers and making fries. The trial is set to start this fall. Thinner staffing also pushed Goldilocks to use DrinkBot by Botrista, which helped make drinks quickly and safely with very little manual intervention. More brands have shown interest in the technology including the likes of Halal Guys and Bonchon.
As lower on-premise sales pave the way for off-site dining, Brian Frank, founder of an early-stage venture fund that invests in food tech called FTW Ventures, believes that this could unlock more production space for robots to occupy.
The National Restaurant Association (NRA), in its Restaurant 2030 research, discussed that technology will also play a greater role in the next decade of the industry in making the supply chain safer. This pertains to the implementation of blockchain and barcoding systems to digitally record the entire journey of each product--where it was farmed or harvested to how it ends up on the customer's table. By leveraging data collection, the industry can develop a simpler and more effective system for tracing the source of potential foodborne illness outbreaks or ultimately taking out any contaminated products to prevent one altogether.
NRA also believes that there will be stricter food safety policies as customers call for greater transparency. One way this could happen is for restaurant inspection reports to be available to the public. In fact, we have been seeing shutdowns of establishments as a consequence of violating COVID-19 guidelines. Several of these shutdowns are initiated by customers--one instance being a customer tipped off health officials following an employee testing positive.
As per Datassential, 81% of consumers will take more time and care in examining whether or not a restaurant follows foodservice safety guidelines before choosing to eat there, so being able to implement and communicate the safety precautions you're making is more crucial than ever. Additionally, 83% of customers believe that operators should require guests to follow specific safety protocols as well, which displays their willingness and their clamor for the strict and proper enforcement of these policies.
Technological solutions enabled schools to transition into the new normal and it was made easier with existing app-based mobile ordering that has been in place for several years. Additionally, UW-Madison has also introduced a robot delivery pilot program that has seen incredible success, allowing them to attend to as many as 300 orders per day, which is even projected to grow to 400. Remote order placement and payment is one of the programs that schools are looking to implement although there is the lingering question of the feasibility of this switch seeing that apart from funding, testing and fine-tuning on top of implementing will take time, as noted by Rob White, president of Envision Strategies.