Off-Premise vs. On-Premise Dining: Which One is Best For Your Restaurant?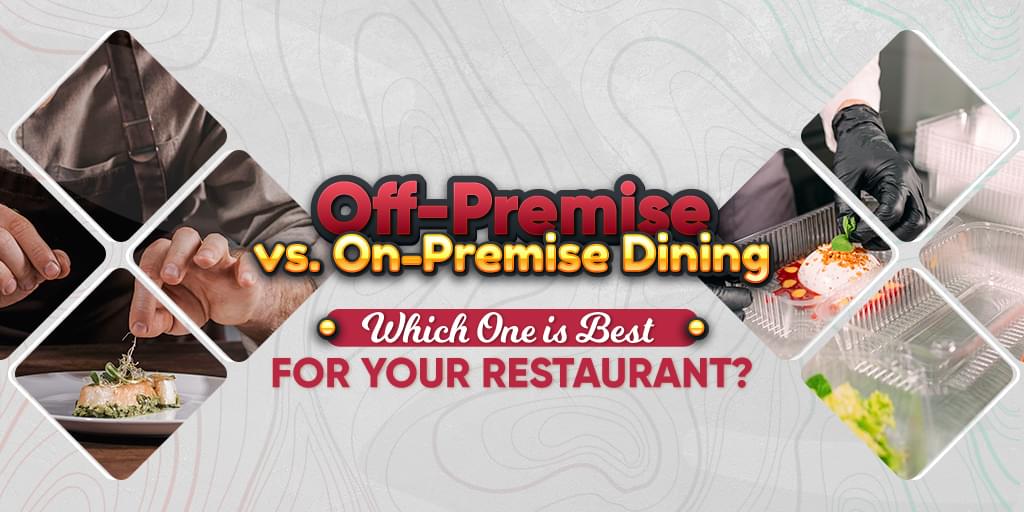 The restaurant industry is pivoting towards delivery and takeaway service as customers stay home to dine in. Operators are finding more reasons to extend their business beyond the four walls of their restaurant or ditch the dining room altogether. Today, it is a battle of off-premise vs. on-premise and we're taking a look at several factors to see what makes sense for your business.
On-premise vs Off-premise: Costs
Ghost kitchens in particular are a great starting point for those with a tight budget. You can start a full-fledged foodservice business without the risk that comes with traditional brick and mortar locations. All you need is a limited staff, a handful of recipes, and a concept.
A dining room usually takes up 40 to 60 percent of your establishment. Imagine the savings that come with doing away with it completely, or even just cutting it. With rent and real estate rates continuing to spike and trouble with employee retention, it is no doubt that off-premise is becoming a more appealing option for restaurateurs. You can try out different concepts from the same ghost kitchen, so you can test which concept will be best without incurring too much expenses. This is also a quicker solution for operators looking to open a spinoff business as a new revenue stream without much lower overhead costs.
You may have seen several large commercial spaces spanning tens of thousands of square feet renting out a shared kitchen space where operators can prepare and cook food to be delivered to customers. These ghost kitchens or virtual kitchens are designed to provide you a clean space for food production quickly without having to worry about real estate costs. If you are looking for your own space, there is not much emphasis on the location since what matters most is that you can deliver the food quickly.
A restaurant with a dining room also has a lot of benefits, such as being able to offer an experience that customers won't be able to replicate at home. Restaurants remain the best avenue for social interaction and community, and so people will still continue to visit the dining room. That means, you have the power to make a memorable experience for them from the atmosphere to the tabletop. If you are looking to add delivery to your business, it could be a costly changem.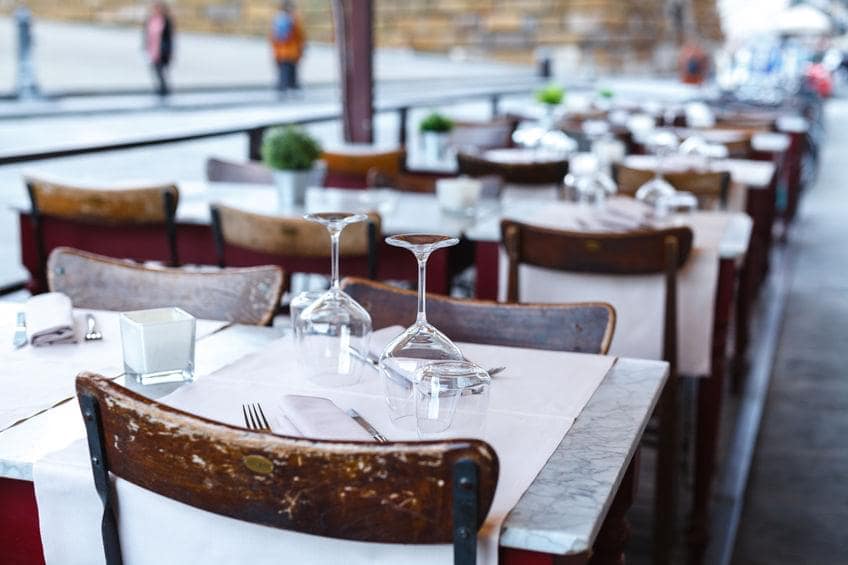 On-premise vs Off-premise: Reach
If you stick strictly to on-premise dining, you are limited to the area in which you operate. Your business will mostly come from foot and vehicle traffic, but you can enjoy greater flexibility in how you can promote and attract customers. When it comes to delivery, you are able to cast a wider net and reach more people who would otherwise not be able to go to your restaurant. Having both a dining room and delivery service will allow you to maximize both, but you will have to design your restaurant in a way that will help you fulfill orders from both channels quickly and efficiently. An off-premise segment can be integrated into an existing on-premise establishment, but there will be some major adjustments as to how.
On-premise vs Off-premise: Menu
Off-premise and on-premise menus are not identical. Some food just doesn't travel well, and it is best to be consumed in your restaurant. You will have to create a variation of your dine-in menu items to better withstand a short trip. With many people stuck working from home due to the coronavirus, you also have to think about what food the public would enjoy in such a setting.
On-premise vs Off-premise: Convenience
Customers see a lot of value in the ability to order online in just a few taps and having restaurant-quality food at home, which is why it is a hit in the first place. However, operators will have to take the necessary steps to ensure that the food arrives in excellent condition. The soup should be hot, desserts should be cold, pastries and fries should be perfectly crisp and not soggy, and drinks, sauces, and dips should be intact and not spilled onto the rest of the packaging. This involves the use of additional equipment and supplies, which will also need its own storage in your actual establishment.
Meanwhile, with on-premise, it is the operator that enjoys the convenience, simply because they are able to serve customers with food fresh out of the kitchen in a matter of seconds. You can set up food holding and warming equipment if you want to cook in advance to prepare for peak hours and maintain the product quality. You know exactly what the food looks like when it arrives at the customer's table. You enjoy the convenience of solving problems much faster than you would when delivering it.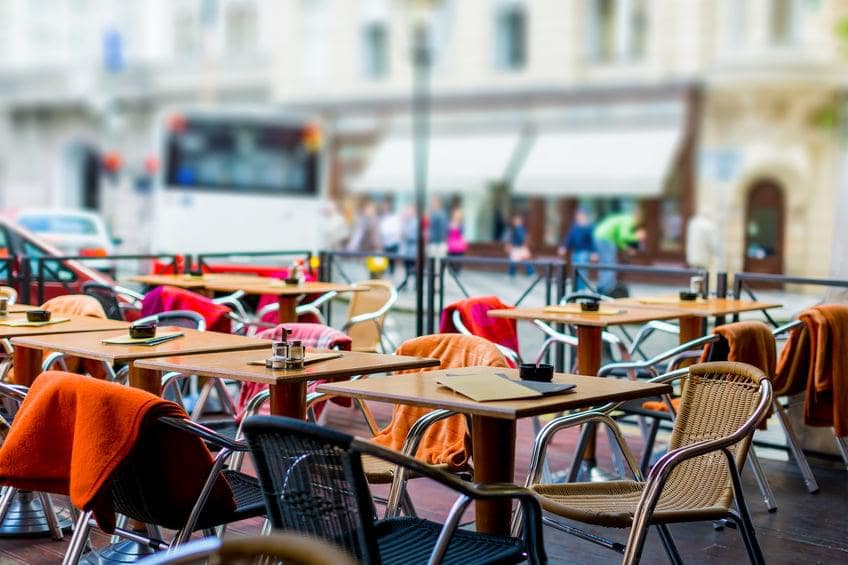 On-premise vs Off-premise: Customer loyalty and experience
Having your guests literally just a few steps away from you gives you the advantage of easily attending to any issues they may have. You have all control as you can engage with them face to face, making it the best avenue to build customer relationships and loyalty. Off-premise makes this a little tough because of the distance that forms between you and your customers. If there is a problem, it might not be detected until the customer actually gets the order. Since they probably waited half an hour or more for the food, it will be extra frustrating to find out everything is spilled or the order is incomplete or wrong.
To prevent this, operators will have to be proactive in communicating order status. Send them notifications or a text message (third-party couriers already allow this). If problems come up along the way, they want to be notified immediately via phone call so they would know what to expect. Your delivery person should be able to assist them if they could or direct them to the person who will be able to.
On-premise dining means that food is just one problem you will be dealing with. The atmosphere should be comfortable, the tabletop should be complete and presentable, and servers should be polite and well-versed in the menu to make proper recommendations and answer any question a customer may have. When you deliver food, there is less customer interaction. One way to stay close to your customers is being accessible via mobile, so that they can reach you directly, which is something that they appreciate.
Beyond your dining room, you are giving up a degree of control to your couriers who are in charge of bringing the food to your customer's doorstep. If you have an in-house delivery staff, you can have more confidence because you will likely already be familiar with them as they are hired and chosen by you. However, if you are working with third-party couriers, you have to trust them to get the job done. That being said, make sure that they share your goal to deliver not just good food but 100 percent customer satisfaction.
There is also the issue of some delivery couriers sneaking a sip or a fry or two from the person's order. This means you will also have to invest in tamper-proof packaging so you can be confident that the food arrives complete.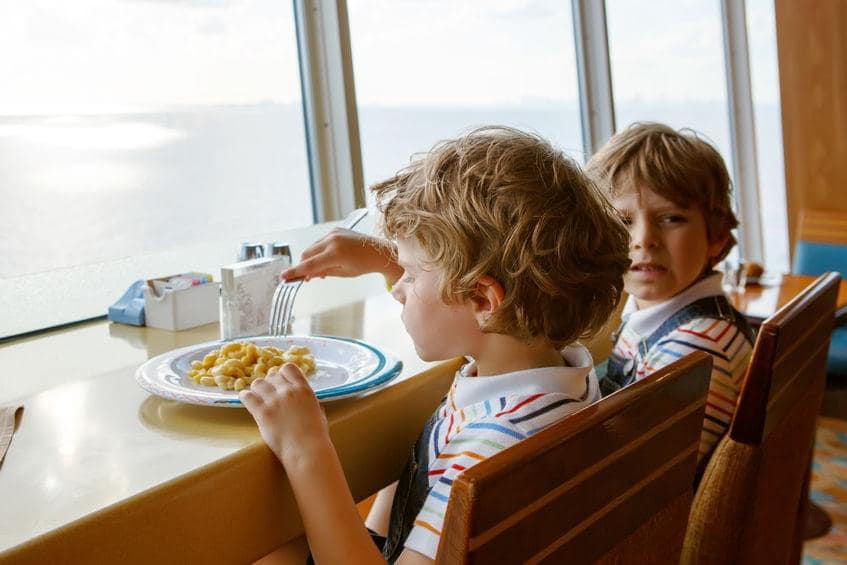 On-premise vs. Off-premise: Reliability
You may have unexpected technical glitches that would interrupt your operation and literally lose orders. Your mobile website or app can crash. If deliveries are an important part of your business, you should invest in topnotch web management assistance to prevent downtimes and get the website up and running in a matter of time should problems occur.
This is not a problem you will have on on-premise dining, although it is a risk in those using fully digital ordering and payment systems especially if you have everything connected. One part malfunctioning could disrupt the entire flow and cause issues to snowball, but you will be in a better position to solve the issue and can quickly jump back to the traditional pen-and-paper if your ordering kiosk goes out of commission. You may also want to keep the option to pay with cash as opposed to going completely cashless precisely for this issue and to prevent alienating a customer base that still prefers the old-fashioned way.
Your staff might be nervous to use automated ordering and payment systems, so make sure that you make time to prepare them by doing a dry run with possible scenarios.
On-premise vs. Off-premise: Brand awareness
If you run a ghost kitchen, your restaurant essentially exists virtually. While you have the benefit of being exposed to the large audience developed by third-party apps, which is hard to achieve without it, it also means you have to work extra hard to be present online. You don't have a physical storefront, so your efforts will have to be directed to social media, ads, and a working, user-friendly website to successfully get the word out on your business and promote your products. You always have to be online because it is your main channel. You can't have your website crashing or being unavailable because you risk losing business. You need to be able to quickly fix issues that may come up and be ready to prevent them from happening again.
Conclusion
In the battle of on-premise vs off-premise, many operators find the value in both on-premise and off-premise dining. That doesn't stop the dining room from reducing in size, but it does push operators to do better in providing a worthwhile experience for customers who make an effort to visit your physical establishment.