K-12 Serving Meals: Sanitation & Cleaning Practices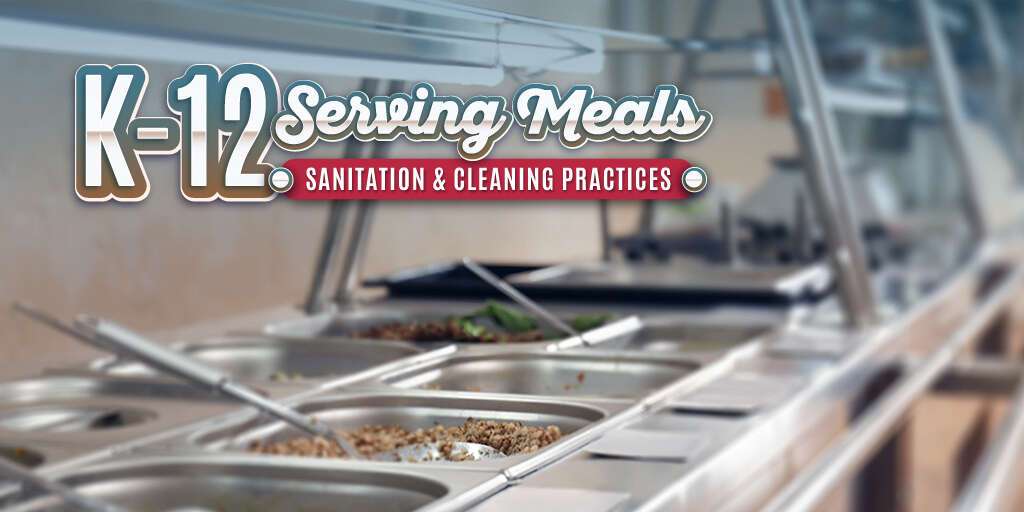 COVID-19 has affected students and academic institutions across the world. Due to the close proximity of students in schools, the risk of exposure to COVID-19 increases exponentially. However, since many students depend upon schools for their daily meals, opening your school or academic institution may be imperative.
Regular cleaning and disinfection can be a part of the daily process to mitigate COVID-19 transmission rates, and government authorities and school management should set hard and fast cleaning standards for all institutions. In this article, we list some of the most essential practices for sanitation and hygiene.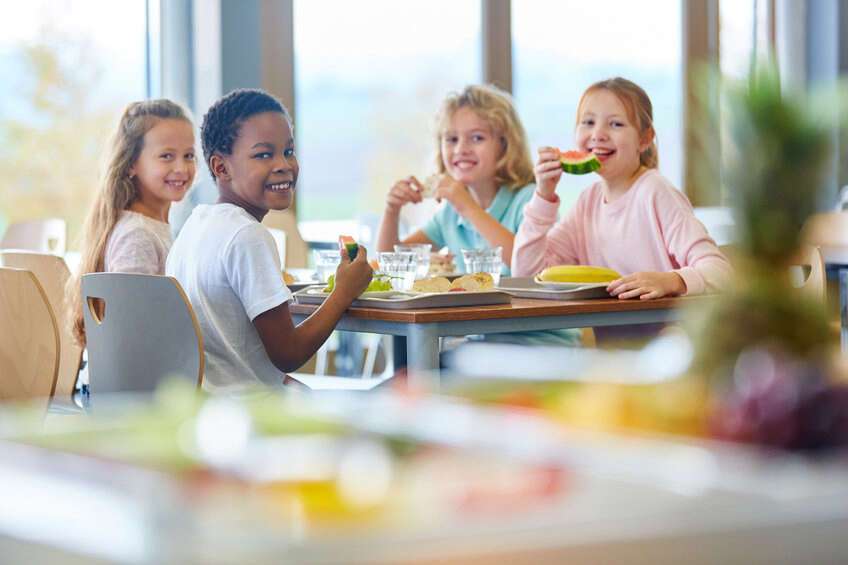 Cleaning Standards for Schools
There is an immediate need to set a standard or protocol for cleaning in schools and educational institutions. Food preparation and catering can potentially increase transmission rates. Schools with unvaccinated children are also vulnerable to a sudden surge in Coronavirus cases. The management or authorities should make informed decisions and thorough measures to prevent the spread of the virus. Government authorities should also assist districts and community partners with the necessary help to standardize and maintain hygiene in schools.
Clean Surfaces Frequently: Schools and academic institutions are prone to high transmission of COVID-19 as students and staff are in close proximity to each other. Here are some additional factors that should be taken into consideration:
Low Mask Usage:

There is a high chance of children not wearing masks at all times.

Hand Hygiene:

Infrequent hand hygiene among children can accelerate the spread of the COVID-19 virus.

Low or No Vaccination:

Children worldwide are yet to receive vaccines to prevent the spread of COVID-19. Current research has shown that children may or may not show any symptoms, making the source untraceable.
Safe Use of Disinfectants in School Canteens: Disinfectants are highly effective in killing germs and viruses. You can disinfect objects or surfaces and decrease the risk of spreading the virus. Even though disinfectants are highly effective, management and cleaning staff should remain careful while using disinfectants. Disinfecting products are highly toxic and should be applied with the necessary precautions. The toxic fumes from disinfectants can be harmful to children. Using proper ventilation systems can solve the issue, as clean air can dilute the potential pollutants.

Implementing a Cleaning And Sanitation Plan
It is important to keep the cafeteria and kitchen surfaces clean and hygienic throughout the day. However, disinfecting all surfaces with chemicals may be unnecessary. Schools can instead clean surfaces with regular detergent and water. While schools can disinfect surfaces or objects once or twice daily, they should consider a more intensive cleaning program for more effective safety measures.
Here are a few things that can be adhered to stop the spread of COVID in schools:
High-Touch Objects:

There are many things that students will share throughout the day, like food items or cutlery. Try to limit the sharing of objects and ask students or staff to sanitize objects before sharing.

Cleaning High-Touch Surfaces:

Surfaces like cafeteria tables, chairs, door handles, taps, and other surfaces should be cleaned multiple times frequently by the staff.

Staff Hygiene and Scheduling:

Staff should clean their hands after removing gloves or handling any chemicals. Before implementing a school sanitation plan, management can plan with the school staff to understand the challenges that might crop up during the process. Having a set schedule for cleaning, along with clear communication, will help overcome most obstacles in the sanitation process.

Use of Gloves:

The usage of gloves should be universally implemented, and they should be used while removing garbage bags, handling trash, and other objects or surfaces.

Soiled Surfaces:

Clean surfaces that have been soiled should be immediately cleaned with soap. Also, schools should be careful when using disinfectants to clean soiled surfaces. For surfaces and objects that have been soiled with bodily fluids, one can use gloves and other preventive methods to avoid contact with the contaminated fluid or surface. At first, staff can remove the spill and then clean or disinfect the previously contaminated area.

Promotion of Hygiene and Sanitation in School Canteens
Government authorities and school management can come up with a school sanitation and hygiene education program. This will establish a framework for cleanliness and hygiene, which will prevent the spread of the COVID-19 virus. Here are some additional tips that can be part of the school sanitation and hygiene education program:
Hand-hygiene Awareness:

Understanding the importance of handwashing and hand hygiene can help the community stay healthy. Clean hands can stop the spread of the virus. Cleaning hands with water and soap for more than 20 seconds is important to stay clean and free of germs. Additionally, using hand sanitizers with 60% alcohol can also help in disinfecting the hands. Washing hands properly can reduce respiratory diseases, colds, and other communicable diseases. School-based programs to promote handwashing can result in fewer cases of gastrointestinal and respiratory issues.

Awareness and Certifications Regarding Sanitation:

Awareness about general sanitation and hygiene can help school management from the sudden indefinite closure of schools due to COVID-19. Recently, many health and safety organizations are also conducting training and certifications programs for employed staff. A certified staff or personnel can help build trust among parents, teachers, and school management.

Promotion of Hygiene:

Schools can

print offline material to promote hygiene in cafeterias and washrooms. These can include handwashing posters and stickers in the most frequently visited locations of the institution.
Social Distancing in School Kitchen & Canteen
Proximity is the primary culprit in increasing the spread of COVID-19. Social distancing has become essential to contain the spread of the virus. Here are a few steps that you can implement to prevent the spread of the virus:
Limit the Number of Staff:

During food preparation, the cooking staff should be six feet apart.

Distance Between Cooking Areas and Prep Stations:

The physical distance between prep stations and cooking areas should be more than six feet.

Social Distancing in Canteens:

In the food delivery areas or cafeterias, people or staff should maintain six feet distance from each other. Students should also sit six feet apart from each other during mealtime.

School Hygiene and Sanitation Policy
Designing a school hygiene and sanitation policy has become important post-COVID. Having a standardized policy will help reduce the burden on children and their families. It will also promote a safe and hygienic environment for everyone involved.
Coronavirus Schools Reopening Overview
Recently, many schools have started opening up as the cases of COVID-19 infection decrease and the vaccination rates increase. However, the fear of another wave of cases still looms over school management and the authorities alike. In addition to the above pointers, students and staff should also consider the following ideas to keep themselves safe from the virus after school:
Students or staff should clean their hands after they reach their homes.

The school attire or clothing should be immediately segregated and cleaned.

Also, taking a shower is recommended by doctors and researchers, and is shown to prevent the retention and spread of the COVID-19 virus.