Screaming for Ice Cream: Ice Cream Sundae Bar Ideas & A List of Delicious Toppings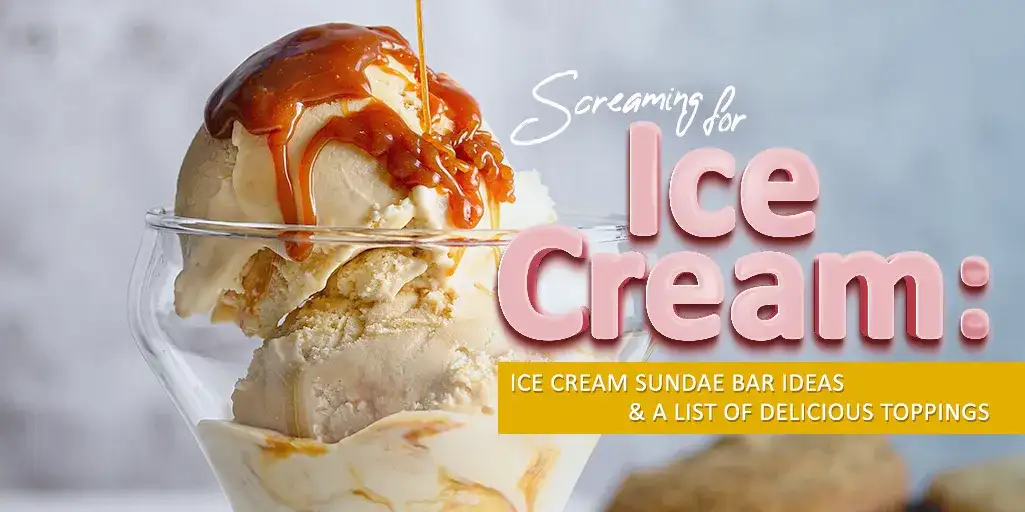 An ice cream, while great by itself, turns into a delicacy when paired with the right toppings. This is especially important for business owners looking to start their own ice cream sundae bar at their establishment or when expanding their existing menu. You can choose between time-tested favorites or something quirky when testing out ice cream bar ideas for your ice cream section. From simple vanilla ice cream drizzled with chocolate syrup to complex triple scoop sundaes, you can do just about anything when you have the right ingredients, toppings, and equipment to manage your ice cream sundae bar.
If you're looking for more ways to add zing to your ice cream offerings, we have good news for you! We present several topping options with our detailed ice cream toppings list in the sections that follow. We also provide several suggestions to help you create an ice cream sundae bar that not only attracts customers, but is aesthetic, neat, and attractive to potential customers looking to get their post-meal sweet tooth fix.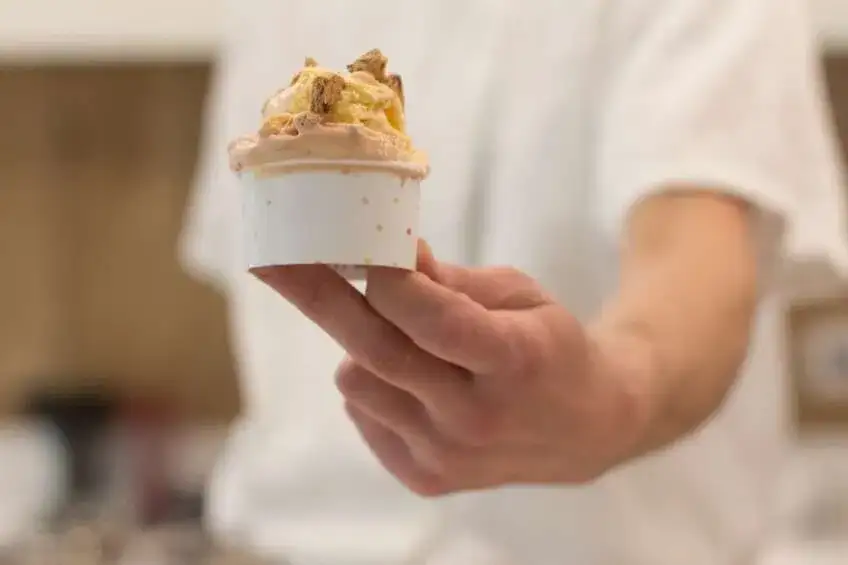 Intuitive Ice Cream Bar Ideas
Here are several ideas to help you to set up an ice cream bar that's a hit among your customers, and a convenient affair for your staff:
Decide how you want to serve ice cream
Before getting to the toppings, decorative elements, and presentation for your ice cream bar, it's important to decide how you intend to serve ice cream. Take your pick from cups and cones, and in case you want to do both, you will need to set aside both cups and wrappings for the cones to help your customers handle their ice creams without making a mess. In the case of cups, you'll want to choose between the sustainable option of using reusable glass and ceramic cups or recyclable paper cups. An intuitive option and a great ice cream bar idea that has gathered steam in recent times is the edible waffle cone bowl. Not only are they a great way to save resources, but also double up as a crunchy and delicious post-dessert snack for your customers.
You will want to decide on your ice cream bar's scooping options before you open up for business. Many business owners like to pre-scoop their ice cream and set it aside for easy access during operational hours. Pre-scooping ice cream and setting them on a sheet pan lined with a baking sheet allows seamless serving comfort. You can also put away individual scoops of ice cream in mason jars or cups to further simplify the process. You will want to decide on the method of storage you use for these pre-scooped portions based on the nature of your sundae bar's operation - that is, whether you're intending on making it self-serve, or if you're going to man the stations with dedicated staff.
Calculating the amount of ice cream for an average day
It's important to not fall short on serving eager customers waiting for their sundaes, however, it's equally important to minimize wastage and cut down on excess. For this, you need to calculate the amount of ice cream you require on an average day. About a scoop and a half of ice cream per person should help you arrive at a fairly accurate estimate. However, you will also need to account for patrons that come back for seconds, it's ice cream after all! Adding about 15 to 20% to the 1.5 scoops per person can help you set aside the volume of ice cream required to satisfy those extra hungry customers.
While this might depend on the theme of your ice cream bar, it's still wise to base your ice cream bar ideas around popular favorites so you can bring in a good amount of revenue. To give you an idea about what consumers like in general, Vanilla, Chocolate, and Cookies N' Cream top the list of the most popular flavors. Mint chocolate chip, chocolate chip cookie dough, and buttered pecan flavors occupy the subsequent ranks respectively. Employing ice cream bar ideas based on tangible statistics will help you establish a popular section in your establishment and enhance your reputation.
Accessories, decor, and aesthetics
While the ice creams and the list of ice cream toppings are more than enough to get customers to visit your ice cream bar, adding an extra touch to the setting goes a long way in setting the standard. You can use subtle yet impactful decorations to adorn your ice cream sundae bar. Use decorative and artsy napkins, along with quirky cups to attract customer attention. Using attractive display cases and dispensers for the toppings also go a long way in cementing the reputation of your ice cream bar.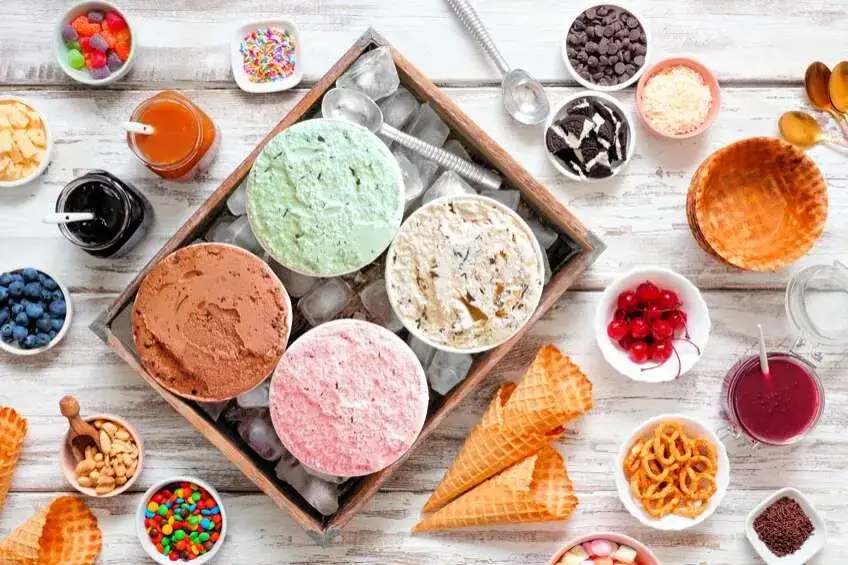 Ice Cream Toppings List
Now that you're equipped with essential ice cream bar ideas, it's time to look at several popular and essential ice cream sundae toppings so that you can make your guests' desserts more interesting and enjoyable. Since a number of toppings can be flavor-specific, we provide a list that's based on these toppings' pairing with a simple scoop of vanilla ice cream. Here's our list of ice cream toppings:
Though this might seem simplistic, nuts have always been a great topping for ice cream. The crunch and the mild hint of savoriness add an extra pop to the dessert by engaging more taste buds. Peanuts, almonds, walnuts, pistachios, hazelnuts, and cashews are perfect additions to a serving of smooth ice cream. The texture of these nuts balances out the soft tastes and adds extra mouthfeel to the dish overall. Nuts are even better when paired with chocolate chips or with chocolate syrup and are part of every essential ice cream topping list.
Another classic, cookies and cookie dough offer some time-tested favorites for business owners looking to ramp up their ice cream bar's popularity. What is the most popular ice cream topping? Cookie and cookie dough options are sure to make the list. Whether you pick the regular Oreo or a gourmet cookie as a topping choice, there are no wrong answers. Similarly, people's obsession with cookie dough, especially chocolate chip cookie dough, is a good enough reason to include it on the list.
Fruits bring about freshness, tang, and natural sweetness to every dish they're added to. This makes them a perfect topping for ice cream, allowing your patrons to indulge in sugary goodness, while also getting a healthy shot of vitamins and antioxidants. Mangoes, passion fruit, pomegranates, bananas, raspberries, strawberries, and blueberries are ideal choices when you're looking for natural toppings to put on ice cream. Recently, fruits like guavas, papayas, and kiwis have also become popular choices among customers.
Chocolate sauce can add a rich and silky texture to ice cream, making it one of the best toppings for vanilla ice cream. It is especially enhanced when coupled with chocolate chips or nuts. The complex textures of these toppings, when combined with the soft textures of the ice cream, are a delightful experience, allowing your customers to revel in a sweet, decadent dessert without worrying about the calories.
Honey adds highly sweet textures and tastes when used as a topping. The natural aromaticity of the honey also adds complexity to plain ice cream flavors such as vanilla. The gooeyness of the honey makes it pair perfectly with the mildly binding textures of the ice cream. Honey also has a number of health benefits, making it one of the healthier yet saccharine ice cream sundae toppings. To further switch things up, you can add spiced honey to the ice cream, especially if you're going for more aromaticity and complex flavor. Honey spiced with cinnamon and cloves can be great additives to plain flavors, and also add an element of heat to the taste profile.
Candy is among the more indulgent and decadent on the ice cream toppings list, allowing your customers to enjoy a complete spectrum of sweetness and a potential sugar rush. Hard candies, chopped-up candy bars, and gummy bears are all very popular among customers. These topping options can be offered at your establishment to boost sales. You can choose from commercially available options or even source locally-made candy to improve your establishment's reputation in the community.
Cereals have garnered a lot of popularity as additives in recent years and have earned their spot on this list of ice cream toppings. The pairing of cereals becomes especially enjoyable due to the crunch factor and the mild hint of savory flavors. The complex mouthfeel of cereals also enhances the experience of having ice cream, and pairs well with several flavors. While fruity cereals might not be the first choice, they can be used to top vanilla or strawberry flavors. On the other hand, crunchy options such as puffed rice, muesli, and corn flakes can be used to top several flavors.
Though conventional, a topping of whipped cream really does complete an ice cream sundae. Despite its plain taste notes, whipped cream can be made more interesting by dusting cocoa powder or cinnamon for extra flavor. A Maraschino cherry on top would improve both aesthetics and complexity. Chocolate chips and a drizzle of chocolate syrup can also aid in improving the plain taste of whipped cream.
Plain pretzels are some of the most popular toppings for ice cream and bring in crispy textures to the dessert. The contrast between the crunchy pretzel and the creamy textures of ice cream brings about a perfect balance. Though straightforward, a pretzel can make a huge difference to plain ice and complex ice cream flavors alike.
This warm, concentrated chocolate sauce is one of the most beloved additions to just about any flavor of ice cream. The dance between the heat of this sauce and the chilled extravagance of the ice cream brings about an exquisite flavor and mix of textures. Hot fudge can either be used alone or combined with nuts and whipped cream.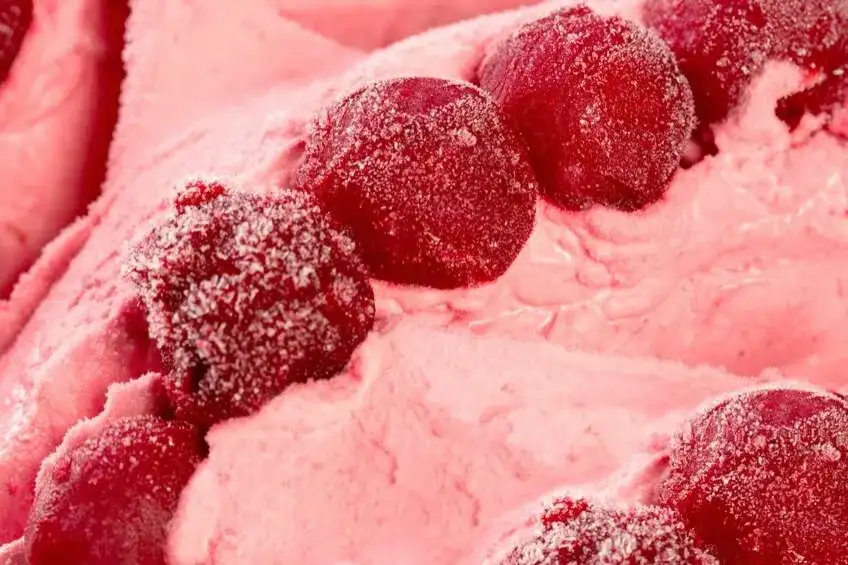 With these ice cream sundae bar ideas and a list of ice cream toppings, you're sure to be off to a great start with your customers. Try out different combinations of toppings and flavors to figure out what brings in the most demand!