Kitchen Equipment
If you're looking to outfit your commercial kitchen with all the right small appliances, then look no further. Dito Electrolux has almost anything you'd need when it comes to accessory units. From slicers to panini grills, dryers to food processors, you can improve your kitchen's efficiency and workflow with many of these pieces of kitchen equipment.
Equipment Stands
Many equipment stands come in relatively simple designs, but Dito Electrolux takes these equipment stands to the next level. Drawers and other storage options turn an equipment stand into a functional piece of storage and shelving for your kitchen.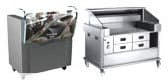 1 Products
Utensils
Adding commercial peelers to your kitchen for produce can quickly and accurately peel produce such as pineapples, potatoes, and other produce! With a variety of types and uses, commercial peelers are just another way to cut down on labor costs while streamlining your kitchen's efforts.
4 Products
Dito Electrolux Recent Reviews