Hatco GR3SDH-39D Glo-Ray Designer Horizontal Display Warmer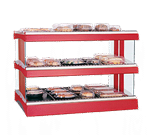 **
Photo may not represent the actual product.
Always refer to the description and Spec sheet (if available) **
Retail Price
CKitchen Price

Glo-Ray Designer Horizontal Display Warmer, (21) rods, free-standing, dual shelf, adjustable thermostat, hardcoated heated base, heated glass shelves, stainless steel or designer colors, 2685 watts
INCLUDES MANUFACTURER'S ONE YEAR PARTS AND LABOR WARRANTY
With the Hatco GR3SDH-39D Glo-Ray Designer Horizontal Display Warmer, it's easy to keep things organized. This item is 23.5 inches tall, 39.25 inches wide, and 27.25 inches deep.
SPECIFICATIONS
CUSTOMER REVIEWS
Since 1950, Hatco has been a leader in creating hot products for the foodservice industry. They manufacture durable warming, toasting, and sanitizing equipment of the highest quality. We value your opinion. Please write a review if you have experience with this product.
Questions and answers
VIDEOS
These Products May Also Interest You