Cooking Equipment
Cleveland Range manufactures a wide range of cooking equipment suited for any commercial kitchen. From braising pans to kettles and combi ovens to steamers, you'll find the Cleveland Range name on just about any piece of cooking equipment you can imagine. This manufacturer is known for their steamer units, but you can be sure you're investing in quality when you purchase their products in general.
14 Products
198 Products
48 Products
Equipment Stands
Not all pieces of equipment need to take up a footprint in your kitchen. In fact, saving space is the key to ensuring a smooth workflow and organized work environment. Shop through our wide variety of equipment stands to help organize your kitchen appliances and prop up your smaller countertop commercial units.
12 Products
Accessories
Your investment in commercial kitchen equipment and stands or racks can be enhanced with additional purchases of accessories. Many accessories are designed to heighten the efficiency and ease of use of the unit it is designed to work in conjunction with, ensuring that your employees have all the resources on hand to do their jobs safely and efficiently.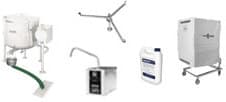 150 Products
Cleveland Range Cooking Equipment Featured Articles
Cleveland Range Cooking Equipment Recent Reviews