Monthly Payment Calculator
Benefits of Financing Your Equipment
Get new equipment now and pay in small payments later
100% tax deductible for most businesses
Monthly payments ranging from 12 to 60 months
Large credit line up to $50,000
Simple application process and instant credit decisions
Who Qualifies?
STARTUP BUSINESS
SMALL/MEDIUM BUSINESS
ESTABLISHED BUSINESS
BANKRUPTCIES
LOW CREDIT SCORE
HIGH CREDIT SCORE
3 Easy Steps
Our main mission is to make it easy for American businesses get the foodservice equipment they need to grow their business. We work with multiple funding sources to help us find the most competitive rates and we are making it easy for our customers to apply and get their equipment financed.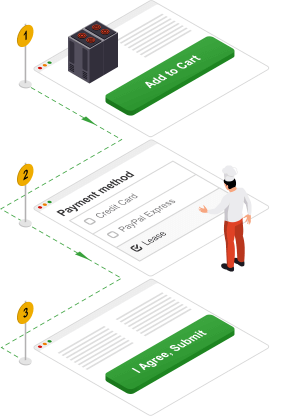 1. Add Equipment to the Shopping Cart
2. Proceed to Checkout and Select Lease as a Payment Option
3. Submit Your Order
How to Lease or Finance Commercial Kitchen Equipment
60,000+ Restaurant Equipment to Lease or Finance

Lease-to-Own for Your Success
If you need a little help paying for your restaurant equipment, CKitchen is here to help. Our commercial kitchen equipment financing options make it possible to pay through affordable monthly payments rather than in one lump sum upfront. Rather than leasing equipment and losing cash every month, choose these lease-to-own appliances to make sure your money goes towards an important investment for your business. Even the most successful entrepreneurs and business owners may struggle to pay for new equipment for their commercial kitchens.
For example, starting a new business from scratch can require buying multiple types of equipment at once, which adds up to a major expense. Financing makes it possible to outfit your kitchen all at once rather than saving up to buy each piece one by one, which could push back the opening date for your food service establishment. In a thriving business, there could be an unexpected equipment failure that requires a replacement ASAP. If you don't have the cash available for a purchase that moment, it could lead to an unexpected closure or serious slowdowns in your kitchen. In order to minimize downtime in your business, these equipment financing options allows you to order a replacement right away and pay for it over time.
CKitchen wants our customers who need financing to get the exact same benefits of purchasing the equipment outright. You'll get brand new, competitively priced restaurant supplies from the top brands in the industry. You'll also receive any manufacturer's warranties that come standard with your purchase. However, you'll also get affordable monthly payments that fit your budget. Check out our FAQ section below for more details, or contact us today to learn more about financing options on lease-to-own appliances from CKitchen. Or if you're ready to make a purchase, simply select "Financing" during the checkout process.
Leasing Process
1. Add your equipment to your shopping cart and proceed to checkout, but make sure you select "Lease" during checkout process.
2. The Leasing company will contact you to gather any additional information needed.
3. When approved, the leasing company will notify CKitchen and mail a packet for you to review, sign and mail back for final approval.
4. Upon final approval, they will submit a payment to CKitchen for the equipment you ordered and the order will be processed.
All items over $1000 show a "lease to own price" (for qualified lessees) near the product price. Click on "payments as low as____" and use the instant lease calculator to make adjustments.