Choosing Chairs for Your Restaurant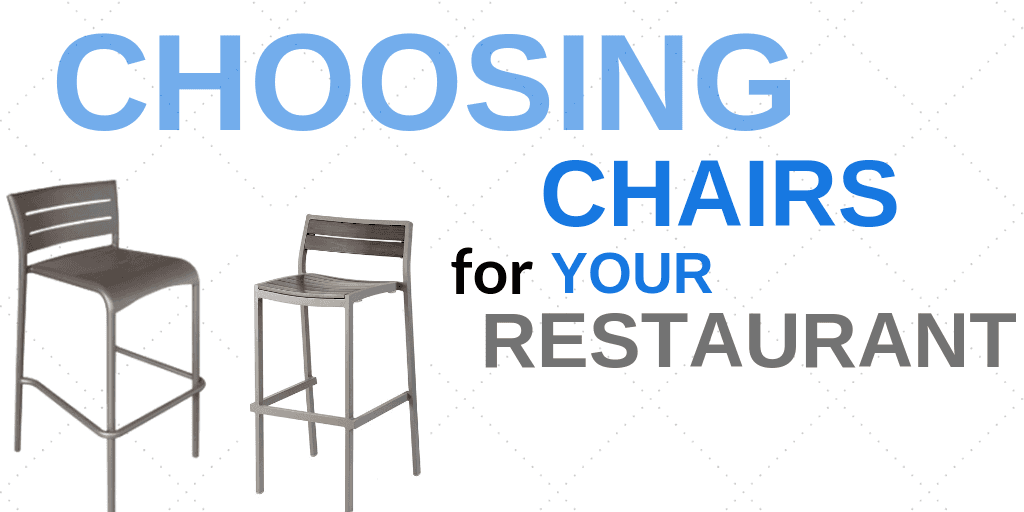 Restaurant furnishings are what helps put your customers at ease during their dining experience, and the chairs you choose can have a large impact on the comfort of your guests. In addition, the chairs, booths, stools, and lounging areas that you choose for your restaurant can enhance or taint the aesthetics and theme of your restaurant's design. Perhaps you're opening a new diner, or maybe you're looking to revamp an old look; Either way, consider some of these tips before ordering the seating accommodations for your establishment.

Size of Your Restaurant
First, you'll want to narrow your selections based on the size of your restaurant and the seating capacity for which it's approved to safely hold (typically your local Fire Marshals will have a say in this). The goal is to maximize the number of tables and chairs without sacrificing the flow of traffic. Once you've got a handle on the maximum capacity as well as the dimensions of your seating areas, then you can analyze what will work best:
Smaller Restaurants: Opt for compact booths to get the most available seating out of the least amount of space.

Larger Restaurants: With more space, you can probably opt for tables and chairs. Consider a mixture of tables/chairs as well as booth seating around the perimeter to make the most out of your space as well!

Catering: Seating for off-site catering events is in a whole category of its own, as you'll need to opt for chairs that either fold or stack for easy transport. Folding chairs are generally better for casual events while stacking chairs retain some of the aesthetics that are better associated with fine dining and, thus, are better for weddings and fancy events.
Style
While a booth may get you the most seating out of the least amount of space, it's not an ideal situation for fine dining establishments. If your style is a family-friendly eatery or dinner, then booth seating will mesh with your style perfectly. A budget-friendly banquet hall can benefit from fold-up chairs that can be stored away when there's not an event taking place to make the most out of your space, but elegant chairs are best suited for fine dining.
Additional Considerations
Knowing what to look for when perusing our selection of chairs can help make your life a little easier down the road. For instance, opt for chairs with clean designs, and choose chairs with minimal crevices or embellishments especially for a fast-paced eatery. Remember, you'll need to ensure that your chairs are spot-free and that no debris has built up in the nooks and crannies, so the easier it is to clean, the more likely you are to be able to clean it thoroughly and regularly.
For seating in your lounge area like couches, opt for fabrics that are durable and - again - easy to clean. Your waiting area furniture needs to reflect your restaurant, so make sure that it meshes well with your theme. Chairs that look worn reflect poorly on a restaurant (just like a poorly maintained lavatory), so keeping your seating clean and well-maintained is just as important as the initial purchasing decision.
Remember, commercial restaurant seating is designed to handle the rigors of a commercial restaurant environment. Anything non-commercial will likely break down quicker, costing you more in the long-run.