Hobart Electric Meat and Bone Saws
Effortlessly Cut through Bone and Meat by Using a Hobart Commercial Bone Saw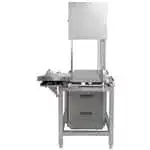 View Product
Premium Brand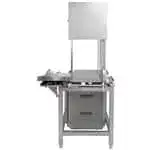 View Product
Premium Brand
Sorry. No products found.
Hobart Electric Meat and Bone Saws Filters
Filters
With Hobert electric meat saws, cutting large chunks of meat is a breeze. These floor-standing vertical meat saws come in 126" and 142" blade sizes. They have a pusher plate to prevent items from being handled dangerously close to the blade. Their replaceable double-flanged pulleys, pivoted automated tension, tri-rail carriage, adjustable legs, and movable carriage tray ensure the machine's stability and versatility. These meat saws are incredibly durable thanks to their water-resistant motor, direct gear drive transmission, and maintenance-free stainless steel construction. Their single pull-to-start and push-to-stop switches make them easy to use. Additionally, they feature an enclosed bone dust mechanism that gathers dust in a wide scrap pan. Take a look at our selection of Hobart work tables, an essential in every commercial kitchen. These durable, heavy-duty, scratch-resistant work tables are available in a variety of sizes in mobile and stationary models to fulfill all your commercial workstation necessities.