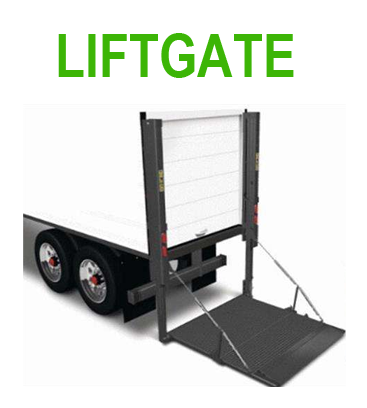 Manitowoc
Liftgate Service for Manitowoc (Subject to size restriction)
Please note, our minimum Manitowoc order is $100.
Please note, our minimum Manitowoc order is $100.
You will earn 75 Reward Points. Earn 1 reward point for every 1 dollar spent.
Read more.
Description
Your order is heavy and we recommend adding a liftgate service to the factory direct delivery truck. This will allow the driver to lower the item(s) to ground level for you to take in. If you have a forklift or loading dock the liftgate service would not be necessary. (For white glove inside delivery, please call)

Specifications
Vendor
Manitowoc Ice
Customer Reviews
recommend
this product
2 of 27 reviews
Jeffrey D (Davenport, Iowa)
June 14, 2021
Shipping was very well coordinated and the lift gate was helpful.
Erin O (White Plains, New York)
May 14, 2021
They put it in the correct spot
Joseph M (Moultrie, Georgia)
September 07, 2020
The lift gate service was super. The operator was very professional.
Greg R (Roscoe, Illinois)
July 30, 2020
JAY P (South Bend, Indiana)
February 17, 2020
Shay M (Walker, Minnesota)
July 01, 2019
courteous people , helped us lot out of way.
Mukesh P (Canton, Michigan)
June 21, 2019
Gregory W (Yerington, Nevada)
May 13, 2019
Best price out there and lightning fast shipping
Tim A (Swansboro, North Carolina)
February 27, 2019
Excellent equipment and Fantastic price.
Chris S (San Fransico, California)
August 25, 2018
Mushtaq S (Houston, TX)
February 27, 2018
Ira S (Dayton, Ohio)
February 22, 2018
Iryna M (Pittsburgh, Pennsylvania)
September 02, 2017
The quality is awesome as old machines have been working for us more than 10 years.
Steve D (Ogunquit, Maine)
August 02, 2017
Couldn't have managed this without this service.
Mike F (Tarpon Springs, Florida)
July 25, 2017
The delivery company placed the ice maker exactly where I wanted it.
Chris C (LaGrange, Kentucky)
May 06, 2017
Old Dominion was on the spot with delivery service and assistance with delivery.
Monica L (North Newton, Kansas)
February 23, 2017
Ice machine - ice for church use
Josh J (LAFAYETTE, Louisiana)
February 09, 2017
Bob S (Hendersen, Nevada)
January 17, 2017
Driver was friendly and delivered the product as expected.
Nelda R (Pensacola, Florida)
December 13, 2016
The Liftgate Service is essential for any heavy delivery. A semi-truck delivered our ice machine and the liftgate lowered the machine from several feet down to street level with ease.
Charles C (Kansas City, Missouri)
October 28, 2016
If you don't have a dock this is the only way to go. Driver used a dolly and put it right inside the building!
Lisa E (Evansville, Indiana)
September 03, 2016
Shahid S (Cerritos, California)
June 11, 2016
As expected...nothing fancy nothing special
Obed H (San Francisco, California)
April 29, 2016
Zahid M (round rock, Texas)
April 01, 2016
Joshua J (Lafayette, Louisiana)
January 11, 2016
With limited space to unload on jobsite
Recommended Product
Customer
November 19, 2015
big help
Recommended Product
Questions and Answers