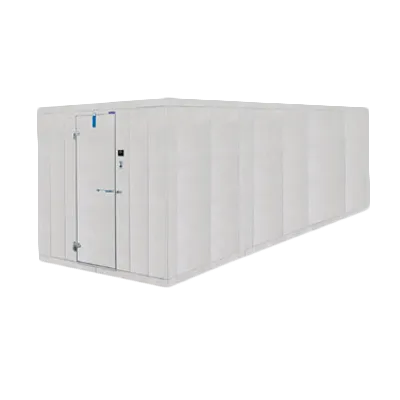 Nor-Lake
11' x 20' x 7'-7" H COMBO Fast-Trak™ Outdoor Two Compartment Walk-In
You will earn 31641 Reward Points.
Product Protection
Coverage starting at
2023 model, meets the newest EPA and DOE codes.
Because of state requirements, there will be additional lead-times and costs for walk-ins shipping to California, Washington or Oregon.
Nor-Lake 11X20X7-7ODCOMBO Specifications
| | |
| --- | --- |
| Installation Type | Outdoor |
| Brand | Nor-Lake |
| Category | Walk In, Box Only |
| With Floor | Floorless |
| Width (in) | 132 |
| Height (in) | 91 |
| Depth (in) | 240 |
| Weight | 3324.00 |
Nor-Lake 11X20X7-7ODCOMBO Description
Fast-Trak™ Outdoor Two Compartment Walk-In, 11' x 20' x 7'-7" H, 11' x 10' & 11' x 10' compartments, smooth aluminum interior floor, 26 gauge embossed coated steel interior & exterior finish, membrane roof, self-closing doors with locking deadbolt handle
Standard Features:
Magnetic gasket
Spring loaded hinge
Perimeter door heater wire
Floor double sweep gasket
Spring actuated door closer
Temperatures:+35˚F, -10˚F, -20°F
Unlimited lengths in 1' increments
Digital thermometer and light switch
Available in widths of 6', 7', 8', 9', 10', 11' & 12'
Indoor or Outdoor Walk In Refrigeration models
Smooth aluminum interior floor (models with floor)
Heated air vents standard in freezer door sections
UL & C-UL electrical listing on refrigeration systems
15 year panel warranty & 18 months parts and labor warranty
26", 30" or 36" wide self-closing doors with Fast-Trak® door frame
Full 4" thick panels foamed-in-place with EPA compliant polyurethane insulation
Split Pak™ Pre-Assembled Remote Refrigeration Systems (ordered separately)
Floorless Walk In Combination Boxes models supplied with NSF listed vinyl sealers
Deadbolt locking handle with independent key/pad lock feature and inside safety release
Two heavy duty cam-lift hinges per door, top hinge field adjustable with locking set screw
26 gauge corrosion resistant stucco embossed coated steel on all surfaces except interior floor
Heights: 7'7" and 8'7" combination with floor freezers and less floor coolers with 4-3/8" foam sealers
Heights: 6'7", 7'7" and 8'7" with floor, 7'4" and 8'4" floorless for single compartment and combinations
High output low profile LED light positioned above door to prevent interference with shelving or product
NSF, UL flame spread 25 or less for all foam cores on all panels; UL and CSA electrical listing on door sections
USDA accepted, Oregon State listed, City of Houston listed, California State listed & CN UL flame spread listed
Optional Features
Door rain hoods
Shelving systems
14" x 24" viewport
Strip curtains (shipped loose)
Exterior ramp for floor models
Extra LED lights (shipped loosae)
Outdoor membrane roof systems
Non-skid floor strips (shipped loose)
Interior ramps (30" & 36" wide) for floor models
1-5/8" screed for use with 5/8" tile after walk-in installation
Leak detector/alarm (may be a requirement in some areas)
Interior and/or exterior 30" high stainless steel or 1/8" aluminum diamond tread door kick plates
Nor-Lake 11X20X7-7ODCOMBO Accessories
Nor-Lake 11X20X7-7ODCOMBO Parts
All Nor-Lake 11X20X7-7ODCOMBO Parts
Nor-Lake 11X20X7-7ODCOMBO Reviews
There are no reviews yet for this product.
Questions and Answers
Items Related to Nor-Lake 11X20X7-7ODCOMBO