Cotton Candy Machines
Improve Your Sales and Boost Your Business With Cotton Candy Machines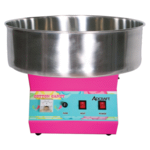 View Product
Outlet Brand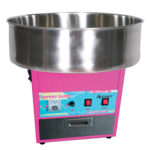 View Product
Outlet Brand
Sorry. No products found.
Cotton Candy Machines Filters
Filters
High-Quality Cotton Candy Machines
Although a staple in carnivals, festivals, amusement parks, and other entertainment centers, cotton candy is always a hit in a wide variety of venues. A fun food that is loved by kids and kids at heart, cotton candy is a great way to attract more customers and improve your sales. Start making cotton candy with our line of electric commercial cotton candy machines and treat your customers with delicious and fluffy cotton candy that they will surely come back for.
Cotton candy machines have a spinning head placed at the center of a large stainless steel bowl where cotton candy is collected. Flossing sugar, which will give the product the recognizable color and aroma, is placed inside the spinning head. The heating elements inside will heat the sugar to its melting point while the holes lined at the outside of the heating head will spin the resulting liquid sugar at fast speeds to be transformed into that fluffy goodness customer know and love. Cotton candy machines facilitate this process with just a push of a button, so you can create large volumes of cotton candy in a matter of minutes.
Commercial cotton candy makers can make dozens of cotton candy cones per hour, so you can serve bustling crowd-filled parks and fairs without trouble. Our cotton candy machines can also help entrepreneurs kickstart a home-based cotton candy business or cater to events such as birthday parties. They are portable, lightweight, and durable offered at the lowest prices guaranteed to help you build or upgrade your business.
If you need any help with choosing cotton candy machines for your operation or looking for other equipment, supplies, or kitchen gadgets for your foodservice establishment, we have a massive selection of products from the industry's best and most trusted names that you can choose from.