Automated Pick Up Systems: Express Orders Boost Restaurant Sales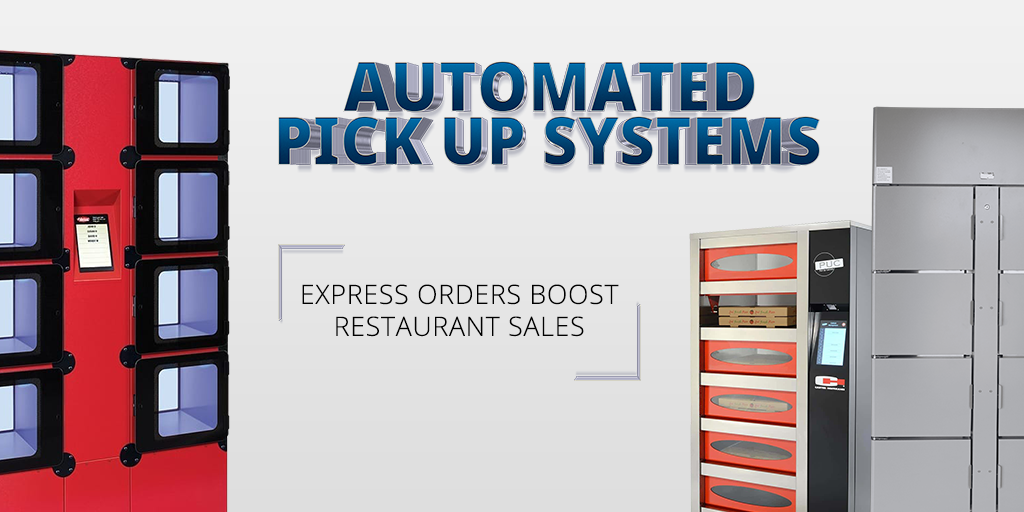 Food lockers are the latest smart foodservice equipment utilized by restaurants and many other foodservice operations to provide a convenient and contactless delivery and pickup experience for guests. So whether you are planning to start an automat restaurant or looking for ways on how to increase restaurant sales, they might just be the best investment you can make.
As more customers order food online, they develop higher standards for convenience and speed. So it is more important than ever for operators to streamline their delivery and pickup processes. Food lockers offer that solution.
Why food lockers make for a more profitable foodservice operation
Food lockers are proving to be more effective in catering to the demands of customers outside of the dining room. Makeshift pickup stations made of tables and cubbies are no longer going to cut it. This old setup gets a long line forming, causes confusion and order mix-ups, and generates feelings of being unsafe with the thought of strangers rifling through the orders and touching the labels to locate their orders.
With food lockers, your staff can quickly load orders into a safe temperature-controlled environment where the ready-to-eat food will remain at proper temperatures until collected by customers or delivery people. The secure individual lockers make them ideal for self-service take-out, digital orders, and grab-and-go use.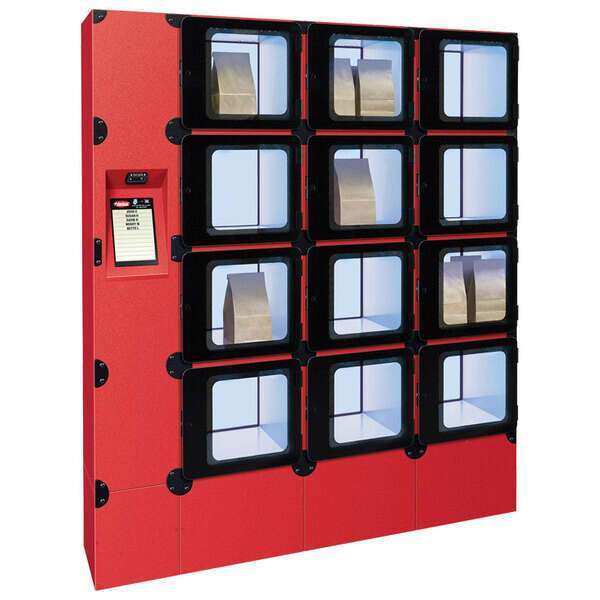 Safe holding environment
When thinking about how to increase restaurant sales, the focus is maintaining the high quality of the food. It is important that the food is still perfectly hot or cold to enjoy. This meant finding the perfect timing to prepare it with the waiting time to be considered.
Food lockers remove all these complexities by holding the ready-to-eat meals at proper temperatures for longer periods. You won't have to worry about food getting stale prior to pick-up. Some food lockers even allow the temperature control to be turned off for holding ambient food.
Hatco food lockers hold the products at a temperature range of 150 degrees Fahrenheit to 180 degrees Fahrenheit for up to 45 minutes. This allows you to plan ahead and prevent any crowding and at the same time ensure that customers get their orders at the highest possible quality.
Increase throughput
A surefire way on how to increase restaurant sales is to create a streamlined workflow that increases the number of people you can serve for the day. Food lockers eliminate unnecessary interaction and labor. Once the food is loaded into the locaker, there is no need for your staff to check the orders after they are loaded because they know that the food is safely stored and can be accessed by the customer or delivery person only.
Customers can get the orders on their own from a designated locker using a code sent to them or generated on-site. This frees your staff to serve more people, ultimately increasing your daily throughput.
Speedy service
The pickup process is significantly faster because they don't have to stand in the same area with people who are dining in or interact with the staff. Their orders will be waiting for them when they arrive at the location. By diverting the traffic from the front-of-house to a dedicated pickup station, your workflow is not disrupted and therefore, everyone can move at a faster pace. You won't have to worry about people crowding the space because they can literally locate and grab their orders in seconds.
Safety
In light of the coronavirus pandemic, customers are looking for assurance of safety. So when talking about how to increase restaurant sales, the customer's new priorities brought about by the pandemic should be considered.
By removing the need for your staff to physically hand the order to the customers or delivery people, food lockers give customers more confidence to order. There is no face-to-face interaction required, and as a result, the risk of contracting the virus is vastly reduced.
Additionally, since their orders are placed in a locker that only they can access, they are assured that no other people touched their food. Ordering and payment are both performed online so there's no extra interaction to be had at the location.

Food locker features
Single or dual access
Single-access food lockers can only be loaded from the front. This means your staff and the customers or delivery couriers have the same access to the interior of the food lockers.
Pass-through food lockers allow your staff to place the orders from their station so they have to leave their post. This saves them a lot of time because they won't need to walk to the food locker to load the orders. The customer side stays locked in until the code is provided by the customer or delivery courier. Usually, food lockers have LED lights that flash in the appropriate locker upon unlocking.
Keep in mind that pass-through food lockers are required to be installed into a cutout in a wall to make dual access possible. You will have to find a way for the station where the order is packaged and loaded to be parallel with where people will pick it up.
Glass windows
Food lockers have glass windows that allow customers to get a view of the inside before even opening. This makes it easy for them to identify their lockers and verify that their order is there.
Sizing and adaptability
Food lockers are available in various sizes to help you fit orders safely. Many units also have a modular design that lets you build the ideal setup for your specific needs. Many of these units allow you to increase holding capacity using add-on cabinets so you can accommodate changing demands.
Some models have a shallower depth than others so if you anticipate holding large pizzas or big orders in one locker, you need a unit that has a greater depth. Many food lockers are advertised for use with pizza, so you can easily find those when shopping.
Connectivity
Greater efforts involved in how to increase restaurant sales is interconnecting your systems so the entire process from order to delivery becomes seamless. Food lockers can typically be integrated with your point-of-sale or POS systems.
This also lets you collect and access data analytics that you can use to improve your service. The food lockers can connect to the internet via Wi-Fi or ethernet cable to generate a code that will be used by customers or delivery couriers to unlock the lockers. Some food lockers also work in conjunction with remote apps, which reduces more time and labor required.
Despite the advanced technology, these food lockers have a simple interface that is easy to navigate to make the experience quick and seamless for users.
Colors
Many food lockers, specifically the Hatco, come in various colors so they can be seamless additions to your locations. You can choose lockers that match your decor and some even allow you to customize lockers with your log to extend your brand.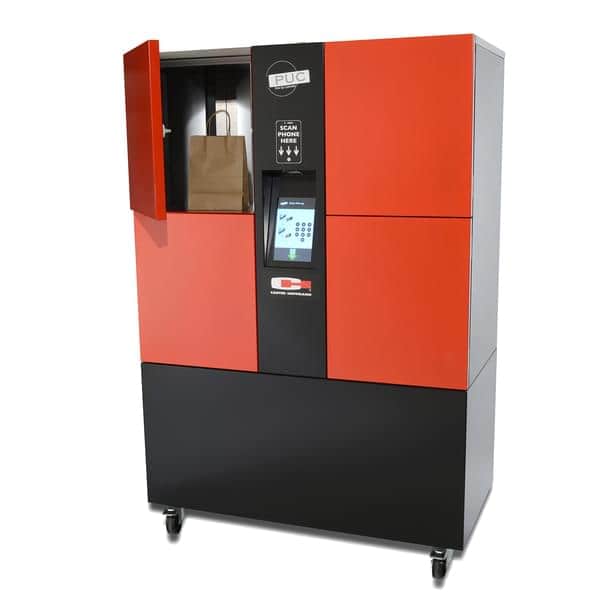 Food lockers are reviving the automat restaurant
The concept of food lockers is not something new. Automat restaurants used them first back in the 1900s. The way traditional automats work is similar to a vending machine in that customers pick an already pre-made food from the row of lockers and insert the payment through a coin slot next to the corresponding locker. Automat restaurants were quite a hit for a while but they dwindled in popularity decades ago. The automat restaurant could be making a comeback.
Food lockers are reinvigorating this concept, albeit with a modern twist. The lack of any human intervention in these automats became an advantage in the COVID-19 pandemic where contact between people had to be deliberately severely limited. The modern automat restaurant was born as a result, only this time, the food is made from scratch and people order beforehand instead of choosing what's already there.
How to increase restaurant sales with food lockers
When incorporating food lockers into your foodservice operation, consider how exactly you will use them. This will help you build a setup that benefits both your staff and your customers.