Commercial Blender Containers
Upgrade Your Food Prep and Bar Service With Commercial Blender Containers And Blender Jars
Highly Rated
View Product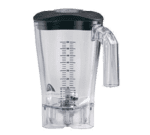 View Product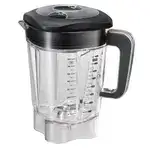 View Product
Sorry. No products found.
Commercial Blender Containers Filters
Filters
High-Quality Commercial Blender Containers And Blender Jars
Commercial blender containers are made with different materials. CKitchen has a large selection of commercial blender containers that you can use as replacement jars for your existing blenders from brands like Waring, Vitamix, Hamilton Beach, and FMP.
Most commercial blender jars are typically made of glass to provide a clear view of the contents as they are blending. Not only does this allow the user to monitor the progress, but it also allows customers to enjoy a theater experience. A glass blender jar is able to retain its appearance even after long years of use. They are harder to scratch even when blending hard ice and are less likely to absorb odors, which is a recipe for flavor transfer.
We also have a good selection of BPA-free Tritan plastic blender jars that come in different colors that you can use to designate different types of foods and drinks for blending in order to minimize the transfer of flavor. These commercial blender containers are also tough but lightweight so users can safely handle them.
Stainless steel blender jars are also available here on CKitchen. If durability is higher on your list than product visibility, these blender containers will be perfect for you. They are built with rugged, long-lasting material with high corrosion resistance, so you know these blender jars will last.
If you are looking for commercial blender parts and blade assemblies, CKitchen has all you need right here. We have foodservice consultants you can always talk to via phone call if you are having a hard time looking for certain replacement parts for your commercial blenders.