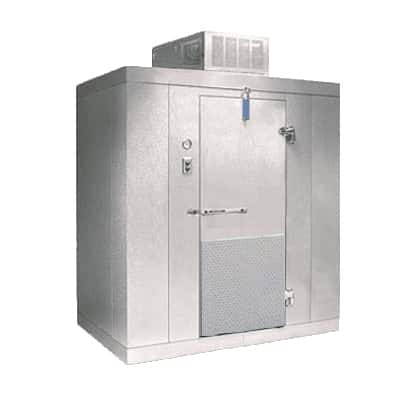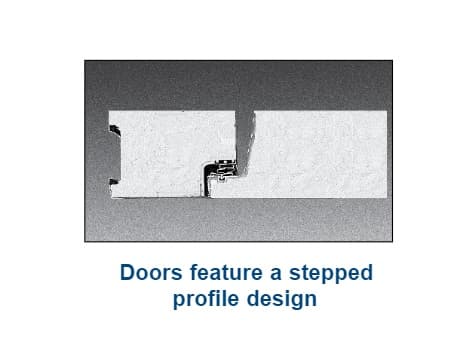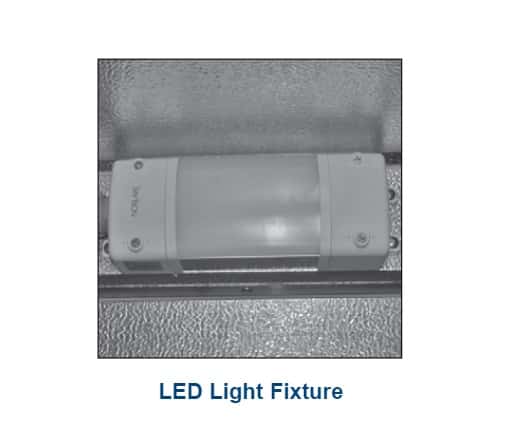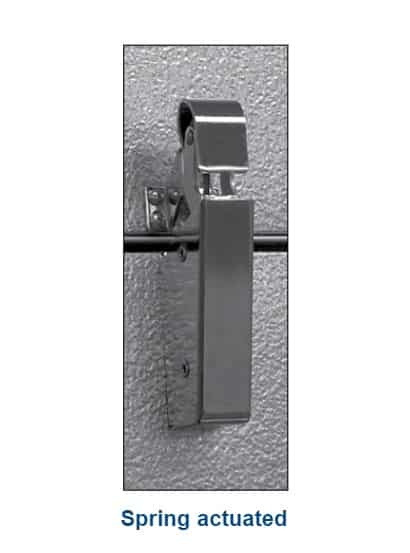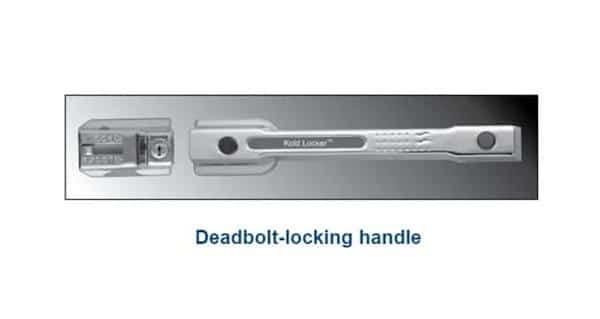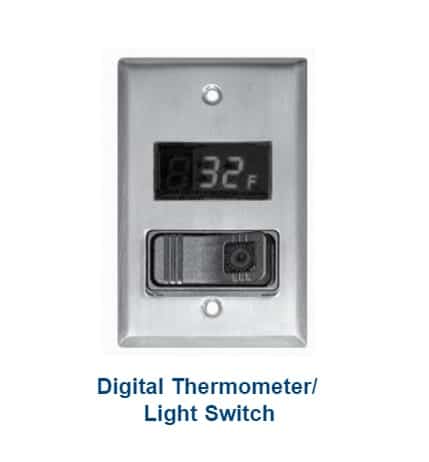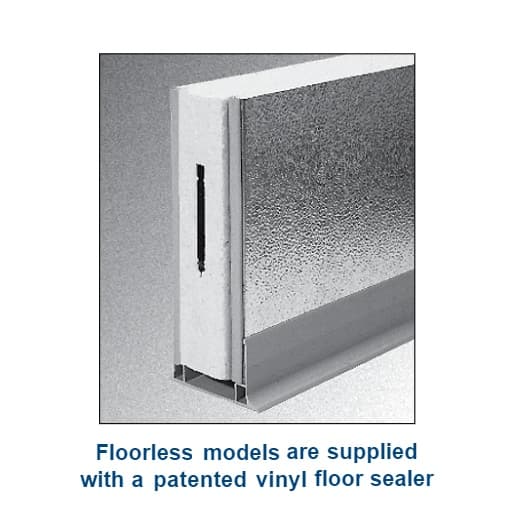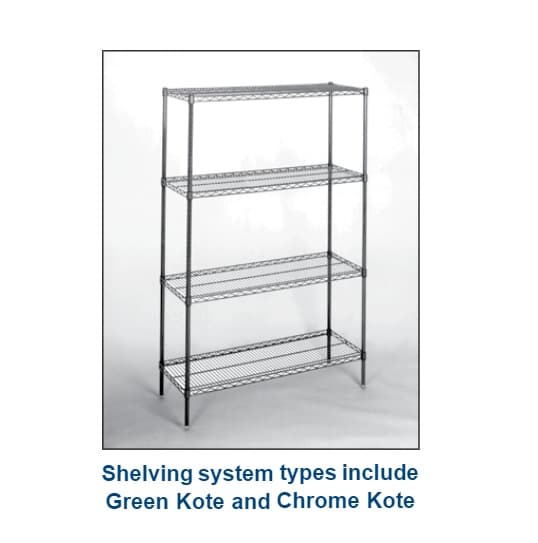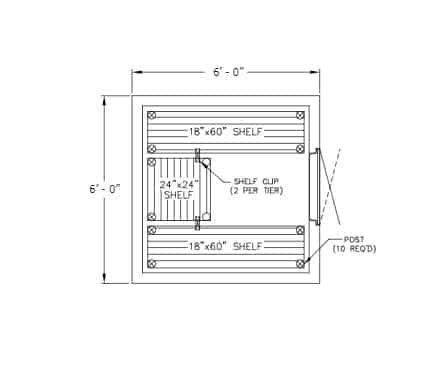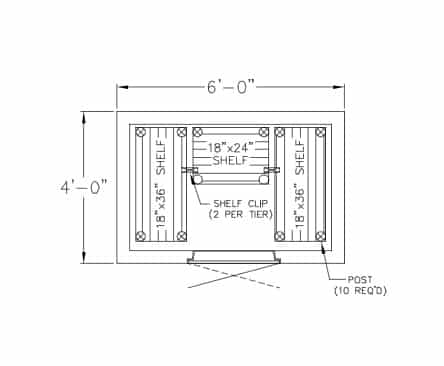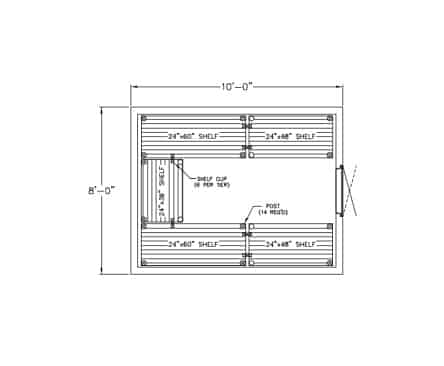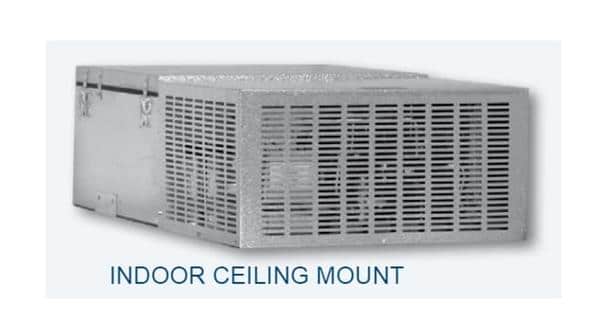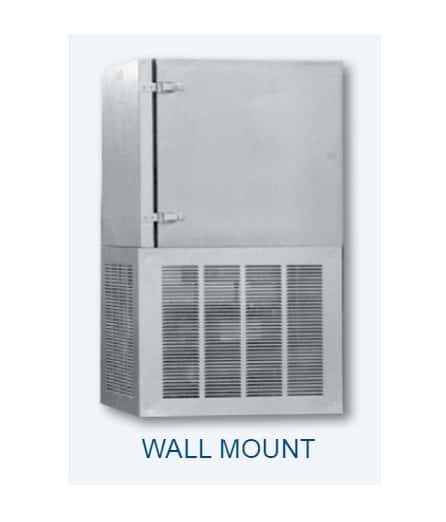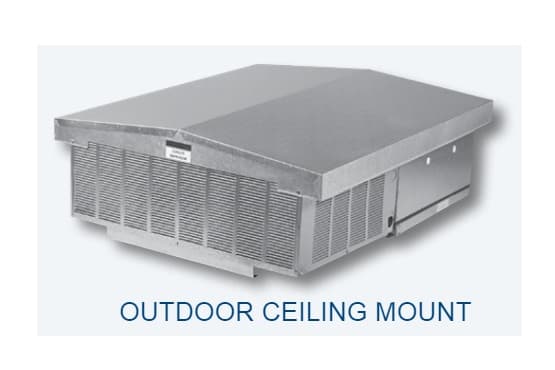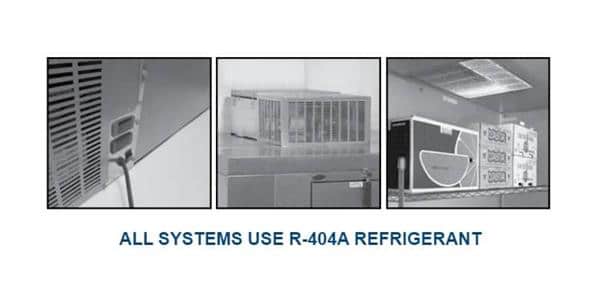 Nor-Lake
KLB74614-C Walk-In Cooler & Top Mounted Compressor

You will earn 13088 Reward Points. Earn 1 reward point for every 1 dollar spent.
Read more.
A refrigeration Technician is not required.
Our Exclusive FREE extras:
Stainless Steel 30'' x 36'' door kick-plate
Standard features
Full 4" thick panels foamed-in-place with HFC-245fa polyurethane insulation which is CFC and HCFC free
Free electronic controls and digital thermometer
Note! Refrigeration systems weigh 175lbs to 350lbs. and may require a hoist. The electrical hook-up may require a licensed electrician.
Nor-Lake KLB74614-C Specifications
| | |
| --- | --- |
| Brand | Nor-Lake |
| Refrigeration Mounted | Top |
| Made in | USA |
| Shipping | Quick Ship Model |
| Category | Walk In Cooler, Modular, Self-Contained |
| Capacity | 490 Cubic Feet |
| Compressor Location | Top Mounted |
| Door Type | Solid |
| Door Design | Swing |
| Floor | Floorless |
| Temperature Range | 35 - 38 Degrees F |
| Usage | Indoor |
| Voltage | 208/230 Volts |
| Width (in) | 72 |
| Height (in) | 88 |
| Depth (in) | 168 |
| Weight | 1628.00 |
Nor-Lake KLB74614-C Description
Kold Locker™, Indoor +35°F Cooler, 6' x 14' x 7'-4" H, floorless, 26 gauge embossed coated steel interior & exterior finish, self-closing door, locking deadbolt handle (REFRIGERATION OPTION TO BE SPECIFIED IN ACCESSORIES, PRICING NOT INCLUDED IN THIS LIST PRICE)
The NorLake KLB74614-C 6' x 14' x 7'-4" H Kold Locker is a floorless indoor walk-in cooler with a total of 420 cu. ft. of space.
This walk-in coolers with top mounted compressor is made up of panels consisting of male and female rails that mate together for proper alignment during installation. The polyurethane insulation wraps around the return bend in the metal seams in both sections for a strong yet lightweight panel. Each panel is 4" thick for excellent insulation. Foamed-in-place cam locking fasteners further ensure an airtight seal is maintained for energy efficiency. Exterior and interior panels are made from 26 gauge steel embossed with a corrosion-resistant stucco finish. The walls of this floorless cooler are installed on top of NSF listed vinyl sealers to provide a proper seal
Nor-lake's patented gasket design uses a foamed-in-place gasket as an integral part of the panel. This makes sure gaskets can't fall off during shipment and installation. The panel gaskets are continuous without any breaks or cuts at the corners and go around the outer perimeter of the panel. Edge caps on ceiling panels feature foamed-in-place insulation instead of overlapping which makes sure they can't come loose ensuring the end caps stay in place throughout the life of the walk-in.
The standard door is 26" wide but at no extra cost, a 30" wide door can be installed making it easier to roll in dollies with wide loads. The 30" door comes with a stainless steel kick plate for added durability. The door has a 78" high opening and features 4" thick metal-clad foamed-in-place-insulated construction featuring a stepped profile that acts as a barrier to airflow enhancing its effective insulation.
The door is available with left or right side hinges and come with dual field-adjustable cam-lift hinges that are spring-loaded making to make sure the door is always closed completely. A locking handle with an NL 9800 deadbolt uses an independent key/padlock to keep the contents secure while an inside safety release makes sure no-one gets locked inside.
The 4' wide frame panel the door is hung in features a replaceable heater wire, a magnetic stainless steel trim, digital thermometer, vapor proof LED light and a switch with exterior indicator light. The door section comes prewired inside a concealed conduit in the door frame panel where 120/60/1-ph power is field wired to the junction box surface mounted in the interior frame above the LED light.
Cooling is provided by a top-mounted RCPB075JC-S-4-EV Capsule Pak™ that provides 6250 BTU/hr of cooling with its 1 HP compressor. This cooling system comes precharged from the factory with R-449A high-efficiency refrigerant. The Capsule Pak refrigeration unit uses 208/230 power.
The evaporator and condensing unit are shipped separately to be joined in-field with quick-connect fittings. This design features a flush coil keeping components outside the storage area to maximize the available space inside. High-efficiency EC evaporator fan motors are used to circulate air inside the walk-in to provide even cooling to maintain a temperature above 35°F.
STANDARD MODELS SHIP THE SAME DAY
DOE compliant
USDA accepted
Magnetic gasket
15 year panel warranty
Cooler or freezer models
Indoor or outdoor models
26" wide, self-closing door
CN UL flame spread listed
Perimeter door heater wire
Floor double sweep gasket
Spring actuated door closer
Sizes from 4' x 6' to 10' x 14'
Two temperatures: +35°F, -10°F
18 months parts & labor warranty
Digital thermometer and light switch
Heavy duty adjustable cam-lift hinges
Three heights: 6'7" & 7'7" with floor; 7'4" floorless
Air-cooled condensing unit (wall mount - 10 day ship)
Smooth aluminum interior floor (on models with floor)
Floorless models supplied with NSF listed vinyl sealers
Oregon State listed, City of Houston listed & California State listed
Automatic condensate vaporizer. No drain line required on indoor units
Capsule Pak™ refrigeration system (ceiling or wall mount) (ordered separately)
Full 4" thick panels foamed-in-place with EPA-compliant polyurethane insulation
Deadbolt locking handle with independent key/padlock feature and inside safety release
Time clock or electronic control provided for automatic defrost on both coolers and freezers
26 gauge corrosion resistant stucco embossed coated steel on all surfaces except interior floor
NSF, UL flame spread 25 or less on all foam cores; UL and CSA electrical listing on door sections
UL, C-UL listing on complete Capsule Pak™ refrigeration systems (see page 11 for listed components)
High output low profile LED light positioned above the door to prevent interference with shelving or product
Indoor Models
Hot gas condensate vaporizer available on many models
Outdoor Models
Refrigeration hood
-20°F ambient controls
White membrane roof and trim
Optional Features
Exterior ramp
Electric vaporizer
Floor tread plate kit
U-shaped shelving system
Door hood (outdoor models)
Five year compressor warranty
Condensing unit air deflector kit
Heights: 8'7" with floor, 8'4" without floor
Leak detector/alarm (may be a requirement in some areas)
Heater kit for outdoor use where ambient conditions may go below 32°F
Note: (Most options are available two weeks from receipt of order. Please contact us for specific questions)
Videos
NOTE! This is a general product line video and does not necessarily reflect the listed model.
Nor-Lake KLB74614-C Accessories
Nor-Lake SSG614-3 Green-Kote Shelving Kit™
SSG614-3
Nor-Lake SSG614-4 Green-Kote Shelving Kit™
SSG614-4
Nor-Lake KLB74614-C Parts
Nor-Lake KLB74614-C Parts
Nor-Lake KLB74614-C Reviews
recommend
this product
3 of 3 reviews
Guy E. F (New York, NY)
Verified User
March 12, 2021
Despite the fact that this walk in is so large, it was actually surprisingly easy to set up. Such a user friendly assembly process that takes less effort than we anticipated.
Recommended Product
Daniel R (Baltimore,MD)
Verified User
November 20, 2020
This walk in cooler has lots of storage space. It really helps us access our ingredients quickly. It helped us create a better workflow for food prep. Makes a lot of difference for us day to day. 5 stars!
Recommended Product
Joe J. B (San Francisco,CA)
Verified User
September 04, 2020
Was blown away by how was the assembly was from start to finish. The walk in cooler was up and running in just a matter of hours. Panels are not heavy and overall assembly can be done by a few people
Recommended Product
Questions and Answers
Items Related to Nor-Lake KLB74614-C