Commercial Ice Shavers
Make Slushies, Snow Cones, Mixed Drinks, And More With Commercial Ice Shavers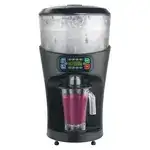 View Product
Superior Brand
Sorry. No products found.
Commercial Ice Shavers Filters
Filters
Ice Shavers: Adding More Flexibility To Your Bar
Perfect for bars, restaurants, concession stands, and any other operation looking to offer ice desserts or beverages, ice shavers are an amazingly versatile piece of equipment that can make shaved ice. Although shaved ice is great for making the ice dessert named after it, you can also use shaved ice for an array of beverage items including slushies, mixed drinks, and tropical drinks.
Most ice shavers are very easy and straightforward to use but brands such as Hamilton Beach make it even simpler with additional innovative features such as automatic cycle buttons that allow operators to input the serving size and number of servings to produce what they exactly need for every order. Hamilton Beach ice shavers also have an ice portioning system that keeps track of the number of times the agitator passes the shaver blade to ensure the proper amount of ice is dispensed every single use.
Ice shavers can help you expand your beverage menu and boost your profits. Make sure to get only the best and most dependable at the best prices by shopping here at CKitchen. We also boast a comprehensive selection of foodservice equipment to accommodate every conceivable need in both the back and the front of the house. If you have questions or looking for professional advice in choosing the equipment for you, our team of foodservice equipment consultants will be more than happy to assist you via call or email.