Hatco Salamander Broilers
Hatco Salamander Broilers Are Designed for Versatility in Your Commercial Kitchen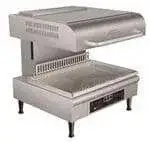 View Product
Premium Brand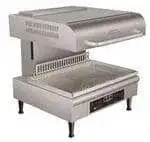 View Product
Premium Brand
Sorry. No products found.
Hatco Salamander Broilers Filters
Filters
Hatco salamander broilers are the ideal small-space equipment option for grilling, cooking, and finishing food with outstanding performance and efficiency! These units have three infrared heating elements that are independently controlled for precise cooking and energy conservation. They also have a hold function with eight different heat levels to accommodate a variety of foods. Because the exterior is made of stainless steel, it ensures long-lasting durability and easy clean-up. This unit features 4500 watts of heating power to ensure you can cook and hold your most popular dishes in the same unit during your busiest hours. The drip tray and cooking grate are removable for effortless cleaning, and the touch control panel makes temperature adjustments fast and easy. Thanks to its versatile design, this unit can also be mounted on four sturdy legs or the wall. Don't forget to check out Hatco salamander's complete catalog on our website to choose from the company's most reputed and popular options to outfit your establishment with reliable & time-tested machines.