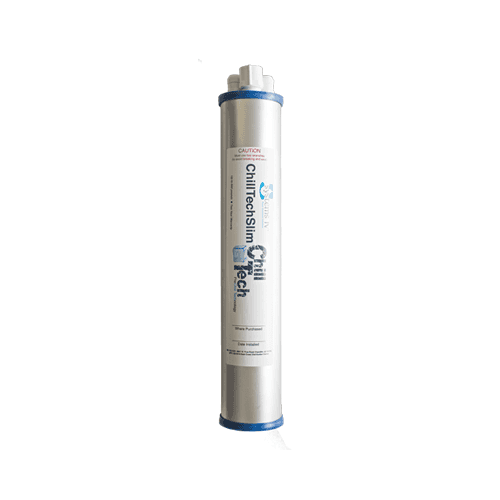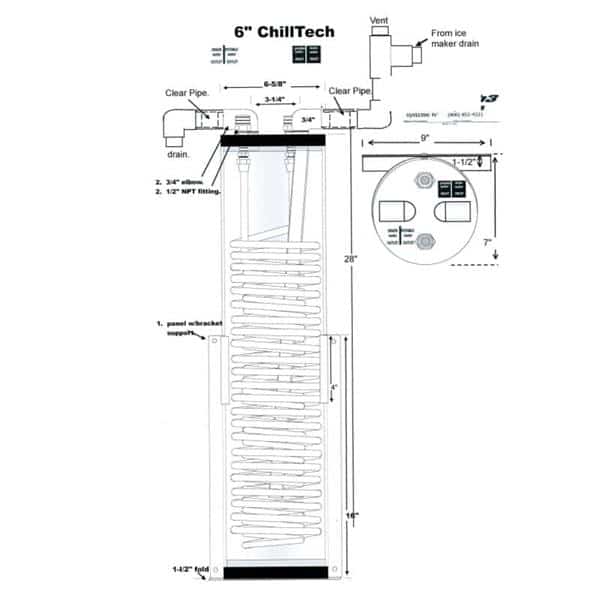 Systems IV
ChillTech I Exclusive Heat Exchanger for Ice Machines
You will earn 326 Reward Points. Earn 1 reward point for every 1 dollar spent.
Read more.
Can reduce energy by 30% and increase ice production 30% while extending the life of your ice maker!
Description
The Systems IV ChillTech I Exclusive Heat Exchanger is the pinnacle of simple engineering that takes advantage of something that essentially ends up going down the drain.
Think of the ChillTech I like a turbocharger in a car. A turbo uses exhaust pressure to spin a turbine that spins another turbine on the intake side to increase the amount of air the engine can ingest resulting in more power.
The ChillTech I takes cool wastewater from the commercial ice maker's drain line and puts it through the unit and into the drain. Warm potable water comes into the unit and down a coil and back out and into the machine's feed line. The warm intake water will transfer its heat to the wastewater lowering the intake water temperature before it enters the commercial ice machine.
The result of prechilling the water for the Systems IV ice maker is significant. It can lower your ice making cycle times, decrease your power consumption by 20%, and increase the amount of ice you make by 20%. The ChillTech on a cuber Systems IV ice machine can produce 1,200 lbs/day and Hoshizaki models can make up to 600 lbs/day.
Aside from raw performance, you might notice other effects like the area around the commercial ice maker being cooler (this is the case for self-contained air-cooled units). This is because the unit has less work to do because there is less heat to be removed from the cooler intake water to make it freeze.

All this from a product that doesn't use any electricity, gas, or chemicals, just simple leveraging of the laws of thermodynamics.
The ChillTech I has a diameter of 4" and is 18-¾" long. A mounting bracket and 2 pieces of clear tubing are included. The potable water input into the unit is a ½" male thread pipe and the outlet of potable water leading to the Systems IV ice maker is a ½" NPT fitting. Wastewater from the commercial ice machine enters the unit through a ¾" slip and exits through another ¾" slip.
The maximum water pressure for this unit is 125 PSI and a maximum intake temperature of 100F° with a flow rate of 5.5 GPM.
The Systems IV Systems IV ChillTech I Exclusive Systems IV Heat Exchanger has a two-year warranty covering defects in material and workmanship.
Specifications
Brand
Systems IV
Type
Heat Exchanger
Additional Information
A PDF viewer is required to view this product's information.
Download Adobe Acrobat software
Customer Reviews
recommend
this product
2 of 2 reviews
George Greissler
October 09, 2015
Great product. Serves its purpose very well so far. Highly recommended.
Recommended Product
Gina Hadley
October 09, 2015
This item came very quickly after I ordered it. Great service, thanks!
Recommended Product
Questions and Answers